Vision: Hamilton's Touchstone
A vision is a blueprint for where you're going, how you plan on getting there, and how you'll behave along the way.
By Graham Crawford
Published February 16, 2015
What is a Vision and why is it important for Hamilton to use one?
The problem isn't that Hamilton doesn't have a Vision. The problem is we have several of them, but we don't really use any of them.
As a result, we're suffering from blurred Vision.
That leads to unfocused discussions, full of opinions that may or may not connect to where we're trying to go as a City.
It's time to agree on a single, clear Vision for Hamilton's future.
A Vision isn't a slogan. It doesn't live on a poster. Or in a speech. Or on a video.
A Vision is a blueprint for where you're going, how you plan on getting there, and how you'll behave along the way.
A Vision lives everywhere you go and in everything you do.
Think of a Vision as a touchstone: Hamilton's touchstone.
Originally, a touchstone was a piece of basanite.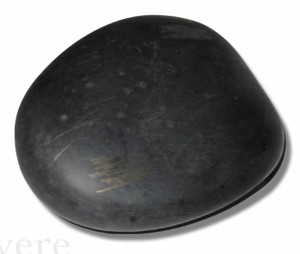 Depending on the mark it left, it told you the purity, or value, of the gold.
This is the City of Hamilton's touchstone:
VISION: To be the best place in Canada to raise a child, promote innovation, engage citizens, and provide diverse economic opportunities.
We should be using it to test the value of each major decision Council and staff make.
We don't.
Instead, it's as if the mayor, 15 Councillors, the City Manager, and the Senior Management Team are all inside a room with the door closed.
Someone is outside the door with 1,000 sheets of paper. A single sheet is removed from the top and placed under the door.
Inside, they pick up the single page and ask, "Okay, what should we do about this one?"
No context. No priorities. No way of knowing what's coming next.
No touchstone.
So, how do you use a Vision as a touchstone?
We need to start by looking at the five elements of the Vision:
To be the best place in Canada
Raise a child
Promote innovation
Engage citizens
Provide diverse economic opportunities
Here's how it works.
You take an issue such as the bus lane. Then, you assess it against each of the five elements of the Vision.
The discussion leads to a Vision-driven decision.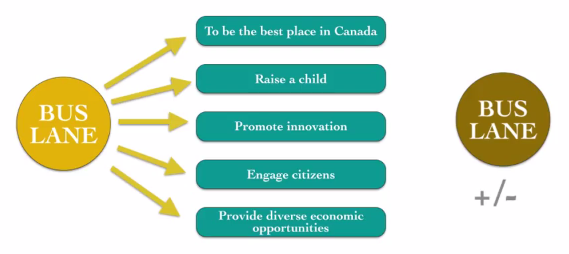 This isn't science. The process doesn't give you the answer. The process helps you to determine the best answer: the answer that best supports the Vision.
What would make our Vision even more useful is if we defined each of the five elements.
When we say, "To be the best place in Canada", what do we mean by that? How would we define "best" in a way that makes sense for Hamilton?
How would we define each of the other four elements so they made sense for Hamilton too?
It could look like this: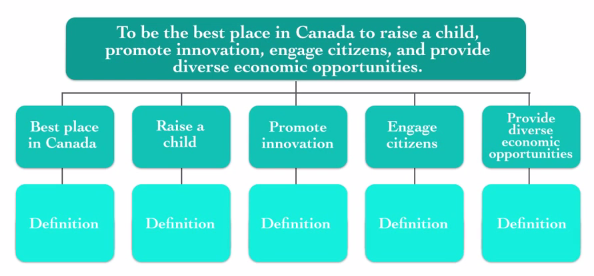 What makes the Vision even more powerful is if you develop high-priority objectives aligned to each strategic element.
We would use these high-priority objectives to assess how well we're progressing toward achieving our stated Vision.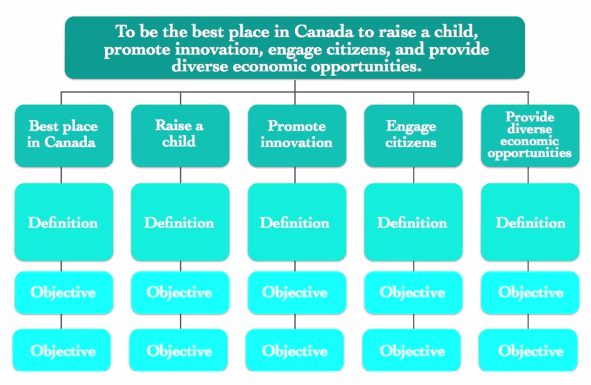 There's still plenty of other work that must be done, but these priorities are the ones critical to our success.
We would then have a Vision that everyone could understand and remember, that is aligned with our key priorities. All on a single, understandable, clear graphic.
One more thing.
The City of Hamilton has developed five Cultural Pillars that speak to the values and behaviours most critical for success as an organization. They are:
Engaged Empowered Employees
Sensational Service
Collective Ownership
Steadfast Integrity
Courageous Change
The Cultural Pillars should be added to the Vision to illustrate the foundational values and behaviour upon which the Vision will be achieved.
They should also be integrated into everything management, staff and Council do - from performance management to succession planning to communication.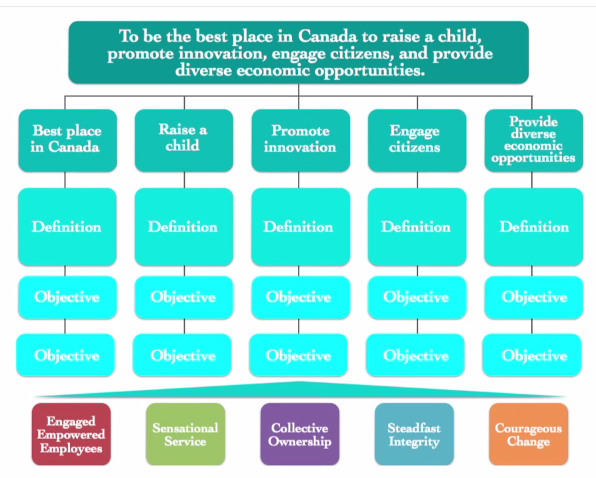 This would mean we would have a fully integrated framework for:
where we want to go
what we mean by it
how we'll measure progress
and how we'll behave to achieve our Vision.
It's time the Mayor, Council, the City Manager and the Senior Management Team got together and made this happen.
Not just for them. But for all of us.
It's a lot easier for all of us to work together when we're all using the same touchstone.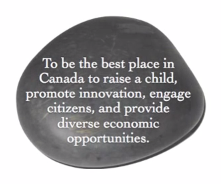 I sent this to Council with the following letter:
Dear Mayor, Councillors, City Manager, and members of the SMT,

I'm asking for a simple favour from all of you. I need 6 minutes of your time to watch a short "video" I posted on Facebook and Twitter today.

It's called Hamilton's Touchstone. It's about the power of strategic Vision - why Hamilton needs one and how to use one.

https://www.youtube.com/watch?v=Muq2zcwygNs

I've talked with some of you directly about this approach. It's a proven methodology, one that the company I used to own facilitated with organizations around the world. It works. In a very real way, it's what we used to call "structured common sense".

So, when you have a moment, please invest 6 minutes seeing and understanding how we can make our Vision truly strategic. I'm happy to discuss the content of the video over coffee if that is of interest, as I've done with a few of you already.
If you think this approach has merit, please share that with your Councillor. Ask for comments on how he or she thinks this approach can work for Hamilton.
Thanks for watching or reading this. Please consider sharing it with other people you know who want to build on Hamilton's momentum.
Post a Comment
You must be logged in to comment.