Salvage Something from Bus Lane Removal
We can't go back to a five-lane highway west of Locke. It is simply too dangerous.
By Jason Leach
Published January 24, 2015
I want to start by acknowledging the fantastic advocacy of our lower city councillors: Aidan Johnson in Ward 1, Jason Farr in Ward 2, Matthew Green in Ward 3 and Sam Merulla in Ward 4.
But like so many Hamiltonians, I am distraught at the selfish behaviour of their colleagues. It was sickening to hear some of the other Councillors go on and on about all the public support they heard for the bus lane and how we need more bus lanes, only to turn around and vote against the bus lane we had.
I am concerned about what King Street may look like once the bus lane is removed again. I stopped walking on King many years ago after too many close calls with almost being hit by cars speeding in the curb lane. Since the bus lane was put in, I've walked and cycled on King more in the past year than the previous ten years combined.
I suspect I'm not the only one, as we've seen a real uptick in business during the last year - notwithstanding the legitimate complaints of some business owners about losing the north curbside parking.
With the bus lane being removed, I propose that we look at adding all-day curbside parking back to the north curb again, but that we also make two other changes:
Extend the north curb parking all the way to Strathcona Avenue. King Street is five lanes wide in that section and Victoria Park is full of families and children. I've always hated having five roaring lanes of traffic right next to the park. Sports teams and patrons of the soon-to-open cafe next to the baseball diamond would get great use of the parking, along with the businesses around King and Locke.

Maintain the parking spaces on the south curb from Bay to Strathcona, optionally with rush hour restrictions. This will provide an extra rush-hour car lane for motorists who only care about driving through downtown, but will reduce dangerous speeding conditions during the other 20+ hours a day when traffic is extremely light.

It will also maintain parking to support businesses on the south side of King. I have patronized some of the new businesses at King and Locke and they love having some curb parking on their side of the street.
Following are some illustrations to show what I have in mind.
Bay to Locke
Staff will need to verify the width of King from Bay to Locke but it seems to be around 42-44 feet wide on the roadway. The north curb lane is hugely oversized.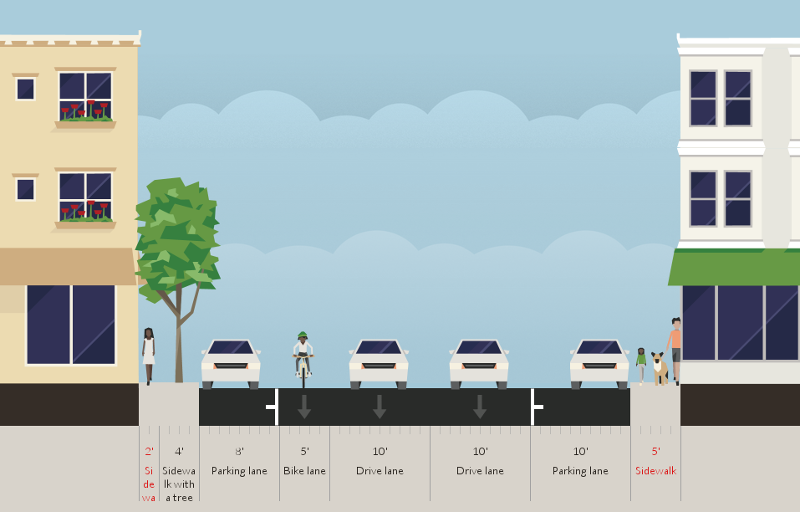 King Street from Bay to Locke (Image Generated with Streetmix)
This suggestion requires them painting the 24-7 parking lane on the north curb, similar to what they did on Cannon east of Victoria. Parking does not require a full ten-foot lane. 7-8 feet is industry standard, and it's what we did on Cannon. I'm going with 8 feet on this illustration.
I've added a bike lane next to the parking, then THREE car lanes. However, I'm suggesting that off-peak hours we have curb parking allowed on the south curb. We do NOT need an open curb lane outside of rush hour. It simply creates a dangerous situation around here for those who live here 365.
Locke to Strathcona
This is King from Locke to Strathcona: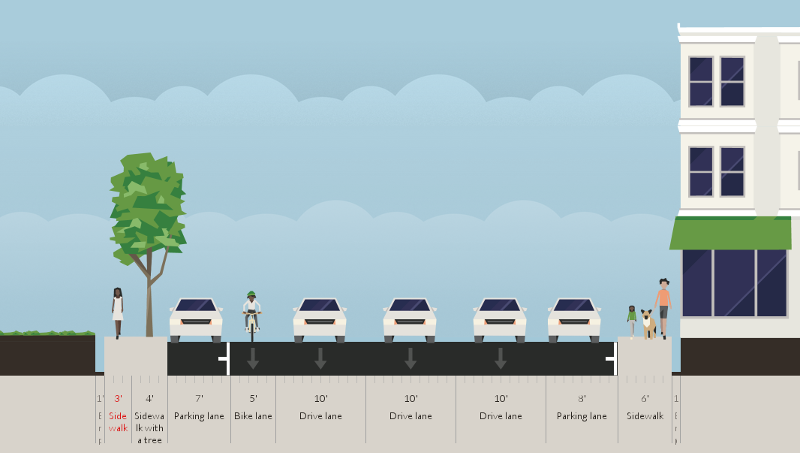 King Street from Locke to Strathcona (Image Generated with Streetmix)
Please note: King widens here to around 50 feet on the roadway. We can and should have 24-7 parking on both sides of King. This still leaves three full car lanes 24-7.
It also maintains south curb parking for businesses that have opened there and enjoy their parking, and it maintains parking and the bike lane right past Victoria Park on the north side.
I can't be more strenuous in my insistence that we do not go back to having a live car lane next to this sidewalk. It has been such a horrible danger for our neighbourhood for decades. The buffer of parking and a bike lane would be tremendous for this stretch.
Strathcona to Dundurn
If for some crazy reason staff refuse to allow parking next to a park, I would suggest this final cross-section, which is the proposal for Strathcona to Dundurn: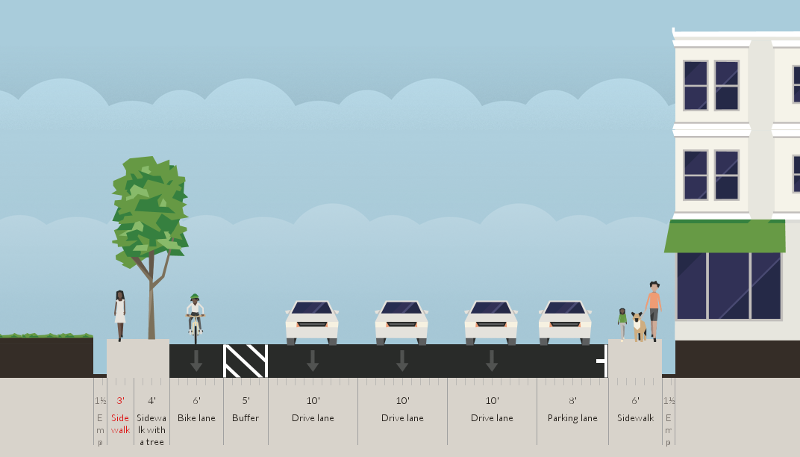 King Street from Strathcona to Dundurn (Image Generated with Streetmix)
Again, it maintains three car lanes 24-7, but also maintains south side curb parking. I remember the owner of the cycle shop at King and New Street being vocal about his displeasure that the south curb parking didn't extend to his block. The curb parking can end just before the KFC parking entrance.
The bike lane connects seamlessly to the bike lanes over Hwy 403.
We Can't Go Back
With this entire cross section from Bay to Dundurn, we have added parking back on the north curb, opened the south curb for an extra vehicle lane during rush hour and have used the extra wide roadway to add a bike lane by painting these parking areas like we did on Cannon.
What happened at Council is a big loss to the entire city. But I firmly believe that if staff would slow down and take input from those of us who live along this corridor and have studied it to death over the years, we can turn a rotten situation into something that still maintains the sense of a safer street.
We can't go back to a five-lane highway west of Locke. It is simply too dangerous. It is also potentially an opportunity to salvage something from the Metrolinx Quick Wins money we wasted putting in a bus lane and then taking it out even though it was working.
I'm not sure how much repainting the city will do but I would recommend we line up the left three lanes east of Locke with the centre three lanes west of Locke. That would enable us to maintain three car lanes during rush hour west of Locke, while retaining parking on both curbs west of Locke.
Curbside parking is good for business and a safety buffer for pedestrians. This is a huge concern and I hope we can at least get this done now that we've lost the transit lane.
Post a Comment
You must be logged in to comment.