More on the Infamous Hamilton Tobogganing Bylaw
Despite the public outrage at City policymakers, this is an uphill battle for them no matter which way they turn.
By Zachary Strong
Published January 08, 2015
After reading an article by Matthew Van Dongen in The Spectator about the now-infamous bylaw (and the Hamilton Conservation Authority's plans to plant vegetation on a popular Dundas tobogganing hill), I wrote a letter to a number of City officials in order to learn more about the issue.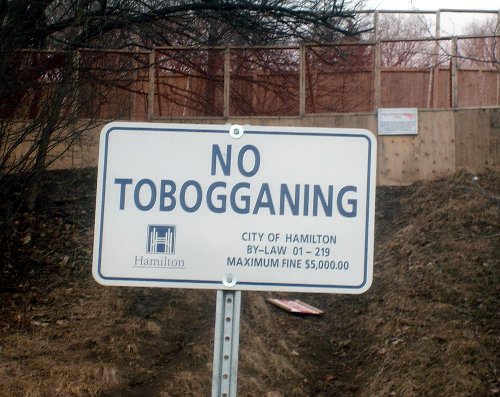 No Tobogganing sign (RTH file photo)
Although I was expecting unhelpful non-answers, I was pleasantly surprised to encounter a number of competent and thoughtful people who are just as frustrated by the situation as the average sledder. What originally might have seemed as a 'war on fun' quickly evolved into a fascinating case study on legal liability, municipal policy, and risk management.
Tobogganing Already Banned
Many residents may be unaware that tobogganing has actually been banned on City of Hamilton properties since at least 2001, although the bylaw has never been enforced.
In the past, this bylaw has been sufficient to place liability on those taking part in tobogganing. However, in recent years, the legal precedent has shifted, according to correspondence with John McLennan, the City's Risk Manager.
Injured parties are now much more inclined to sue for damages, and, in turn, the courts have placed a very high degree of responsibility on property owners to protect users, even in situations where they have not been invited onto the property and/or when they are not exercising reasonable caution.
Indeed, this would seem to be the case in a $900,000 judgment awarded to a man who was injured while tobogganing on the Garth Street reservoir. Despite the bylaw, the City was found liable for damages sustained by Bruno Uggenti after he crushed a vertebra on a terrain feature obscured by snowfall.
Two Key Arguments
According to an article published by Borden Ladner Gervais LLP, the Arbitrator's decision hinged on two key arguments: the Occupiers' Liability Act and a Supreme Court ruling in Waldick v. Malcom (1991).
"In finding the City liable, the Arbitrator relied upon section 3 of the Occupiers' Liability Act which requires occupiers to take reasonable care [...] to see that persons entering a premises are reasonably safe. The Arbitrator found [...] that the snow-covered ditch which led to the tobogganing accident was a hidden danger. The City knew about it, but did not take reasonable steps to warn tobogganers of this danger."

"The City also argued that an inherent risk of tobogganing exists because the topography of an area is hidden by snow. The Arbitrator found that the Plaintiffs were not aware of the risk of hitting the edge of a snow-covered ditch, and this risk was a hidden danger not inherent to the sport of tobogganing."

"The Court also cited the Supreme Court of Canada decision in Waldick v.Malcolm, [1991] 2 SCR 456, which held that the voluntary assumption of risk requires knowledge of the risk, as well as a waiver of legal rights that may arise as a result of the risk."
It is also worth noting that Mr. Uggenti had suffered an injury in a previous tobogganing accident, and therefore must have been aware that tobogganing was an inherently risky activity.
Various Options
Although a tobogganing bylaw seems ludicrous, it may actually be one of the better options facing the city in the current legal climate, given that they are apparently now expected to protect people from the consequences of their own decisions, even when those decisions are in violation of local bylaws.
Another option, which is currently being explored by the Hamilton Conservation Authority, is 'naturalizing' - or planting vegetation - on hills used for tobogganing.
The intent is to make the slope altogether unsuitable for winter activities, according to Hamilton Conservation Authority CEO Chris Firth-England.
Using native woody shrubs and perennials on the top 2/3 of the slope would take the hill out of service without putting hazards in the path of sleds and their inertia [...]

Tobogganing aside, it is the long term objective of the HCA to reduce our operational risks and costs for maintaining this slope as a mowed space. We have naturalized many similar gradients over the past few years throughout our holdings.
Although it seems this initiative is part of a larger strategy for the HCA, such a strategy could either be trampled - quite literally - by determined riders, or would force members of the public to other hills of equal or lesser quality, in terms of safety.
Unless the City of Hamilton plans to reforest every graded surface within the city limits, this approach seems to be unrealistic at best.
Uphill Struggle
In all fairness, despite the public outrage at City policymakers, this is an uphill battle for them no matter which way they turn. City managers like John McLennan and Chris Firth-England are being put in the awkward position of having to choose between encouraging a generations-old activity and protecting taxpayers from millions of dollars in liability settlements.
In a January 5 interview with Ottawa's 580 CFRA, Mr. McLennan revealed that the City is exploring the possibility of creating designated tobogganing hills with monitoring, grooming, and patrolling, which is certainly a step forward for winter enthusiasts.
In the meantime, however, perhaps we should be asking provincial legislators about the Occupiers' Liability Act and how it applies to municipalities like Hamilton. What is the purpose of the law? When has it fulfilled its intended purpose, and where is it falling short? If something seems broken, perhaps it can be fixed.
Although tobogganing seems like a frivolous issue when compared to some of the things society is facing today, it highlights some important conversations around personal responsibility, assumed risk, and our capability to make our own decisions, whether they be recreational or otherwise.
See you on the slopes!
Post a Comment
You must be logged in to comment.