Don't Kill the Bus Lane, Fix It
Gridlock is our future unless we leave the 1970s behind and start learning from the best cities on the planet about multi-modal convenience and options.
By Jason Leach
Published December 09, 2014
I live two blocks north of King Street near Queen in the area affected by the bus lane.
We all know how horrible King Street is for an urban street, and its dangers have been confirmed by merchants sharing stories of customers who don't feel safe enough to cross the street.
Please think of all of your travels to places like Toronto, Vancouver, Montreal, Ottawa. Try to remember a time when you attempted to grab a dinner or do some shopping in their downtowns but were too scared to cross the street.
King St is a disgrace and is directly hurting our bottom line by killing economic development potential. It lies along rapidly redeveloping neighbourhoods such as mine with a massive built-in customer base - a built-in customer base that avoids this gross freeway like the plague.
In our 11 years here, I've walked along King Street with my family a total of zero times.
Simple Fixes
I sent a submission to the person I was told was the lead contact on the bus lane back in the spring of 2013. Now I'm sending it to all of you, because it addresses one of the main points of contention: the loss of curb parking on the north curb.
From Bay to Locke, we have room for curb parking on the north curb (where the merchants want it), a bus lane, two general traffic lanes and bike lane on the south curb lane protected by bollards and narrow curbs.

West of Locke, a fifth lane appears on King. This extra space could be used to protect the bike lane with curb parking on the south curb. The rest of the street continues the same cross-section as described above all the way to Dundurn.
Please do not turn King Street back to its former status as a five-lane freeway. As you've clearly heard from the businesses you supposedly are trying to support, their customers are too scared to cross the street even with one lane of general traffic removed.
Adding another speeding automobile traffic lane back in won't solve our problems.
I find it ironic that the couple of businesses that left King Street West relocated into Jackson Square, with no parking at their front door. Customers now need to go underground, snake around, come upstairs, walk through the mall to find these businesses.
Yet all that inconvenience is clearly better than crossing a street in Hamilton. Sad.
Learn From Other Cities
Instead, we could have a complete one-way street like this one in New York City, with bus lane and curb parking for local businesses: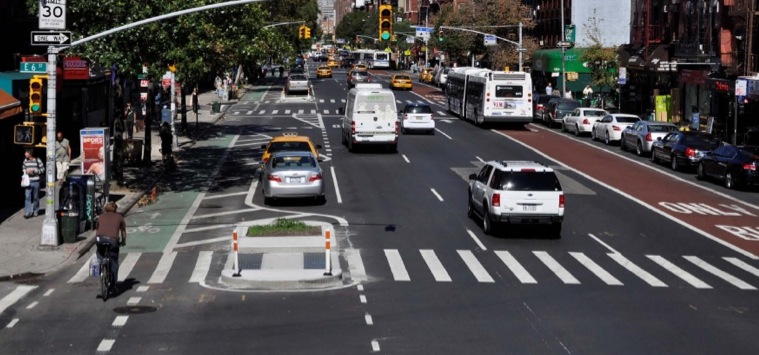 Complete one-way street in New York City (Image Credit: The Source)
Here's how it's done in Brooklyn: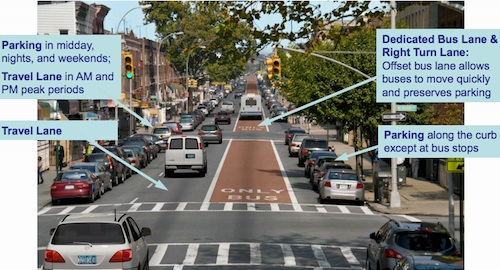 Bus lane and curbside parking on Brooklyn street (Image Credit: Brownstoner)
There are simple fixes to the bus lane, such as the design I've suggested above.
Another quick fix, which I've also emailed to staff, is to adjust the timing of the green lights on King between Wellington and James.
The lights should turn green from West to East, not from East to West as they currently do. When all the lights are red and cars are waiting, what good does it do to have the light turn green at Mary simply to allow cars forward into the block with a red light at Catharine? Ditto for the next block to John, then Hughson and so on
If James went green first, it would clear the cars from that block. Then Hughson could go green, then John and back to the east, each block clearing the way for the incoming cars. It's not rocket science.
The Future is Multi-Modal
During the heart of rush hour, more people use transit on King than all other lanes of cars combined. Surely we don't live in a city with such disregard for anyone who doesn't get around via car that we're willing to scrap a pilot project instead of fixing it.
The future of our city will depend on our ability to add transit lanes city-wide.
You've all seen what can happen when half of one highway is closed: Gridlock. Why? Because nobody has another option. Transit isn't good enough and our roads are dangerous for cycling or walking.
More than half of car trips in Hamilton are less than five kilometres. That is horrendous and will continue to harm our ability to redevelop into a truly livable, sustainable city.
I have personally not set foot into any of the businesses with 'no bus lane' signs as I refuse to support businesses not willing to put one ounce of creativity into making Hamilton better.
I expect better from elected officials being paid to move our city forward. Going back to the status quo should not be an option. King will continue to be horrible and dangerous and stifle economic development.
I can't help but notice that no residents from anywhere else in the city are offering up their local streets, or suburban downtown streets for five-lane freeways.
Please make the easy, simple fixes noted above, as well as adding transit-only turning signals at James and MacNab so buses can turn left without encroaching on the general travel lanes.
Chicago opened the first transit lanes in their city almost 100 years ago. Enough of Hamilton messing up the most basic non-car infrastructure improvements. This lane was poorly designed from the start, along with the unfinished Hunter bike lanes and general lack of non-car optons city-wide.
Gridlock is our future unless we leave the 1970s behind and start learning from the best cities on the planet about multi-modal convenience and options.
I look forward to a thoughtful and problem-solving debate tomorrow.
A version of this article was sent to Council as a letter.
Post a Comment
You must be logged in to comment.