Bugged out by DDT: Matthew Green Trips into the Culture Wars
DDT is so controversial, given its status within the ideological culture wars, that it became the focus of the story, displacing the human interest story Green really wanted told.
By Sean Hurley
Published November 24, 2014
I can't imagine what was running through the mind of Matthew Green when he read the CBC Hamiton headline, "New councillor wants to look at repealing DDT ban to fight bed bugs".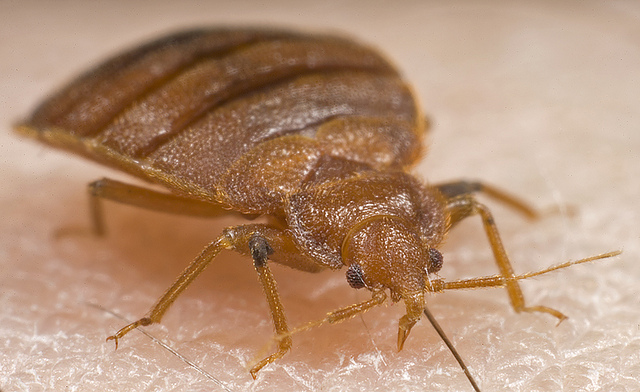 Bed bug nymph feeding (Image Credit: Flickr/AFPMB. Licenced under CC BY-NC-ND 2.0)
Green is the rookie councillor-elect for Ward 3, having just been elected this past October. While on the campaign trail, he became acutely aware of Hamilton's bed bug problem. Being the activist that he is, he immediately wanted to do something about it.
At about the same time, a video was released, purportedly from the Internet hactivisit group, Anonymous, alleging that Matthew Green was a "New World Order" candidate belonging to the secretive Freemasons.
The CBC contacted Green about that video in early October and quoted his response:
"It's kind of kooky, and I really wish that we could focus on...we have serious issues," he said. "We have (buildings with a) 70-per cent infestation of bed bugs. We have massive inequality and people living in poverty."
It is clear bed bugs were on his mind. Seven weeks later, though, when CBC reporter Samantha Craggs contacted Green to follow up, she asked him about DDT and that interaction became the story. The Spectator followed the next day with a headline reading, "New Hamilton councillor wants to fight bedbugs with banned DDT".
Poverty, Stigma, Isolation
The Internet was all over Green. Perhaps because he has a wide base of support within the community, the criticisms, with a few notable exceptions, were mild and constructive. Social media users educated Green as to the reasons the chemical was banned.
In his defense, on both Facebook and Twitter, he asked people to read past the headlines - he was doing an interview on bed bugs not DDT, he said - and recognize the quotes where he said "I'll defer to the science".
Green makes the point, strongly, that this isn't a story about DDT or even about bed bugs. It is a story of the many people who have to suffer with bed bugs.
Even though the insects are found all along the socio-economic curve, they are most commonly associated with poverty and high density apartment buildings. As such, there is a stigma attached to bed bugs.
Those who get them often find themselves even further isolated from friends, family, and social engagement and if they're unable to assist in prepping their living spaces for spraying, they face eviction.
It is reasonable Green would want to tell that story. It seems he was entirely unaware of the political and scientific minefield into which he was being led.
Science and Ideology
DDT is not just a banned pesticide. Like climate science, tobacco, the ozone layer and acid rain, it is woven into the fabric of the ideological culture wars fought between free market advocates and, well, everyone else.
In their book Merchants of DOUBT: How a Handful of Scientists Obscured the Truth on Issues from Tobacco Smoke to Global Warming, science historians Naomi Oreskes and Erik M. Conway devote a chapter to DDT.
In it, they detail how Rachel Carson, author of Silent Spring, the book that led to the investigation and eventual banning of DDT, was caricatured by certain scientists as another "Hitler", "Stalin", and "mass murderer".
These critics cited tens of millions of deaths attributed to Malaria as a result of the ban. But it is not true. The authors deconstruct this argument by showing that deaths in rich countries from malaria were already on the decline before DDT was introduced. Where DDT was used, insects developed resistance.
Where DDT is still used (in poor countries where malaria is still a scourge), DDT has been proven effective, but only because: a) it used indoors where "it doesn't produce resistance" (because spraying is limited to a small number of the insect population); and, b) because a single application lasts a year.
In other words, the very persistence that made DDT so damaging to nature also makes it a good treatment of bed netting to fight malaria.
Bed Bugs Resistant to DDT
Bed bugs, however, are an indoor pest, have been exposed to DDT in the past, and have already developed resistance. According to an article published on the University of California, Berkeley website:
Bed bug populations have been primed with the right sort of genetic variation by their evolutionary history - a history which includes extensive exposure to a different insecticide, DDT. Like pyrethroids, DDT kills insects by acting on the sodium pores in their nerve cells - and it just so happens that many of the same mutations that protect an insect against DDT also happen to protect it from pyrethroids.

When DDT was first introduced, such mutations were probably extremely rare. However, with the widespread use of DDT in the 1950s and '60s, such mutations became much more common among bed bugs through the process of natural selection. Though DDT is rarely used today because of its environmental effects, these mutations have stuck around and are still present in modern bed bug populations.

Because of the action of natural selection in the past (favoring resistance to DDT), many bed bug populations today are primed with the right sort of genetic variation to evolve resistance to pyrethroids rapidly.
This is all acknowledged in a follow-up article on CBC Hamilton, where Craggs quotes a local pest control operator who tells her bed bugs are resilient, quickly develop immunity, and "every 10 years, we have to find something new to kill them."
The Controversy is the Story
So if it isn't even an option, why was DDT the story?
DDT is so controversial, given its status within the culture wars, that it became the focus of the story, displacing the human interest story Green really wanted told.
Matthew Green being Matthew Green, though, has already employed some political judo to get the message back on track, at least on social media. He has asked Twitter and Facebook followers to send him their experiences with bed bugs and to copy Craggs.
The unfortunate aspect to this is that the news story may have been lost while reporting the controversy. And the story, as Green continues to emphasise, is about human isolation, stigma, suffering, and in some cases eviction.
Post a Comment
You must be logged in to comment.