A Whale of a Tale: The Scrimshaw Artistry of Dennis Sinclair
There must be something in a scrimshander's temperament that draws those who are investigating the bountiful and beautiful treasures of nature, both minute and massive, to attempt to capture those treasures on one of Nature's basic building blocks, bone.
By Margaret Lindsay Holton
Published October 06, 2014
Whalers of the late 18th and early 19th century, often many years out at sea, would spend their downtime, etching into whale teeth. This form of artisanship eventually became known as 'scrimshaw', probably derived from a Anglo-Dutch nautical slang expression meaning "to waste time."


Rare and important whale tooth scrimshaw, by 'anonymous', sold for $12,500, at Christie's Auction House in New York City, in 2009.
A person who does 'scrimshaw' is known today as a 'scrimshander'.
Initially, whale teeth were considered a redundant part of the whale harvest. Whale oil was the primary commodity sought after by European merchants. Using sail needles or home-made carving tools, idle seaman would etch a variety of subjects onto a single whale tooth, ranging in size from 4 to 8 inches.
Sometimes these men would etch the sailing vessel they were on, or do a portrait likeness of their seaworthy Captain or fantasy subjects like mermaids. Tobacco spit or tar 'ink' was used to rub into the etching to highlight the design.
Many hours would go into these talisman-like art objects. It was a way of life and a way of being 'at home' at sea.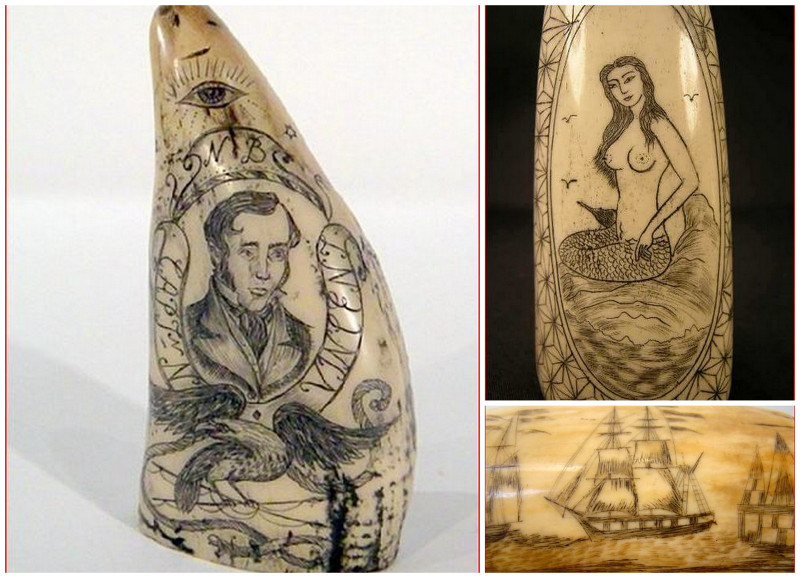 Captain, mermaid and ship scrimshaw on whale teeth.
Seems long ago and far away, doesn't it?
Consider this. Famed local Mohawk Chief Joseph Brant had a son, John, who sold a large parcel of land to newly arrived English settlers, the Sinclairs, in 1817. Several centuries later, generations of Sinclairs managed a family dairy farm in North Burlington.
Dennis Sinclair, a descendent of this clan, worked the dairy farm until his retirement several years ago. Now living on a country Concession between Carlisle and Freelton in the GHA off Highway 6, Dennis explained that he began 'his hobby' of wildlife wood carving after he finished high school.
He is completely self-taught: learning of the best woods, the best tools and the best methods, by trial and error.
When asked if he had had any formal art training, Dennis said he did study for awhile with Robert Bateman, famed Canadian wildlife painter, but not as his an art student. Bateman was his geography teacher at Nelson High in Burlington.
Dennis' grandmother, Mary Ann Sinclair, he says, also greatly influenced his artistic interest and development. Mary, a farmer's wife, was a 'hobby' painter.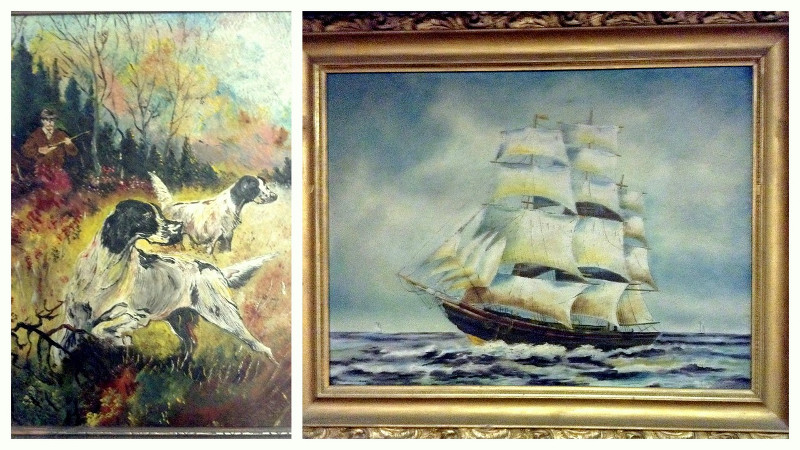 Dennis's grandmother's paintings. The autumn scene on left is a portrait of her husband and their hunting dogs. The ship on the right may have been seen by Mary Ann Sinclair from one of five bustling trading wharves on Lake Ontario. Most everything arrived at that time by water. Early settler life in Ontario was deeply connected to the distant seas, long before railroad and dirt roads criss-crossed the emerging nation. (Source: City of Burlington)
Over the decades, Dennis developed his own eye and skills. A keen observer of the natural world, like Bateman and his grandmother, he studied shape, form, colour and proportion by watching the ever varying activity and stillness of living creatures.
Always an enthusiastic outdoorsman, as a farm-boy hunter and keen fisherman, Dennis was ever attentive to the diversity of species, above, below and on ground, and in water. The natural world around him was brimming with exotic local wildlife. Dennis continued on with his intricate wood carvings.
One day, Walt Stockdale, a well-known Canadian knife maker who knew of Dennis' carving capabilities, asked Dennis to attempt some scrimshaw on one of his deer bone knife handles. Dennis agreed.
He quickly learned the basics of how to do scrimshaw from Walter's sister. Then, as before, he continued to learn by doing. He went his own way, using his own tools, finding his own solutions to what pleased his eye.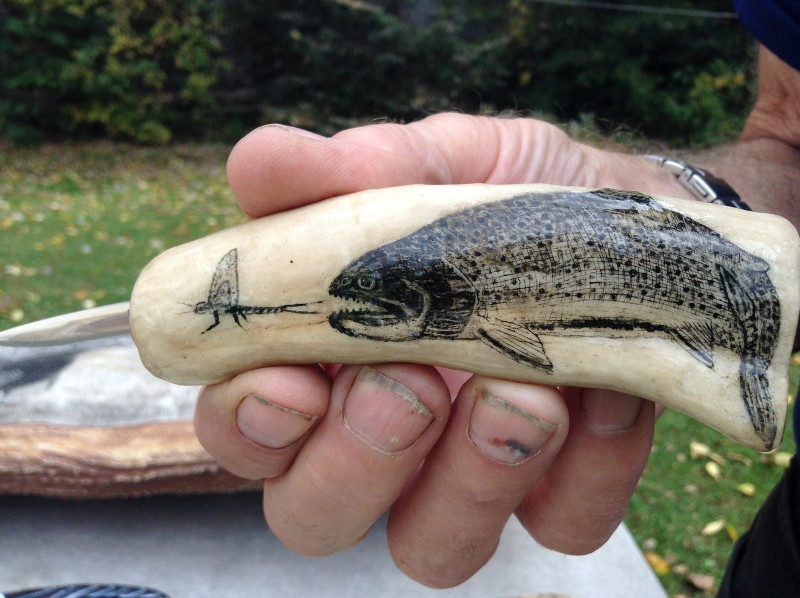 One of Dennis Sinclair's scrimshaw carving tools showing brook trout after a mayfly.
Today, Dennis collects 'shed' antlers from elk and deer farms in Halton and Fergus. Hunting friends also provide moose racks, or he bags his own near Dryden. Dennis uses these bone artefacts, in whole and in sawed-off part, as the basis for his intricate scrimshaw work. He keeps at it at 71 years of age.
On the surface, one wonders how a local landlubber (a dairy farmer) could become such an accomplished scrimshaw artist. Remember that his grandmother painted seafaring sailing vessels. He would have been raised on her stories.
He himself is an acute observer of nature, on land and water. And, he is also the proud owner of a nearly six-foot-long fin whale lower jaw bone.
What? A whale jaw bone in Ontario? All will be revealed in the video below.
Dennis has even used the section of whale vertebrae, a blue whale, to mock up a moose head. Eccentric, yes, and totally Dennis. He is his own man.
There must be something in a scrimshander's temperament that draws those who are investigating the bountiful and beautiful treasures of nature, both minute and massive, to attempt to 'capture' those treasures, on one of Nature's basic building blocks, bone.
Dennis certainly tries his very best to honour, as he says, the Creator's creations.
Dennis Sinclair does not have a website. He does not own a computer. He does, however, periodically exhibit his scrimshaw and wood carving 'collection' at local country fairs and craft shows. His items are for sale. But moreover, he just seems to enjoy sharing his art work with those who show a genuine appreciation of Life's Great Mysteries.
His next booth will be set up at a 'Christmas Show' on November 29, at the Carlisle United Church on 1432 Centre Road, Carlisle, from 10am to 3pm. All proceeds from this show and sale are going back to the church. That's just how Dennis Sinclair, scrimshaw artist and wildlife wood carver, rolls.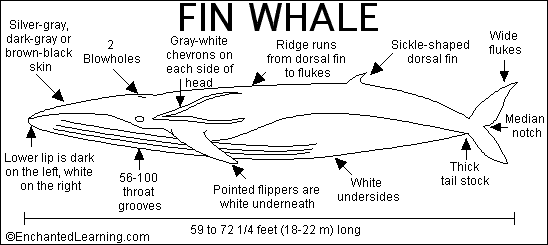 Fin Whale (with audio)
Post a Comment
You must be logged in to comment.