Debating LRT on CHCH-TV's Square Off
Nicholas Kevlahan and John Best debated the pros and cons of light rail transit on Tuesday.
By Nicholas Kevlahan
Published September 11, 2014
On Tuesday, September 9, 2014, I had the opportunity to participate in Square Off, a "talking heads" style debate program on CHCH, to discuss the city's light rail transit (LRT) plan. You can watch the nine-minute segment by visiting the Square Off page, clicking Tuesday, September 9th, 2014 and then Segment 2.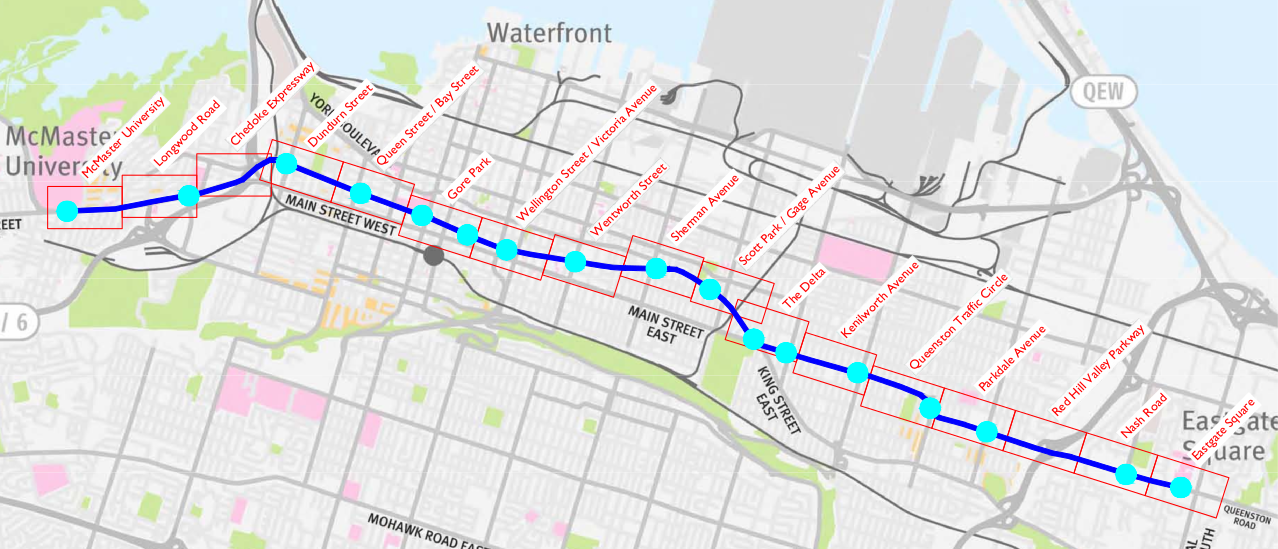 B-Line LRT route map
Donna Skelly and Mark Hebscher hosted the program, and we were also joined by John Best, published of The Bay Observer. Best claimed to be neutral on LRT, which is odd because everything he has written about it has been strongly negative.
Best's main points were:
1. That the project is too expensive and there is "only one taxpayer" so we shouldn't care whether the Province or the City pays for it.
This is incredibly naive: if the province is determined to spend money on improving transportation throughout the Greater Toronto and Hamilton Area, why would we nobly stand aside and let them spend the money elsewhere to "save the taxpayer"?
Why should we as a City be telling the Province how to spend their money, especially if it means telling them not to spend it in Hamilton?
2. That we were naive to think that Hamilton would get an LRT "before" other cities like Toronto and Mississauga get what they want.
This is a really sad example of the "Hamilton doesn't deserve the nice things that other cities have" argument, which a Spectator op-ed by Margaret Shkimba did a great job of pillorying.
No one is claiming that Hamilton should get LRT before Toronto or Mississauga (Toronto is already building LRT and subways), but should Hamilton meekly go to the back of the queue and wait until every other city has had its fill?
3. That the City wasn't given any options: the province told us it had to be an LRT from Eastgate to McMaster or nothing. Best actually asked why we didn't consider a phased approach with LRT from Downtown to McMaster first.
As we know, this is absolutely false: the City and the Province considered LRT, phased LRT, BRT or do nothing. They also have a comprehensive plan for expanding rapid transit throughout the city called "BLAST".
In any case, the Province has repeatedly said that they don't want to impose a particular solution on Hamilton and staff themselves have analyzed why the B-line is the obvious first choice.
The LRT was always understood as the best option for the city, but was seen as a long-term aspirational goal until the province offered to pay the capital costs in 2007 (and again in 2011 and 2014).
4. That there is no evidence of significant economic benefits.
Here Best just looked at the conservatively predicted tax increases to the City and claimed it would not even cover interest payments on the capital costs. He again ignored the fact that it would not be the City paying the capital costs and that the economic benefits go far beyond just the tax increases.
In any case, the example from last year of Wilson-Blanchard's property where a small three-storey office building increased the tax assessment from $7,000 to $77,000 shows the potential of re-developing all those surface parking lots and vacant buildings.
5. His basic complaint is the most preposterous: he claimed the project hasn't been studied enough and that we need to pause and do our homework.
This is the most studied infrastructure project in the city's history, and the most pre-designed. What more could we ask for? The Class Environmental Assessment, 30 percent engineering and detailed design, land use study, benefits case analysis, public consultation and an independent study by McMaster Institute of Transportation and Logistics have all been done.
And this isn't for some pioneering experimental piece of infrastructure that no one has ever attempted. There are hundreds of cities worldwide who have already built successful LRT systems, including over 30 in the United States and over 20 in France alone.
Post a Comment
You must be logged in to comment.