No Evidence to Support Clark's New LRT Position
Clark's new transit position is to ask the Province for less money than they offered to build a more modest system that will cost us more money to operate while generating less revenue and attracting less new private investment.
By Ryan McGreal
Published September 05, 2014
this article has been updated
This week, Mayoral candidate Brad Clark came out in opposition to the city's Light Rail Transit (LRT) plan for the east-west B-Line corridor between Eastgate Square and McMaster University.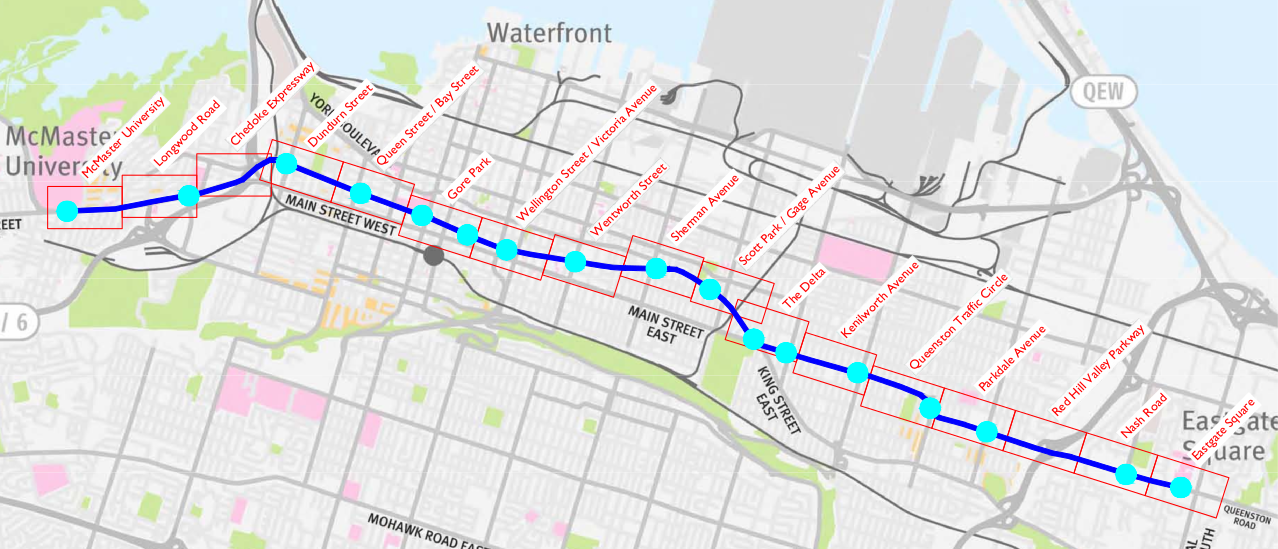 B-Line LRT route map
Clark supported LRT through the city's entire planning and design process, right back to the original rapid transit feasibility study in 2008. Now he says he has new information that shows the plan is unaffordable. RTH contacted Clark to ask about his sources but we have not received any response.
Neither the City nor the Province has published any new studies since the City's Rapid Ready LRT plan was released in February 2013, so it is not clear where Clark is getting this new information.
Operating Costs
Clark claims a B-Line LRT and a north-south A-Line bus rapid transit (BRT) will cost the city $73.5 million a year to operate. He doesn't break down what proportion of this cost will be for LRT and what proportion will be for BRT, and he doesn't specify whether this will be a gross operating cost (not including revenue) or a net operating cost.
It is not at all clear how he arrived at this number, since the City's Rapid Ready LRT plan notes that the entire HSR - bus lines and LRT included - will cost $51 million a year to operate.
In fact, Rapid Ready projects that the net levy cost for the HSR bus and LRT system is actually $7.1 million lower than the cost of a bus-only system by 2031 and that the net operating cost per passenger is only $1.51 in a system including LRT, compared to $2.28 in a system with buses alone.
Based on actual sourced net operating cost projections, Clark is proposing that the City spend $7 million more per year on a system that will carry far fewer passenger trips: 25.5 million a year compared with 33.9 million.
Capital Upgrades
Clark also claims the City will have to spend "millions if not hundreds of millions of dollars" on capital upgrades, even if the Province keeps its commitment to paying 100 percent of the capital cost of the LRT system.
It's hard to take this claim seriously, not only because it is unsourced but also because it represents a cost spread of two orders of magnitude.
Since the Province has not yet made a funding commitment, we do not know exactly what the Province is willing to fund or how it defines "100 percent capital funding". This seems to be pure speculation on Clark's part, designed to sow fear and uncertainty and undermine public support for the plan.
Economic Uplift Projections
Based on no evidence whatsoever, Clark claims the economic uplift estimates for the LRT plan are "overly rosy" and that the system will likely not attract as much new investment as the Rapid Ready plan projects.

Distribution of new taxable assessment without LRT and with LRT (Source: Canadian Urban Institute)
In fact, the economic uplift numbers from the Canadian Urban Institute in the Rapid Ready plan are very conservative - far from being "overly rosy", it's a worst-case estimate.
Changed Position
On the subject of LRT, Clark is sounding more and more like outgoing Mayor Bob Bratina, who changed his mind about the LRT plan while insisting he did not. Clark has supported LRT from the beginning, voting in favour of LRT at every Council vote since the Rapid Transit office was established in the end of 2007.
Clark also voted in favour of the Rapid Ready LRT plan. Now, like Bratina, he's trying to redefine Rapid Ready to mean it's not actually an LRT plan. A column in today's Spectator quotes Clark:
Clark insists there's no contradiction because his vote was cast for the entire Rapid Ready transit report, which encompasses local transit upgrades as well as LRT.

"The fact is, the Rapid Ready report is what council has before the government right now, and that calls for local transit improvements."
This echoes Bratina's attempt in April 2013 to claim the Rapid Ready plan was really about improving bus service. Here is what Chris Murray had to say to Council at the time:
In terms of where we've been all along, we've been focused all along on the B-Line and advancing the detail of that B-Line so the Province can make a decision on the B-Line. Okay? ... We think investing in transit, LRT specifically, in the City of Hamilton is something fundamental to our growth.
The result of that meeting was a directive from Council - for which Clark voted - clarifying and reaffirming Council's position that the Rapid Ready plan is a request for 100 percent capital funding for LRT.
Some Champion
Some years ago, when LRT was still an exciting initiative rather than a dreary political football, I had a meeting with Clark and Ancaster-Dundas-Flamborough-Westdale MP David Sweet at a Tim Hortons in rural Ancaster.
Clark and Sweet were both bullish on LRT, and Clark took pains to establish his pro-transit bona fides. I still remember his line: "When Mike Harris asked me to be his Minister of Transport, I asked him: 'Do you want me to be the Minister of Highways or the Minister of Transport?'"
As recently as September 2011, Clark was still making the case for LRT. In a blog post on his Councillor website, now deleted, he wrote:
[W]ith another provincial election just weeks away, you would expect that the Hamilton Council would be fighting to secure the original $1 billion promised for our two LRT lines. You would expect that Hamilton Council would be demanding equal treatment with the GTA. You would expect that Hamilton would be demanding that the 2007 election promise of 2 LRT lines, $1 billion in funding and no funding required from the Hamilton is delivered. Apparently, those would be false expectations, because the Mayor has walked away from LRT! ...

Hamilton Council was so eager to find the money to leverage the PanAm games at 56% than [sic] why is Council and our community leaders not pressuring the Government to keep their promise to fund the LRT at 100%.

I am not an LRT champion. I am a Champion for Hamilton. I have always stated that the province must keep their 2007 election LRT promise. Council's position has not changed. We are Champions for Hamilton. We rightfully expect and respectfully demand the same treatment as Toronto.
Whatever happened to the feisty Councillor who criticized the Mayor for walking away from the promise of LRT instead of demanding that the Province keep its commitment to full capital funding?
Whatever happened to the former Cabinet Minister touting his ability to work with higher levels of government to secure Hamilton's interests?
Clark's new transit position is to ask the Province for less money than they have offered us in order to build a more modest system that will cost us more money to operate while generating less revenue and attracting less new private investment.
It's a real shame that the self-styled "Champion for Hamilton" is willing to sacrifice the city's most exciting opportunity for long-term prosperity to pander for votes by misinforming Hamiltonians about LRT.
FOI Request
Clark's campaign also includes a robocall in which Clark's recorded voice reiterates his unsupported claims about LRT costs and asks listeners to agree or disagree. Clark has stated that he will not share the results of his robocall program.
Clark has also launched a volley at former Mayor Fred Eisenberger with a Freedom of Information (FOI) request under the Municipal Freedom of Information and Protection of Privacy Act (MFIPPA) for all documents related to LRT that were sent to or from the Mayor's office in 2010.
This is a large, complicated FOI request, and it normally takes several months of back-and-forth for the City to produce results. Clark surely knows this, so the FOI request serves mainly as a mud-slinging tactic to raise yet more confusion and uncertainty about the credibility of the LRT file.
Other Mayoral Candidates
RTH contacted all the mayoral candidates to ask for their comments on Clark's LRT position.
Michael Baldasaro responded in an email, writing the he also does not support an east-west LRT, calling it "unsustainble".
Instead, he supports an LRT loop that would "run North on Bay and South on James Streets, East and west between King and Hunter, and include the new HSR Station on MacNab. This is the only LRT Route that makes sense."
Ejaz Butt responded in an email, writing, "He being a councillor, strongly supported the LRT with 100% provincial funding. This statement of his to dump the LRT is just nothing other than to attract the people to vote for him."
Butt also took the news media to task for "propagating [Clark's] press release to get him elected as mayor" while ignoring Butt's press release. (RTH has not received a copy of Butt's press release.)
Fred Eisenberger issued a press release reiterating his position that he supports LRT but wants to "hit the reset button" with a new "community engagement process to review all the public transportation options and build broad public support".
Eisenberger called Clark's FOI request a "politically-motivated stunt" and welcomed the results of the request. "The more information the citizens receive on rapid transit the better."
He also criticized Clark for "flip-flopping on the LRT issue," noting, "Mr. Clark already has all this information at his disposal. In fact, he voted in favour of LRT multiple times."
Crystal Lavigne responded in an email, writing, "I would like to see our bus system improved throughout our entire city, targeting the areas that are lacking the most. I'd also like to see improvements in our North/South routes, especially running on the east side."
Lavigne opposed LRT but advocates a gondola as a "fast north/south connection" and "an excellent tourist attraction as well." She wants to install rental bicycles at each station and connect the gondola to bus lines.
She also criticized Clark for supporting the Cannon Street Cycle Track and for office expenses that include over $2,800 for personal communications skills training.
Brian McHattie issued a press release on Wednesday, stating: "Good enough is no longer good enough for Hamilton. We deserve great." McHattie supports LRT and wants the Province to keep its commitment to full capital funding. (Disclosure: I have done some volunteering with McHattie's campaign.)
"I don't see why Hamiltonians should be funding LRT in Kitchener/Waterloo, Mississauga, or Ottawa, to name a few, and accepting BRT for themselves. That's unfair."
McHattie also touts the economic development potential for LRT, noting that Hamilton is attracting economic development and stating, "I want to build on that progress, not back away from it. hamilton's future is a lot brighter than some people seem to think it is."
Mayoral candidates Mike Clancy, Nick Iamonico, Phil Ryerson and Ricky Tavares did not respond to our request for comment.
---
with files from Nicholas Kevlahan
---
Update: updated to include a response from Michael Baldasaro, which Baldasaro sent but RTH did not receive. You can jump to the added paragaraph.
Post a Comment
You must be logged in to comment.