Confessions of a Nervous Cyclist
For a casual cyclist to make a short journey by bike in this city, you need a level of preparation, route planning savvy and confidence that creates a huge barrier to the introductory rider.
By Jason Allen
Published July 18, 2014
In a recent speech, Jennifer Keesmat, Toronto's rock-star chief planner, said that when Toronto residents were surveyed recently about their willingness to commute by bike there was one surprising result.
Among people who described themselves as avid recreational cyclists, who presumably knew how to handle themselves on two wheels, the most common response to whether they would commute by bike was some variation of "Are you crazy? I'd get killed!"
With these words ringing in my ears, I set off to visit some places that make Hamilton great by bike one recent Saturday.
I should note, I am a self-described nervous cyclist. A Monday to Friday transit user and every day pedestrian, I have never made much use of the various bikes around my house. I have a good helmet and a good lock (if not a great bike), but it's just not a mode of transport that it occurs to me to use regularly.
This has always bothered me a bit and on a beautiful Saturday afternoon miraculously free of commitments, I set off from my home on Locke Street.
I was determined to make the effort and excited to make use of the new Hunter Street bike lanes. My plans were straightforward: visit the AGH for their 100th anniversary exhibit and say hi to Dave at Mixed Media.
First challenge: Getting from Locke to the Hunter Street bike lanes without a) feeling terrified, or b) breaking the law.
With Hunter being narrow and one way westbound, I needed an alternate route to the bike lanes, so I made my way to Bold and headed east. I realized the error of my decision after a few minutes.
Bold reaches Queen a full block south of Hunter and to get to the bike lanes I'd either have to head up another block on Bold, or ride against traffic for a block on Queen, which would be tantamount to suicide.
I would have been better off to have chosen Canada Street, and taken my chances going south on Queen to connect to the bike lanes. The complexity of route planning was not easing any of my concerns about getting to the AGH in one piece.
So after arriving at Bold and Queen, I walked my bike on the sidewalk one block north to the bike lanes and set out.
I felt fairly safe on the route going eastbound, separated from the cars by another bike lane. However, the state of disrepair of what was formerly the curb lane was bad enough to nearly wrench my handlebars out of my hands on more than one occasion.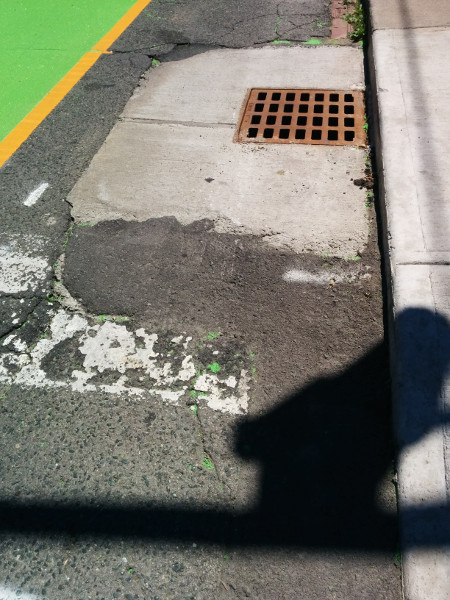 Bike lanes in poor repair
And as if ordained by the cycling Gods, who knew I would be documenting my trip for an article, I saw this: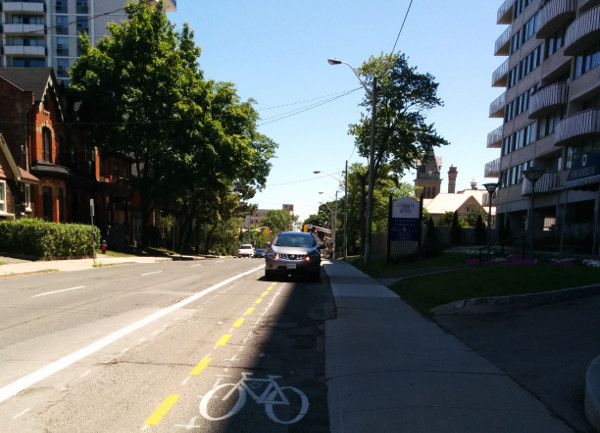 Car parked in bike lanes
Frustrated, I stopped and snapped a photo before proceeding through the sliver of the remaining (oncoming) bike lane to make my way around them.
I made it onto Bay, where I proceeded through the city hall plaza to the AGH. At the gallery there was, astonishingly, only one bike rack for a block in either direction. A note to the AGH: If you make it easier for bike-riding-art-loving-hippies to visit your gallery, they likely will.
Bike locked, helmet affixed to bag, I went and enjoyed a glorious hour in the free 100th anniversary exhibition. If you get a chance, go! Emily Carr, Tom Thomson, Alex Colville, and a couple of amazing mixed media installations (the Bruegel-Bosch Bus had me transfixed for twenty minutes) it's a selection of incredible art right here in your city.
From there, I proceeded on to James North. Going back to Main to ride along that street would have been dangerous at best. Heading back to Bay to get to Wilson would have involved going quite a ways in the wrong direction.
Riding against traffic on King to get to James never even entered my mind. So I walked my bike up along King, and rode down James.
After a quick chat with Dave at Mixed Media, I decided I would look for something at Jamesville Hardware just south of Barton, and my trip was complete.
Now I had to make it home.
Riding up James towards Hunter, I was pleasantly surprised. Drivers were polite, kept a respectful distance and tolerated my obvious uncertainty. It was an unexpectedly enjoyable ride.
Then I got to Hunter.
The bike lanes on Hunter, of course, don't start at James. There is still a block long stretch of three-lane freeway to get past. So after walking to McNab, I started riding up the hill in the Westbound bike lane that is right beside the traffic.
At the top of the hill, a pickup truck doing far more than the posted 40 km/hr cut across the bike lane where it curves around Park Street. I wasn't close enough for it to be an issue, but the lack of respect for the space in the absence of physical separation was clear.
I made it over the crest of the hill, and proceeded towards Queen. Drivers here, in contrast to James North, whipped past at whatever speed they were accustomed to travelling. Despite the presence of the bike lanes, the culture of Hunter as a timed-light mini-expressway made me feel a lot more nervous than I had in the mixed traffic on James.
I finished my journey down the bike-lane-free section of Hunter, because true to Hamilton form, the bike lanes end at Queen with no signage or logical connection to any other west-bound route.
My conclusion from all this is that for a casual cyclist to make a short journey by bike in this city, you need a level of preparation, route planning savvy and confidence that creates a huge barrier to the introductory rider.
Cities are all about choices. If you've ever spent time in a rural setting, you know the limits of living in a small town: limits to shopping, entertainment, travel, education and even employment. A huge part of what cities do is give you a choice, about where you get to shop, work and go to school, but also about how you get to travel.
If you make some of those choices dangerous, or hugely inconvenient, then they're not really choices at all, are they?
When it was launched, the Shifting Gears cycling plan was hailed as pretty much the best Hamilton was going to get in terms of cycling infrastructure. Clearly though, it's not even acceptable as a baseline.
Hamilton, we need to do better.
Post a Comment
You must be logged in to comment.