John and King Unsafe for Pedestrians
Despite a policy to support walking, vehicular travel lanes are consistently given top priority whether we consider permanent infrastructure design or temporary closures for construction.
By Sean Burak
Published July 06, 2014
The city's Gore Park Master Plan has started phase one of construction in the Veterans' Place section between John Street and Hughson Street. The construction fence that went up last week has created an enormous safety issue for pedestrians.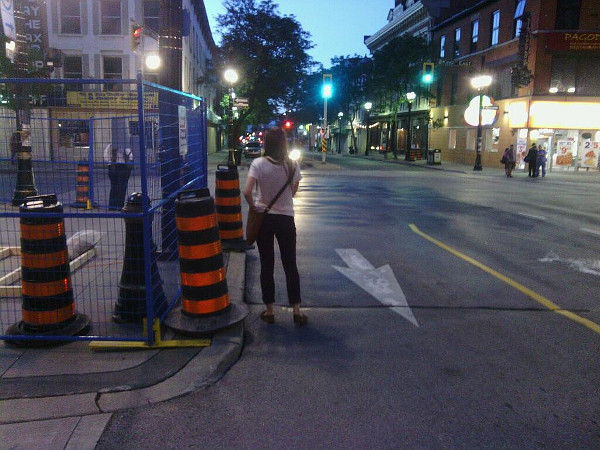 Gore Park Master Plan construction safety fence
The intersection at John and King currently offers no service to pedestrians crossing King along the West sidewalk of John. The construction fencing has been placed across the sidewalk and right up to the road edge. The pylons are zip-tied to the fence, perhaps to prevent them from falling into traffic and being damaged.
There is a sign on the northwest corner of the intersection directing pedestrians to use the other sidewalk, creating a three-stage crossing.
The southwest corner has no such sign. Pedestrians are left to identify the issue on their own.
A much better way to handle this situation would be for the city to barricade a lane to create a pedestrian access route, and shift each vehicular travel lane east, temporarily eliminating one of the two northbound left turn lanes.
The current situation is horribly unsafe - especially at night, when pedestrians must stand in a wide traffic lane while waiting for the light.
Compounding the safety issue is the added risk of buses turning left from the second lane, squeezing cars even closer to the waiting pedestrians.
The official policy in this city is to prioritize pedestrians, but this is only reflected on paper. In reality, vehicular travel lanes are given priority above all, whether we consider permanent infrastructure design or temporary closures for construction.
Lane Configuration Problems
Even when this intersection is not under construction, it does not serve any road users well.
The configuration of this intersection provides one southbound lane on John (heavily used by buses), and three northbound lanes - two of which are left-turn lanes. On King, there is a curb lane for passenger pick up, a bus lane and two through-traffic lanes.

Confusing configuration of lanes on John at King
Confusion is rampant in this intersection, since buses must merge from the right lane on John to use the turn lane, then merge back to their dedicated lane on King.
At the same time, southbound cars are attempting to turn right onto king - into the very same lanes. Southbound cars attempting to go straight along John are supposed to be using the right-hand lane only. But the Barton bus blocks that lane just beyond the intersection, forcing drivers into the turn lane to attempt to go straight.
The city needs to rectify the temporary pedestrian issue immediately. And the permanent lane configuration needs to be re-visited as soon as possible.
One workable solution would be to have a dedicated left turn signal for northbound buses, allowing them to turn left into the bus lane directly from the curb lane of John. All other traffic would be stopped during this phase.
This would allow northbound cars to use the second lane, and would also allow for a single left turn lane for non-bus use only.
Of course this isn't the only possible solution, but any user of this intersection - whether pedestrian, driver or transit user - would benefit from a thoughtful redesign.
Post a Comment
You must be logged in to comment.