First Look at Restored Royal Connaught
The developers behind the new Residences of Royal Connaught held an official launch to showcase the Royal Connaught's beautifully restored main lobby and a showcase model suite.
By Ryan McGreal
Published June 05, 2014
Yesterday evening, after years of false starts, followed by several months of secretive renovations behind papered windows, the developers behind the new Residences of Royal Connaught condo development held an official launch to showcase the Connaught's beautifully restored main lobby and a showcase model suite.

Royal Connaught front entrance
The lobby was impressive, with ornamented columns rising from a beautifully restored marble floor to intricate ceiling work and spectacular glass chandeliers.

Coffee bar

Chandelier

Restored marble floor
In the centre of the lobby was a large model of the full five-phase project, which is planned to include two towers and two new buildings on the south side of the property facing onto Main Street.

Project model
Overlooking the lobby is a restored balcony that offers a great view and leads to the model suite.

Staircase to second floor

Second floor balcony

Ceiling corner detail

Overlooking the lobby from second floor balcony

Developers Rudy Spallacci and Ted Valeri
The model suite was a nicely-appointed two-bedroom condo with two full bathrooms, a large storage closet, in-home washer and dryer room and a beautiful view overlooking Gore Park.

Living Room

Kitchen

Main bedroom

Second bedroom

Bathroom

View out the window
There will be 122 units in the first phase of development, and they will go on sale on June 7 in a public grand opening.
The 13-storey Royal Connaught Grand Hotel was named after Governor General Prince Arthur William Patrick Albert, 1st Duke of Connaught and Strathearn, who laid the cornerstone in 1914. It was built by the Pigott Construction Company and opened in 1916.
After decades representing Hamilton high society, it closed in 2004 following years of changing hands and persistent financial troubles.
Redevelopment attempts since then include a 2008 bid by Harry Stinson that would have included an 80-storey glass pyramid tower and a 2009 proposal to convert the building to affordable housing.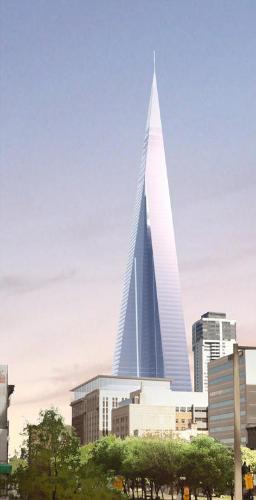 Rendering of Harry Stinson's 2008 development proposal
In 2011, Mayor Bob Bratina leaked an early rendering of a proposed redevelopment that would include a new tower with a glass facade. The owners quickly distanced themselves from the rendering, saying it was too preliminary for public consumption.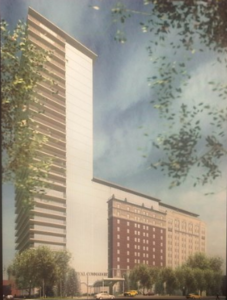 2011 Rendering
This time, it looks very much like the project is really going to go ahead. The market for urban living has changed, the demographics of downtown Hamilton have changed, and the expense and detail the developers have dedicated to the restoration indicates that they are in this to see it through to completion.
Post a Comment
You must be logged in to comment.