Putting Trees on the Streets of Crown Point
Some Hamilton neighbourhoods with especially poor tree coverage have some of the worst air quality in Canada. In response, OPIRG McMaster supported a student to start the Street Tree project last year.
By Krista Kruja
Published June 02, 2014
this article has been updated
The OPIRG McMaster Street Tree Project has taken off again this year in Crown Point after a successful summer of 2013 in the Keith neighbourhood, and this year they have teamed up with Environment Hamilton!
If you're not familiar with this project here's a bit of a background:
In 2004, in an effort to increase the urban tree canopy, the City of Hamilton started the Free Street Tree Planting program. Through the program, home owners can request a tree in their front yard and the city will plant and maintain it free of charge.
It has now been ten years since the program began. While it is going great in some parts of the City of Hamilton, unfortunately many people in other areas that need trees the most aren't aware of the program's availability or potential positive impacts on air quality, noise, property values, or overall health.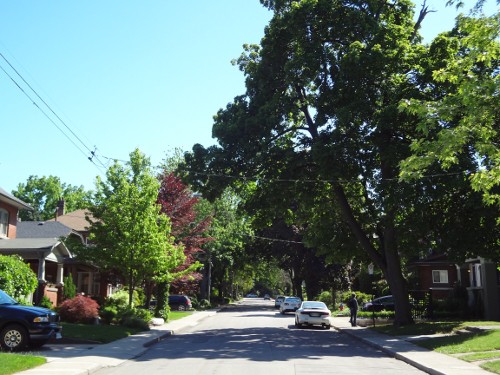 Street tree canopy in Kirkendall (RTH file photo)
A survey of air quality in Hamiltonian neighbourhoods showed that some of the areas with especially poor tree coverage had some of the worst air quality in Canada. In response to this, OPIRG McMaster supported a student to start the Street Tree project last year.
The innovative project was piloted in the Keith neighbourhood, which consists of about 1,800 homes. A door-to-door campaign was organized to ask residents if they wanted a free tree. As a result, 73 trees were scheduled to be planted in a neighbourhood that had previously averaged only three tree requests a year.
This year, the focus was on areas within the Crown Point neighbourhood in Ward 4, starting specifically in the McAnulty Boulevard area.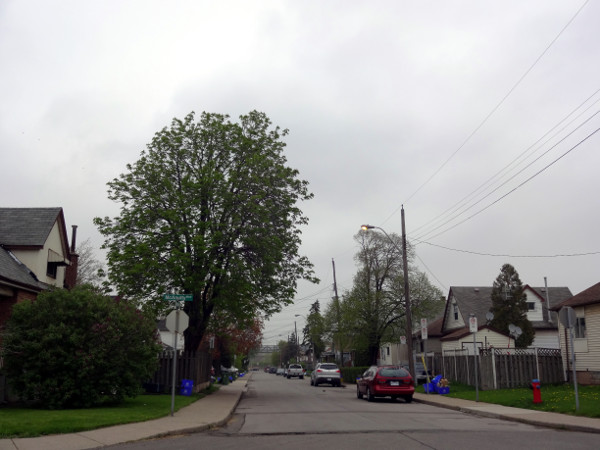 McAnulty Boulevard
The McAnulty neighbourhood had been listed as the fifth worst neighbourhood in Hamilton for air quality. It has a mortality rate of six percent higher than the average, and PM10 levels twice average levels. With the steel industry so close by, it doesn't come as much of a surprise!
However, the Street Tree Project is trying hard to improve this. We are going canvassing door-to-door in the McAnulty area trying to collect more tree requests, as well as distributing a survey to try to determine what other services might be lacking that might help the community increase greenery and improve air quality.
The goal is to use these results in the future to advocate for new services which might be of use. For example, requests for shrubs have been a popular ask, and fear of problems with piping have been a common concern preventing people from requesting trees.
Knowing this, we might be able to push for improved water pipes and maintenance, or at least free shrubs to accompany free trees.
So far, the project has not only served to increase tree requests but also to bridge communities in Hamilton. We have had volunteers to come canvassing from McAnulty, McMaster, Environment Hamilton and Crown Point, as well as the larger Hamilton community.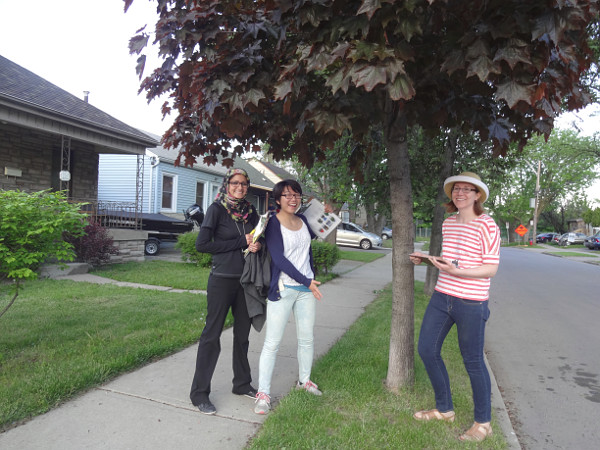 Street Tree volunteers
We are also hoping to advertise the service and meet even more people by attending an event for the opening of the new Bayview Park in Crown Point.
It has been an exciting process building new relationships with Hamilton community members to improve air quality and increase the urban forest. There's something really wonderful about bringing together people who might not have ever met one another to work toward something that benefits everyone.
If you are interested in learning more about the project, getting a free tree, or volunteering with us, check out our blog and follow Hamilton StreetTrees on Twitter @TREEs4sTREEts.
---
Update: this article originally mentioned an event at Bayfield Park. The event is actually at Bayview Park. RTH regrets the error. You can jump to the changed paragraph.
Post a Comment
You must be logged in to comment.