A Living Wall at the Hamilton Public Library
The green wall inside the entrance of the Central branch library covers over 20 square meters and includes a rich diversity of plants such as spiderwort, sensitive fern, baby's tears and Boston fern.
By Andrew Cech and Jonathan Lambert
Published June 01, 2014
"It's all real ... A very cool idea," remarked one library visitor.
"I like it," replied another.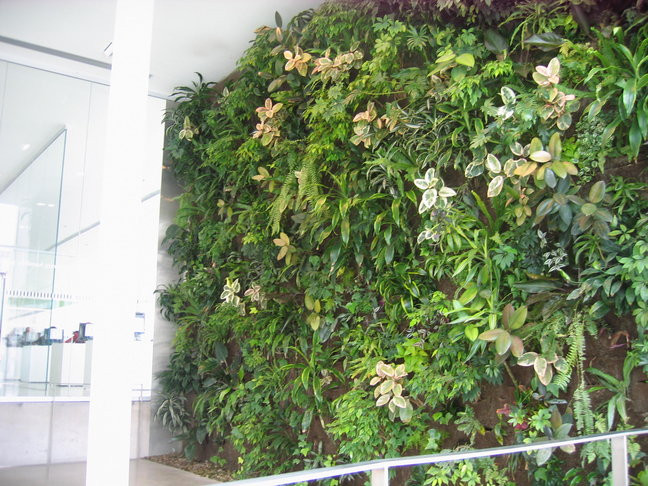 The living wall at the Hamilton Public Library Central branch
The indoor garden wall at the Hamilton Public Library Central branch may be the first thing you see as you enter the building. Located beside the library's York Street entrance, this garden covers a surface larger than 20 square meters.
Many of the plants on the Central branch living wall are native species to this region. One example is the spiderwort, also called tradescantia virginiana.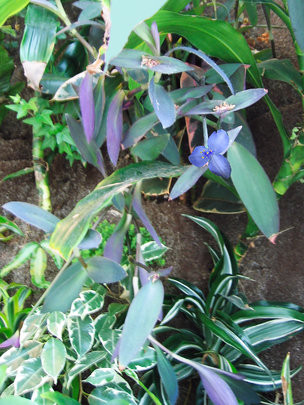 Spiderwort
Spiderwort is known for its blue flowers, blossoming in the spring and sometimes late summer. Highly adaptable, it can grow in sun to light shade.
As this plant can grow up to 60 cm long and its leaves tend to drape down rather than stand up, the spiderwort is especially suitable for living walls.
Another native species on the library living wall is the sensitive fern.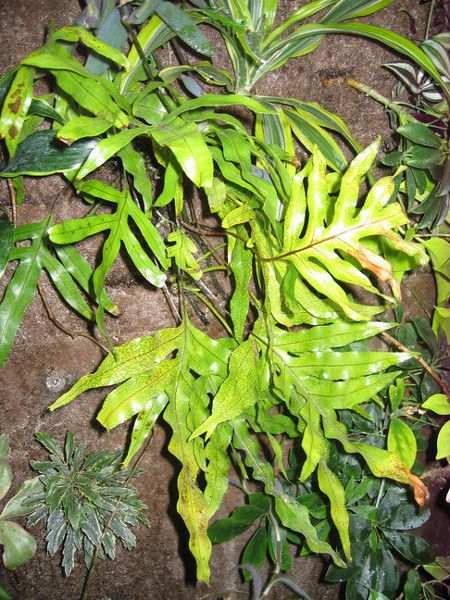 Sensitive fern
Its Latin name is onoclea sensibilis. Unlike other ferns that tend to be difficult to identify, the sensitive fern has thin, light green leaves that are easy to distinguish.
This plant can grow in diverse conditions from full sun to partial shade, but it especially needs a lot of moisture, according Lorraine Johnson's 100 Easy-To-Grow Native Plants for Canadian Gardens.
As it is particularly sensitive to early frosts, it is called sensitive fern.
Baby's tears, also known as soleirolia soleirolii, is another plant on the living wall.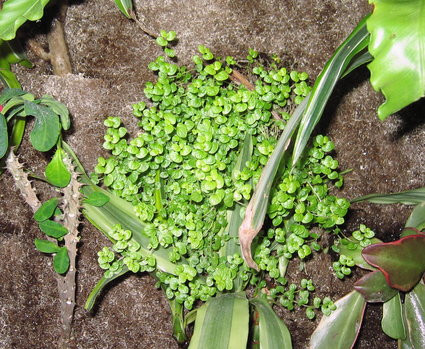 Baby's tears
Excelling in shade and moderate moisture, these plants are used worldwide in homes and gardens.
An additional common plant is the Boston fern.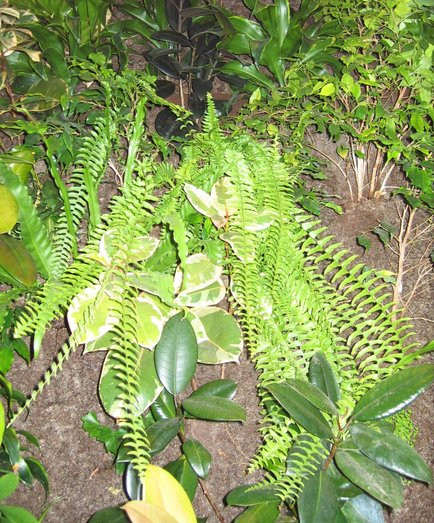 Central branch living wall
Also known as nephrolepis exaltata, this fern prefers damp, nutrient rich soil and a humid environment, but is also among the most drought resistant ferns.
Since December 2010, when the Hamilton Public Library Central branch reopened after nearly 18 months of renovations, the indoor living wall has been among the library's most outstanding features.
Vertical gardens have several advantages over horizontal gardens. For instance, water is less likely to evaporate from vertical gardens than from comparable horizontal gardens.
Living walls, furthermore, use vertical space, so they are especially appropriate for cities and densely populated locations.
The plants on the living wall at the Hamilton Public Library Central branch provide diverse benefits. As described by one library visitor, "Some of the time, they flower."
Post a Comment
You must be logged in to comment.