Hamilton Should Commemorate Important Local Artists
We have stories in Hamilton, and we need to tell them to ourselves and to the world.
By Ryan Moran
Published April 16, 2014
this article has been updated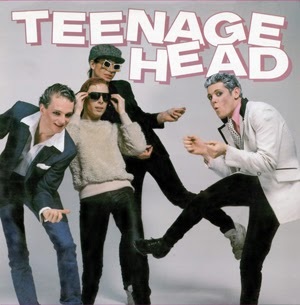 Teenage Head album cover
(Image Credit: Wikipedia)
When people talk about the Canadian punk movement, they are actually talking about Hamilton.
Few are aware of this outside of Hamilton, let alone around the world. Yet Hamilton ranks with London and New York City as the Canadian city with the most profound contribution to one of the most significant, international counter-cultural movements of the 20th century.
This should be recognized and publicly celebrated to both ourselves and visitors alike.
Divisive Criticism
When the story of the proposed Frankie "Venom" Kerr statue in Victoria Park broke this past weekend, it did so in a characteristically divisive way.
(Disclosure: I am one of the volunteers helping Brian McHattie's mayoral election campaign.)
The project is underway, but details have not been finalized. Proposals are still open to be received, the final price-tag has yet to be set, and public consultation is ongoing.
In other words, the important things are still in play, and this is unfolding as a discussion on public art should.
Yet the recent response has ranged from typical complaints about 'frivolity with tax-dollars' to more puritan concerns of 'celebrating a drug addict' all the way to the absurd 'not in a children's park!'
Regarding the drug-addict claim, this is purely subjective. Most people would have a harder time identifying monuments to famous icons who were not substance abusers, than those who were, let alone musicians. Moreover, vilifying someone for substance abuse is hardly constructive, and far from appropriate.
'Crumbling' Infrastructure
This initiative also faces the blanket claim that 'our crumbling infrastructure' should take precedence. However, our infrastructure is always going to be crumbling. That's what infrastructure does.
The most fruitless way to spend $200,000 of community re-investment is to pour it into roads, where will it be a drop that evaporates before it even reaches the bucket.
Infrastructure is a depreciating asset to every city in the world. If it is always prioritized over other investments, what we will be left with are temporarily pristine roads with little of interest on them.
This misplaced concern for tax dollars exists in spades in this city. We are prepared to spend hundreds of millions of dollars on the Aerotropolis, but a $200,000 proposal to recognize part of our culture draws public ire in a single weekend.
Shared Cultural History
Maybe it won't end up as a statue, and maybe it won't end up costing $200,000, but Hamilton needs to do a better job of celebrating its icons and history, both to visitors and to its own citizens.
What does not exist in Hamilton is our public recognition of a shared cultural history, let alone the recognition of Hamilton's leading contribution, on Canada's behalf, to a global counter-cultural movement.
We're so afraid of things that might seem even remotely frivolous in this city that the High-Level Bridge has had empty gaps where statues should go for the better part of a century.
I can count on one hand the number of monuments or non-functional recognition pieces (i.e. not hospitals or conference centres) that exist in Hamilton.
How many artistic tributes to John Lennon do you think there are in the world? Lennon was a counter-cultural icon who abused drugs and who expressed beliefs and exhibited behaviours that are contradictory to how we would like to remember him today.
I'm not suggesting Venom's cultural contributions are equal to Lennon's, but Venom should be at least as important to Hamilton as Lennon is to Costa Rica's San Jose Chinatown, where Lennon is immortalized in a seated bronze statue.
Would people in Queens be so opposed to a statue of any of The Ramones? Many such monuments do actually do exist - and not just in Queens. Would the people of London oppose commemorating the Sex Pistols or the Clash?
Regardless of musical tastes, these bands are icons, and Teenage Head was Canada's answer to them.
Grand Public Art
Beyond recognition of cultural icons, cities around the world have taken on projects ranging from memorializing local street-performers to grand public art pieces - such as Denver's 32 foot tall, lightning-blue, demonic, and quite anatomically correct stallion.
Each of these projects range in price from low to exactly what you'd think the aforementioned horse would cost. More importantly, though, these pieces create meaning, both to those who live in the community and to those who visit it.
A great example is the statue of Ignatius J. Reilly in New Orleans. Reilly is an obscene fictional character in John Kennedy O'Toole's Pulitzer Prize-winning novel A Confederacy of Dunces.
He is someone who has no redeeming qualities, and never even existed. Yet he adorns a street because he is seen as a quintessentially New Orleans character. He is there not because it matters, but because it brings meaning and story to a community, and that's what matters.
We Have Stories
Whether it is a monument to Frankie Venom, Teenage Head, or someone else, this sort of recognition is important. We have stories in Hamilton, and we need to tell them to ourselves and to the world.
We all have flaws, but skill, talent, and deep cultural contributions that originate within our community need to be proudly and publicly celebrated. It enriches our civic story, and reminds us of what we have, can, do and are capable of contributing internationally.
We will never be world-class city unless we believe we can be, and act like it. This is what a world class city does.
---
Update: updated to add a disclosure that Ryan Moran volunteers with Brian McHattie's mayoral election campaign. RTH regrets the oversight in not including this right away.
Post a Comment
You must be logged in to comment.