Pig Out
As usual, Hamilton City Council struggles to bring home the bacon.
By Trey Shaughnessy
Published November 28, 2005
Maple Leaf's decision to give up a land purchase in Hamilton's yet-to-be-developed North Glanbrook Industrial Park (NGIP) speaks volumes about Hamilton's lingering state of limbo.
Maple Leaf had made a proposal to Hamilton Council to purchase a 40-hectare site to replace their aging Burlington pork processing facility that would kick-off the NGIP.
This $250 million, 57,600 square metre (190,000 sq ft) plant would create an estimated 1,200 good paying jobs, generate a one time $1.55 million in permit fees, and pay an annual $8.64 million in property taxes and sewer and water fees.
These are just the dollars directly injected into Hamilton's economy. The employment gained from one job can generate up to six spin-off jobs indirectly in the form of advertising, accounting, sponsorship, snow-removal, window washing etc.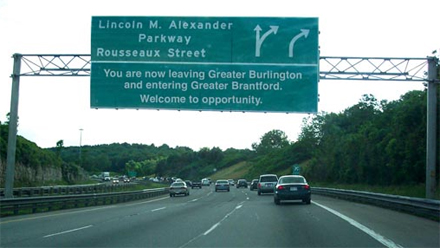 Is Hamilton missing out on business opportunities?
This was Hamilton's to lose. Maple Leaf was hot on Hamilton. They have other facilities in town, we have the majority of their Burlington workforce, and we are centrally located in the Golden Horseshoe, an advantage Hamilton has not nearly been leveraging anywhere close to its potential.
First, I lay blame on City Council. I became nervous about our local leadership when Council decided on November 8 to postpone a vote on whether or not to sell land and rezone, and then again two days later.
The decision was on whether or not to sell land and rezone it - conditionally, no less. That's all. Then the limbo dance started, jockeying and politicking and not handling the job at hand.
It is no wonder Maple Leaf said 'see ya'. Our Council has at best a foggy vision of what they want for Hamilton's future.
Two groups outside council were also responsible, but for different reasons. First, there was those who opposed Red Hill and are now on a mission to see it fail.
I can't understand this thinking. Whether or not you were in favour of the Expressway, I can't support bitterness at the expense of the rest of us.
Some people would like nothing better than to see a highway built to nowhere, just to say "I told you so" to the last residents moving to opportunity elsewhere or about to embark on their daily commute to a job somewhere in the GTA.
The intention of the Expressway was to create more jobs and increase the industrial tax base. Let's at least see it through to fruition.
The other group opposed to Maple Leaf was the suburban residents who have invested everything into their 3,000 square foot McMansions on the fringe of the city (bordering a proposed industrial park) and suddenly want development to stop - after they moved in, of course.
Strangely, support for their NIMBYism came from urban Councillors (Brian McHattie, Bob Bratina, and Bernie Morelli) as well as suburban Councillors (Tom Jackson, Art Samson and Margaret McCarthy).
Some Councillors were "upset" by the "process". Wait a minute! This is their process.
Tom Jackson expressed concern about the city's image. I wonder if he thinks Hamilton has just improved its image?
Indecisiveness on whether or not to make a decision is hardly new to politics, but this was an exercise in professional politicians acting like amateurs.
The suburbanites' dream of living next door to Microsoft is as likely as Royal Bank moving its head office from Bay Street, Toronto to Bay Street, Hamilton.
Eighty years ago when Chicago's meat packers and steelworkers defined their city as "the city of big shoulders," they talked about the spirit of a city where blue collars lived and worked with white collars.
Chicago offered every amenity of city life, an affordable, high quality lifestyle and jobs for everyone. These jobs included steel, meatpacking, legal, accounting, advertising: every job imaginable.
The white collar service industry relies on manufacturing. No city can be just a white-collar town. I work in business services and know firsthand how the demise of downtown office workers has been directly related to the loss of our manufacturing.
How ironic that Hamiltonians complained of a possible odour from Maple Leaf in a city that had a coke oven operating for 100 years. Also, this plant has been operating in Burlington for 40 years.
How peculiar that Hamiltonians somehow saw good, honest, living-wage jobs as "undesirable".
Furthermore, a meat packing plant already exists in the area. Highland Packers has been operating at 432 Highland Road East since 1958.
Downtown Toronto wouldn't be the place it is today if it weren't for the manufacturing that takes place along the 401, in Scarborough and the huge business parks in Mississauga and Etobicoke.
Historically, cities have always located industry at the fringes, especially when they were as polluting as they were in the past. Hamilton's industrial north end and east ends were the fringes of the city when it was decided that industry would operate there, except the city has since grown beyond them.
Today, the fringe (even if you don't agree with it) is at the North Glanbrook Industrial Park, which also is being served (even if you don't agree with it) by the Red Hill Expressway.
Perhaps Maple Leaf, with four existing plants and possibly one more in Glanbrook, would decide to locate its head office downtown. Perhaps its outsourced services would be provided by downtown legal, accounting, payroll and advertising firms.
Perhaps Maple Leaf, the largest food producer in Canada, would be a good corporate citizen and would sponsor local events. It would certainly give Dofasco a break from sponsoring everything.
Perhaps Copps Coliseum, or Ivor Wynn Stadium or even a brand new venue would become the Maple Leaf Centre. This happens to be what is going on in other fine cities. This is not "giving in" to corporations. It is working with corporations.
Burlington and now Brantford have been enticing business out of Hamilton for years. The list of companies along the stretch of highway between Guelph Line and Appleby Line that once were located in Hamilton is long, and includes Royal Mattress, OK&D Marketing, Canon, IBM, Bay Area Investigators, Hamilton Magazine, Gennum, AIC, Jan Kelley Marketing, Laidlaw, Siemens and many more.
The list of companies that recently moved to Brantford or chose Brantford over Hamilton includes Ferraro Roche, Proctor and Gamble, and Tim Horton's central bakery. The list is growing.
How much longer can Hamilton bleed business? Are we to become nothing but a bedroom community of commuters?
For Hamilton to proceed, it needs a game plan. More importantly Hamilton needs to decide what it wants to be. The options are simple:
A real city, with all kinds of jobs and opportunity, with an urban healthy downtown core, affordable and a variety of living options, city life and amenities, an established permanent boundary, a variety of transportation, and entertainment venues; or
A bedroom town, filled with affordable 3,000 square foot single-family homes, where we can commute to a good paying job in the GTA and raise a family only to watch them grow-up and leave to another city of opportunity.
Post a Comment
You must be logged in to comment.