Designing Hope
Discover how a gingerbread house can provide food and shelter for the homeless.
By Ryan McGreal
Published November 28, 2005
Design Hope
This year's collection of works will be on display at Carnegie Gallery, 10 King St. W., Dundas, tel. 905-627-4265, from November 29 to December 7.
The gala event will be held at Dundas Valley School of Art, 21 Ogilvie St. Dundas, tel. 905-628-1087, on Friday, December 9, at which time the works will be auctioned and raffled to raise money for Hamilton Out of the Cold.
More Information:
Can something as simple as a gingerbread house offer comfort from the cold, respite from the elements, sanctuary in an often uncaring world?
Cheryl Paterson and Chris Harrison pondered that question five years ago on returning home from Chris's office gingerbread house building party (he's a partner at Vermeulen/Hind Architects).
Paterson recalls "thinking about how fortunate we are, having a lovely house and a mantle to put our gingerbread house on. Also thinking about homeless people living in the cold."
They looked at their structure of baked cookie dough, icing, and candy - a small symbol of food and shelter - and thought about all the people who had no comforts to enjoy and no home in which to enjoy them.
They decided to do something about it.
Over the next year, Design Hope grew out of that decision. Its premise is simple: get local artists to contribute sculptures that interpret "home", and then sell the sculptures to raise money for Hamilton Out of the Cold (HOOTC), a local charity that provides food and shelter for people who need it.
As Paterson explains, "I thought that it was an interesting idea - homes, homelessness, and having artists and architects make houses, as artists offer us a mirror to our culture."
The Design Hope concept has legs. This year, Design Hope will launch in Toronto, and there's talk of creating a Design Hope in Vancouver as well.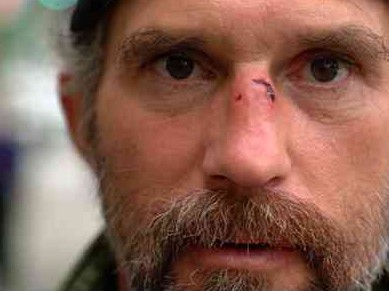 Last year, Design Hope raised $33,000 to provide meals and accommodations for homeless people in Hamilton
Out of the Cold
Design Hope organizer Julia Hansen also volunteers with HOOTC. She says, "it was important to the committee that the charity we chose wasn't aligned with one religious group."
HOOTC is non-denominational and focused squarely on providing food and shelter. Inspired by a shelter started in Toronto after the 1986 death of a homeless man, HOOTC receives support from churches, synagogues, and mosques. It provides food and shelter but does not proselytize.
Also, according to volunteer Erin Willson, "their mandate is to treat the folks that come to them for meals and shelter with respect. They call the visitors "clients" and serve their food to them at the table - no line-ups."
At HOOTC, A little money goes a long way. $3.60 provides a guest with a home cooked meal and a warm place to sleep.
Last year, Design Hope raised $33,000. That works out to over 9,000 meals and accommodations. Sr. Carole Anne Guay, its director, notes, "Because of [Design Hope], we have been able to organize our program in several more churches."
The Role of Architecture
Architecture is as much about the spaces between buildings as the buildings themselves. With Design Hope, some of those empty spaces - the gaps where affordable housing should be, the nooks and crannies where homeless people try, often in vain, to find respite from the cold - are front and centre.
According to Harrison, "It's definitely possible and necessary to organize the built environment to be more liveable, both in terms of quality of life and sustainability" [see the sidebar, Architecture and Homelessness].
However, "The challenge of delivering good housing is not just a design challenge. It's a planning and public policy challenge as well. Without the support of all of the government levels, it's difficult to see affordable housing solutions realised."
Dan Medakovic, a volunteer with Design Hope [see the sidebar, Sharing the Pain: Chest Hair for Shelter], is hopeful that Hamilton is not as segregated as many cities. "I think we need the privileged and under-privileged (or wealthy and less-wealthy) as connected as possible, and to me that means not ghetto-izing the city."
Engaging the Arts
Design Hope is also a way to engage artists in helping to build a caring community. Art contributor John Terpstra, writer-in-residence at McMaster University, says Design Hope affords an opportunity to do "the things that I do normally (i.e. write, build things out of wood), and have my efforts result in something beneficial to the community as a whole."
Design Hope "brings various forms of creativity, which might otherwise not have much to do with each other, together in one place, and makes you realize that, on some level, you're all doing very different things in your daily life, but can have common cause. It extends the definition of community."
Asked about the role of architecture and the arts, Terpstra points out that artists rarely have the power to make good housing available. "Artists and architects can, on the other hand, make the housing that does become available more beautiful and humane."
Poverty Amid Plenty
The Christmas season is a time of warmth and wealth and plenty. It's also a time of bitter cold, gnawing hunger, and exclusion, especially in a city like Hamilton, which has plenty of poverty.
By the end of its fifth campaign, Design Hope hopes to have raised over $100,000. Altogether, that works out to around 27,000 hot meals and overnight stays. It's a worthy accomplishment, but the organizers expressed a constant desire to do more.
According to Hansen, "Each year, more and more people rely upon the services of Out of the Cold, and Out of the Cold relies upon the community to help fund it."
When I asked what made her decide to get involved, Hansen explained, "Poverty affects so many adults and children in our city, and it's just wrong. Those who can help should help."
Medakovic explained, "I can't imagine sleeping on the streets or in an impromptu shelter every night this winter. The more I get involved, the more I realize how inhumane it is that people are left to cope with these issues on their own when we live in an age of abundance."
It's really that simple.
Post a Comment
You must be logged in to comment.