Sidebar - Sharing the Pain: Chest Hair for Shelter
Dan Medakovic has agreed to have his chest waxed to raise over $1,000 in donations for Design Hope.
By Ryan McGreal
Published November 28, 2005
(This is a sidebar to Designing Hope)
Talk about "give 'til it hurts."
Dan Medakovic, a Design Hope volunteer, has agreed to have his chest hair waxed in exchange for soliciting over $1,000 in donations from his coworkers.
A group of managers in his office had just agreed to shave their heads to raise money for earthquake relief, and Medakovic decided he had to "up the ante" to overcome donor fatigue.
Ancaster's National Institute of Esthetics (Nie Spa) agreed to do the waxing, and Dan went in at 6:00 PM on Friday, November 25.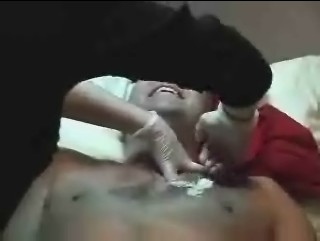 Take it all off: the cruel, heartless folks at Nie Spa in Ancaster wax Dan Medakovic's chest
Design Hope isn't just a nice charity for Medakovic; his 51 year old brother is homeless. "He lives in a tent in a field somewhere in Brampton. Trying to help him get his life back on track (and failing) has taught me a lot about homelessness. Namely, that it's a complex issue and it can be very different for each individual affected."
He points out that some issues common to homelessness, like access to food and shelter, are easily addressed. He likes Design Hope because of its pragmatism. "We raise money - the money goes directly to feeding the homeless in our own city. [There's] no administrative overhead as everything is run by volunteers."
Medakovic isn't limiting his efforts to volunteering with Design Hope and sharing the pain of homelessness. He's also a singer/songwriter and music producer (see his website here: www.silverreelmusic.com), and plans to donate the proceeds from his next album to HOOTC.
The idea that art can transcend mere entertainment or spectacle inspires him. "It makes the creation of the art that much more meaningful and wraps an element of practicality and deeper meaning around something that could otherwise be taken as entirely esthetic."
I asked Medakovic why he decided to raise the stakes with a painful waxing (that excruciating scene from The Forty-Year-Old Virgin is still burned in my mind).
Medakovic explained, "I'm not at all looking forward to it but I know I wouldn't have raised the $1,000 without putting something on the line. Anyway - it's a small price to pay considering $1,000 will feed about 333 people."
In case you were wondering, Medakovic's chest is "pretty densely haired."
Post a Comment
You must be logged in to comment.