Pedestrian Crossing Coming to Main and Pearl
Traffic lights have been installed and await inspection for a new signalized pedestrian crosswalk on Main Street at Pearl Street.
By Ryan McGreal
Published October 23, 2013
City workers have installed traffic lights on Main Street West at Pearl Street to provide a safe pedestrian crossing on Main between Locke Street and Queen Street.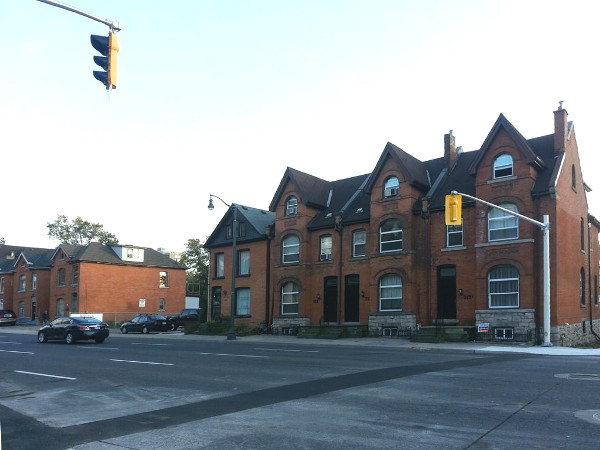 New traffic lights on Main at Pearl
The traffic lights have not yet been activated. According to David Ferguson, the city's new Superintendent of Traffic Engineering, the city needs to wait until the lights have been inspected by an electrician before activating them.
Once operational, the traffic lights will be on a schedule, synchronized with the 'green wave' on Main Street.
This pedestrian crossing parallels a similar crossing on King Street at Pearl that was installed in 2011 and helps establish a north-south active transportation route between the north end of Strathcona and the radial trail at the south end of Kirkendall.
Potential Greenway
Jason Leach has proposed making this north-south route a neighbourhood greenway - a residential street where cyclists and pedestrians are given priority above cars.
Neighbourhood greenways are marked with signage, bicycle stencils and sharrows, while speed bumps and diverters are used to discourage cut-through driving while encouraging walking and cycling.
A neighbourhood greenway could start on Magill Street at Barton and progress south to York Boulevard. Crossing York, it could continue on Pearl Street, take advantage of the new crossings at King and Main and continue south on Pearl to the HAAA Park.
At Charlton Avenue it could continue south on Kent Street to cross Aberdeen at the pedestrian-activated crosswalk there and continue south on Kent to Glenfern, then on to Mountain Avenue and the Hamilton-Brantford Radial Trail.
Eventually, when a pedestrian walkway is built connecting the north end of Strathcona neighbourhood to the waterfront trail (a project that has been in the works for years), the Magill/Pearl/Kent greenway could directly and continuously connect the Radial Trail to the Waterfront Trail.
Post a Comment
You must be logged in to comment.