Urban Renewal in Hamilton: Short-Term Fixes and Long-Term Plans
'It may be easier to tear things - and people - down than to build them up, but it's not going to improve the cityscape.'
By Saira Peesker
Published October 23, 2013
Urban renewal in Hamilton will require a mix of long-term planning and fast, temporary actions - and a commitment to stop trashing each other's ideas, said participants at Friday's Renew Hamilton learning forum.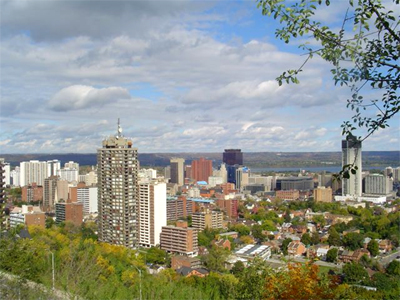 Downtown Hamilton (RTH file photo)
The event, held in a tent on the former and future location of the William Thomas building, featured a day of speakers including business owners, architects and City officials.
While much of the day carried familiar messages - the usual "quit talking and start doing" - there was another pervasive theme: "It may be easier to tear things - and people - down than to build them up, but it's not going to improve the cityscape."
Taking the long view
Urbanicity publisher Martinus Geleynese, who gave the day's opening keynote, stressed the importance of thinking far into the future when making big decisions about our built environment.
Showing photos of Hamilton's pedestrian-filled downtown in 1913, followed by the same corner in 1963 and today, he spoke about how our culture's focus on the car robbed the city of its street life. Now, he said, it's up to us to make decisions that will gradually help bring it back.
"In 2063, people will be looking for a balance of urban sustainability and quality of life," said Geleynese, noting that 8,000 people move to Hamilton per year, 50 per cent of those from Toronto. "We have to go back downtown. It's economical and it makes sense."
He said elected officials play a key role in setting policies that affect the city for decades, yet the electoral cycle often motivates politicians to go for short-term gains instead.
"Too much of our history has been planned and executed on 10-year timelines," Geleynese told the keen crowd of about 70 people. "Without vision we're in real trouble. We must take a long view."
Community-building wins
While working on long-term plans, participants were encouraged to devise their own easy-to-accomplish projects with a goal of making big differences with minimal effort.
Graphic designer Melissa Height spoke about her initiative Savory Saturdays, which brings food trucks to the empty lot at the corner of Queen and Main Streets each weekends. She said the idea came after hearing that Saturday is a slow day in the food truck world, and that she put the whole thing together in a weekend.
Architect Graham McNally outlined ways the local tactical urbanism group has tried to improve the pedestrian landscape, such as the curb bump-outs installed at the corner of Locke and Herkimer Streets.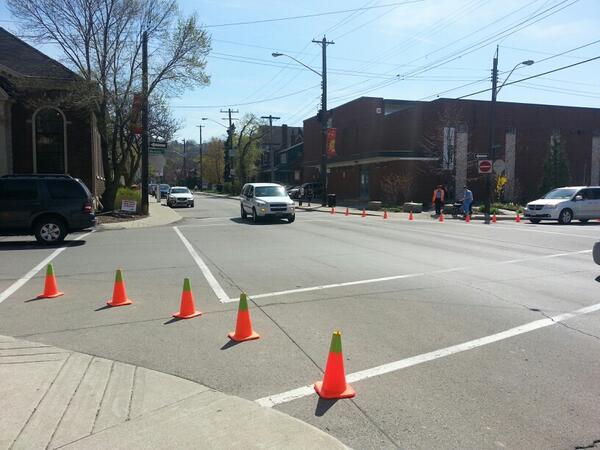 Guerrilla bumpouts at Herkimer and Locke (RTH file photo)
He said anyone with a bit of initiative could build a chair out of a shipping pallet and place it somewhere downtown - or think of their own creative way to make the streetscape better.
Bill Curran expanded on McNally's presentation, rattling of a well-received list of ways citizens or city officials could promote urban renewal in relatively short order.
Turn vacant lots into pocket parks

Open a nice bar at the corner of King and James

Link the waterfront trail to Burlington
Stressing the strength of civil disobedience in pushing for change, he offered to host a hot tub party in some parking spaces on Gore Park to get the ball rolling (Yes, please!), and urged everyone in the room to speak their mind to those running for office.
"The mandate for the next four years is largely going to be developed in the next four months," Curran said.
Doing it nicely
In Hamilton, where enthusiasm can quickly get feisty, several of Friday's presenters suggested civility is a best practice when looking to make change.
"Let's all work positively toward an end," said Mayor Bob Bratina. "Let's get the anger out of the discussion."
Post a Comment
You must be logged in to comment.