Addressing Hamilton's Bike Parking Deficit
How good is our bike parking infrastructure? Could addressing this challenge help encourage people to bike more and drive less?
By Dave Heidebrecht
Published September 27, 2013
Over the course of an incredibly successful Supercrawl weekend earlier this month, held along James Street North (the epicenter of Hamilton's increasingly visible cultural renaissance), I was inspired to take part in a number of compelling conversations on the direction the city is headed.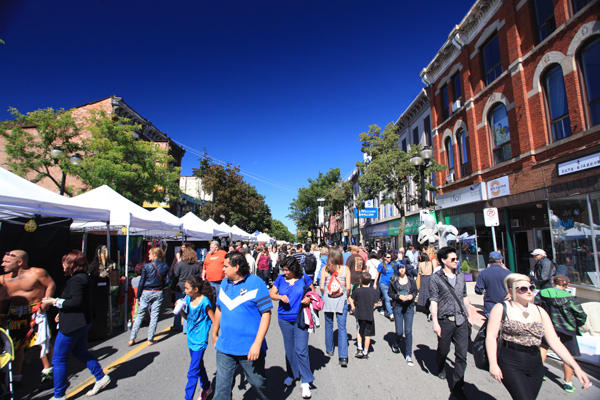 James Street North filled with people enjoying Supercrawl on Saturday September 14, 2013
These dialogues ranged from a passionate talk given by former Pittsburgh Mayor Tom Murphy to public discussion panels with local artists, and also included personal conversations throughout the weekend. Each of them focused on where Hamilton is coming from, where we are currently, and where we may (or may not) be headed in the future, depending on decisions we make going forward.
I came away from the weekend enlightened to see so much positive energy around city-building based on community, despite the many challenges and growing pains that this might involve.
More Parking Needed Downtown?!?
It was to my shock and dismay then, to wake up on the Monday morning as if from a dream, as a CBC Hamilton story shared news that a report to Hamilton's Planning and Economic Development Department was recommending that downtown was in need of more (yes, more) parking spaces.
After a weekend where a hundred thousand people found their way downtown to celebrate urban renewal, open streets, and the prospect of building community spirit through such events as Supercrawl, this report came as a cold splash of reality to the face.
An immediate response on RTH made excellent points as to the ridiculousness of such a report, including a map providing an overview of surface parking lots that currently exist across the downtown and often sit nearly empty.
Tom Murphy had noted just days before that surface parking lots are the killers of urban renewal, as we here in Hamilton know all too well.
Thankfully, a vote in council days after the report was published declined even to consider exploring a public-private partnership to build two new parking garages (as the report recommended).
Our councillors also thought the report was out of place, and turned down any ideas of spending public money on such a plan.
What kind of parking do we need in Hamilton? Bike Parking
Though I own a car and don't fault others for driving - after all, we do live in a decades-old infrastructure built to promote just that - I do use my bike as often as possible to get around and encourage others to do so, especially on short trips of five to ten kilometres throughout the Hamilton area.
This got me thinking: how good is our bike parking infrastructure? Could addressing this challenge help encourage people to bike more and drive less?
Given the changing culture in City Hall and across the city to developing a more people-friendly multi-modal transportation infrastructure, I thought perhaps there might be places in Hamilton that could benefit from more bike parking.
Improved bike parking would be a win-win for a number of reasons:
Once cyclists (or importantly those who don't yet cycle regularly) learn of parking spots in easy to access locations close to places they visit regularly, more people will use bikes to get to those locations (the law of induced demand)

More people cycling to these places mean less people driving, therefore less demand on parking lots

Bike racks are cheaper than parking lots (costing thousands rather than millions), and cover much less space

Fewer cars on the road makes cycling safe, reduces emissions, and creates a sense of community that comes with more people on the streets

More people cycling makes for a healthier city. In a country facing an incredible tax burden to support an aging boomer generation and subsequent generations facing lifestyle diseases associated with sedentary work, encouraging healthy lifestyles by spending relatively little will save us A LOT in the long-run.
Considering these points, the thought of building another parking garage in a core filled with near-empty surface lots makes even less sense. More bike parking on the other hand? It makes a lot of sense to me.
Seeking Input
To find out about the current situation, I decided to ask fellow Hamiltonians about existing gaps in our bike parking infrastructure, hoping to start a conversation on potential parking changes that actually make sense with respect to the direction our city is headed.
To get started, I decided to connect with Hamilton's Twitter community - an ever-growing, and increasingly powerful voice in the city - by using the hashtag #BikeParkHamOnt. Several tweets, retweets, and replies later, and I was amazed at the conversation that had developed after only a few short days.
Based on this feedback, I'm currently compiling the ideas and photos that have come through to me from people across the city, and will be sharing the outcomes next week.
Are There Parking Gaps in Your Hamilton Cycling Experience?
In the coming days, I'm hoping that others who read this who may not have shared their #BikeParkHamOnt ideas so far will do so. Do you know of a specific place at home, work, or anywhere in between that could use a bike rack or two?
I've had many suggestions for locations downtown, and welcome more, though hope to also receive feedback from places in all directions beyond the core. While I'm hoping to learn about major gaps, I'd also love to hear about any places that have done a great job addressing bike parking as examples we can learn from.
To share your ideas about Hamilton's bike parking infrastructure, send me an email at dwheidebrecht [at] gmail.com, find me on Twitter @DaveHeidebrecht or use the hashtag #BikeParkHamOnt, or find me on my Facebook page.
First published on Dave's website
Post a Comment
You must be logged in to comment.