Transforming Industrial Parks into Civic Treasures
The ideas for Hamilton's reinvention are endless, and many cities have led the way for us.
By Jason Leach
Published July 24, 2013
In Duisburg Nord, Germany there is a park called Landschaftspark which was created on the site of a former industrial coal and steel production plant.

Landscape structures in the Landschaftspark (Image Credit: Wikipedia)
It includes gardens, walking and cycling trails, an open-air theatre, an events venue and a converted blast furnace open to the public. The website reads in part:
For a long time now nature has been settling back in amongst the old cathedrals of history, creating a kingdom of its own. The sound of bird song is to be heard between ore bunker and sinter plant, and seeds of grain which have travelled from afar now bear colourful blossom, waiting to be discovered.
Browse the site and check out the theatre/cultural venues, restaurants, exercise, biking, play areas, nature walks and more.
It's interesting to read about the transformation of Duisberg Nord after its heavy steel industry collapsed and left the city in tatters.
They've re-purposed many of their old brownfield sites to fit the new economy and are taking advantage of their supreme waterway location.
It's also interesting to note the heavy focus on arts, culture, waterfront development, sports, health and overall greening of this once industrial giant. A Google image search brings up a splendid look into the cutting-edge architecture, design and image this city is working hard to develop.
From the new pedestrian focus on the inner harbour to the whimsical 'staircase' - and, of course, the evening LED light displays at Landschaftspark - it's very easy to draw many parallels to what could be happening here in Hamilton.
Time to Be Bold Again
As Hamilton's steel industry teeters closer and closer to extinction, it's time for us to be bold again. This type of project would be incredible here right on the harbour with easy access to the lake waterfront and west harbour waterfront.
If you ever drive down there, some of the old buildings are incredible. It would be a dynamite setting for such a venture.
The biggest challenge here, of course, would be getting the Provincial and Federal governments to help fund it since we aren't Toronto.
Getting Hamilton City Council to realize that losing all this heavy K zoning land may seem to hurt the tax base initially, but the future is high quality of life for cities.
What we lose in K zoning tax base would surely be more than made up for with increased tourism, new facilities developed in and around the park, increased development activity in the lower city and east end, cleaning up of the harbour, linking to Confederation Park and the West Harbour for a truly unique biking/walking experience - and, of course, the good old QEW view.
The logistics and finances must be mind-blowing to pull this off, but I could see it happening here someday with the right vision and political will. Our status quo vision of a city looking to expand outward indefinitely without regard for the centre is a recipe for disaster.
Start Now
We don't need to wait for a total collapse of the steel industry. We could start master-planning now so that as big parcels of land become available along the harbour, a vision could start to be developed that will evolve over years and decades.
Hamilton has seen a surge in artistic and cultural development, as is often the case in old industrial cities. Yet we aren't seeing a comprehensive push from City Hall to re-imagine this city in five or 15 years from now.
Our West Harbour lands can be magnificent, or they can be typical suburban retail stores.
Our old, inner city neighbourhoods can continue to be poor old 'Code Red' or we can invest in them to see a high quality of life through public spaces, transportation, greenery, safe walking cycling and transit corridors all linked to the broader community.
The ideas for Hamilton's reinvention are endless, and many cities have led the way for us.
Hamilton Treasures Under-Utilized
Every time I ride, or walk through Chedoke Golf Course on the rail trail I think of Graham Crawford's vision for a grand new park there.

Chedoke Golf Course, Hamilton
How is it possible that we have no cafes or restaurants with patio terraces in such locations as Chedoke Golf Course, Sam Lawrence Park or the RBG? Cities around us would kill for such geographical features to enjoy and proudly show off.
I've recently done some discovering at the old sunken garden/rock garden site on York Boulevard just east of the High Level Bridge. It appears to be one small piece of the larger grand plan which was never realized for our northwest entrance to the city.
The site, and views from it, are incredible.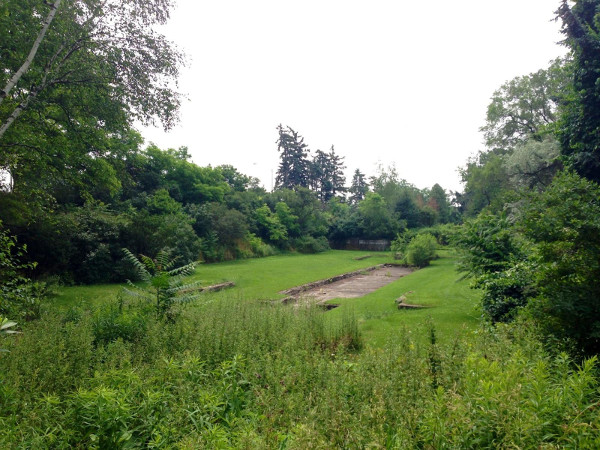 Sunken Gardens area
I've found myself wondering why we can't see it developed into a recreation/garden/small-scale dining/retail hub at the entrance to our city, as originally envisioned [PDF] by T.B. McQuesten so long ago.
Kids' interactive splash pads, picnic areas, viewing platforms with the commanding views over Cootes Paradise and Hamilton Harbour could be developed along with a local-food themed restaurant with a dramatic outdoor patio also taking advantage of the views.
Safe and easy biking and pedestrian links could be developed to the RBG headquarters, adjacent gardens and even down to the Arboretum with new protected bike/walking lanes along York Boulevard and Old York Road.
Perhaps further events will begin to take shape at this new outdoor community gathering hub, such as weekend farmers markets, live music or theatre events or dining events.
Chattanooga, TN even shuts down a prominent bridge each year for a popular food and drink event that doubles as a fundraiser for a historic preservation organization:

Chattanooga bridge closure for public event
Tremendous Potential
The possibilities in Hamilton are numerous. We have tremendous potential, and the creativity in this city is at an all-time high.
Supercrawl is a great example of the local talent and bright minds we have right here in our midst, just looking for opportunities to improve the quality of life in our city, while changing our image abroad.
The current momentum and influx of young, passionate people isn't guaranteed to last forever. Let's begin to have broader discussions about the future of our city, and not limit ourselves as we have in the past.
Post a Comment
You must be logged in to comment.