Enough is Enough: Designate the Gore Now
When heritage is destroyed, its value to the community is destroyed as well, and so the community has a legitimate interest in its preservation.
By Ryan McGreal
Published July 24, 2013
Based on what representatives of Wilson-Blanchard are saying, the best we can hope for in the absence of heritage designation and a stop order for 18-28 King Street East is that the owner will remove some 'heritage elements' from the facades of 18-28 King Street East before demolition and attach them onto whatever eventually gets built on the site.
Despite an agreement less than two weeks ago to hold off demolishing the buildings, the property owner is already removing material from the front of the buildings.

Facade removal at 18-28 King Street East (Image Credit: Kieran Dickson)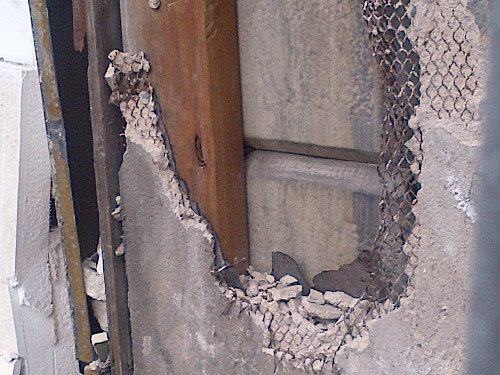 Original stone behind siding (Image Credit: Kieran Dickson)
It is important to note that the property owner has neither a development plan nor funding for the site, so we have no idea what a new development might look like or when it might be completed, if ever.
In any case, it is not heritage preservation in any meaningful sense to bolt some facade pieces onto a wholly new construction.
There are already several whole city blocks in the downtown area of Hamilton that have been flattened and have sat for decades as empty gravel lots - including sites owned by Wilson-Blanchard.
It is unconscionable to add to the city's stock of vacant lots without even so much as a plan to build something - particularly when the threatened buildings are as important to the city's and province's built heritage as the Gore District.
What the cascading crises, changing plans, miscommunications and misunderstandings over the past eight months have demonstrated is that the only way to protect these buildings is to designate them under the Ontario Heritage Act.
Enough is Enough
Enough is enough: we are right on the threshold of losing yet another irreplaceable piece of our built heritage.
City Council needs to issue an intent to designate 18-28 King Street, and indeed the entire Gore District, as a heritage site under the Act. The Ontario Government needs to issue an immediate stop work order so no more of the buildings is removed.
It is not acceptable for one level of government to fail to take action because the other level has also failed to take action. The Act provides distinct powers to the municipality and the Province with respect to heritage protection so there are two layers of protection for important heritage buildings.
The Province is not overstepping its bounds to recognize and protect as important a part of Ontario's heritage as the Gore District and, in particular, the 1840 building at 18-22 that was designed by William Thomas. Its obligation to designate and protect properties is independent of the municipality's obligation.
Why Heritage Designation
I have also heard the argument that the City and Province should not impose heritage designation on a property owner who does not wish it. That reasoning entirely misses the purpose of the Ontario Heritage Act.
Heritage is a positive externality - a value that accrues to the community as a whole as well as to the property owner. When heritage is destroyed, that value to the community is destroyed as well, and so the community has a legitimate interest in its preservation.
Designation is most necessary in precisely those cases where a property owner does not recognize the value of heritage and threatens to discard it.
---
Tell Council and the Province to designate the Gore and protect these buildings from designation:
mtrmclco@ontario.ca, mchan.mpp.co@liberal.ola.org>, Bob.Bratina@hamilton.ca, Brian.McHattie@hamilton.ca, Jason.Farr@hamilton.ca, Bernie.Morelli@hamilton.ca, Sam.Merulla@hamilton.ca, Chad.Collins@hamilton.ca, Tom.Jackson@hamilton.ca, Scott.Duvall@hamilton.ca, Terry.Whitehead@hamilton.ca, Brad.Clark@hamilton.ca, Maria.Pearson@hamilton.ca, Brenda.Johnson@hamilton.ca, Lloyd.Ferguson@hamilton.ca, Russ.Powers@hamilton.ca, Robert.Pasuta@hamilton.ca, Judi.Partridge@hamilton.ca, kevin.finnerty@ontario.ca, Peter.armstrong@ontario.ca, tamara.ansoncartwright@ontario.ca, tmcMeekin.mpp@liberal.ola.org, ahorwath-co@ndp.on.ca
Post a Comment
You must be logged in to comment.