First Look at New Nations Fresh Foods
All in all, the new Nations Fresh looks very, well, fresh: clean, modern, spacious and stylish. It also successfully avoids looking cheap or cut-rate.
By Ryan McGreal
Published July 04, 2013
this article has been updated
I snuck out for a few minutes today to check out the new Nations Fresh Foods store in Jackson Square. My camera battery was dying so I only got to take a few photos, but I definitely like what I saw.
I entered Jackson Square via the King and James entrance, and came across this huge floor sign just inside the entrance: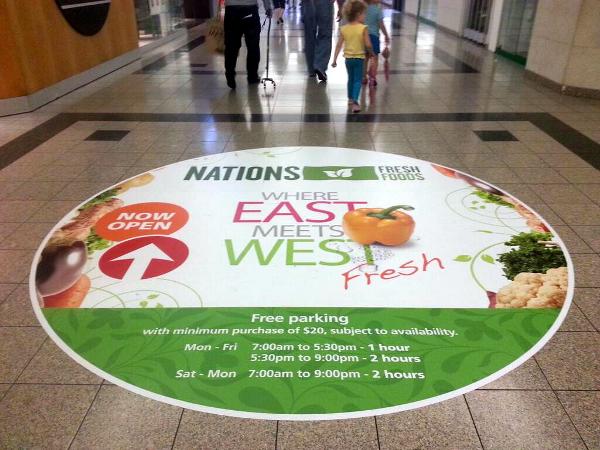 Nations Fresh floor sign inside Jackson Square King and James entrance
I passed another sign outside the Rexall Pharma Plus, and then approached the store via the Food Court: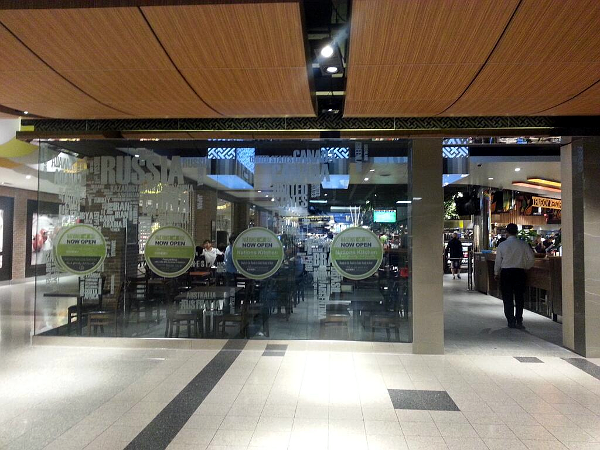 Nations Fresh, mall entrance
From this side, you walk into the expansive deli and prepared food section, with at least half a dozen separate counters serving everything from freshly prepared sandwiches to sushi to ready-to-barbecue corn cobs.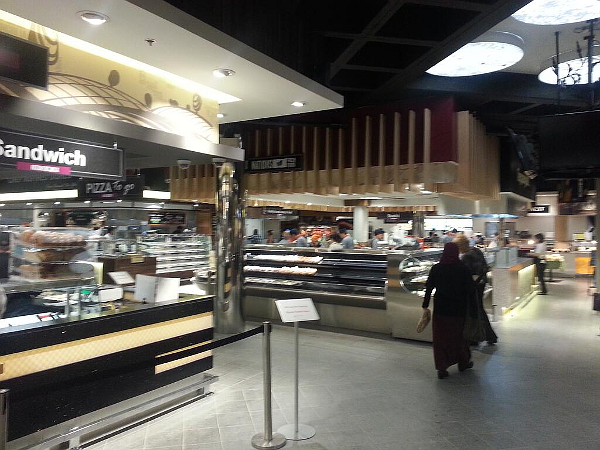 Deli counters
After the deli is a large frozen section to the right, with the main product aisles to the left. (Note: the store is not nearly as dark as it looks in the following photo.)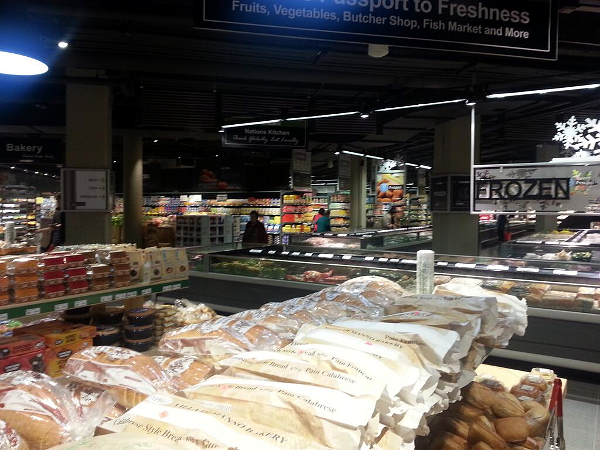 Frozen food section on the right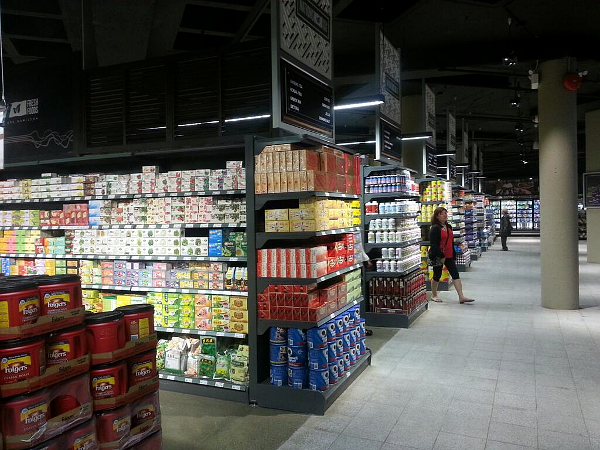 Main product aisles
The store is not square or rectangular like most grocery stores, and there is a distinct down-the-rabbit-hole sense as you continue passing farther into the store diagonally.

Down the rabbit hole
Past all that, you come to the produce section, which is large, well-appointed and very fresh looking.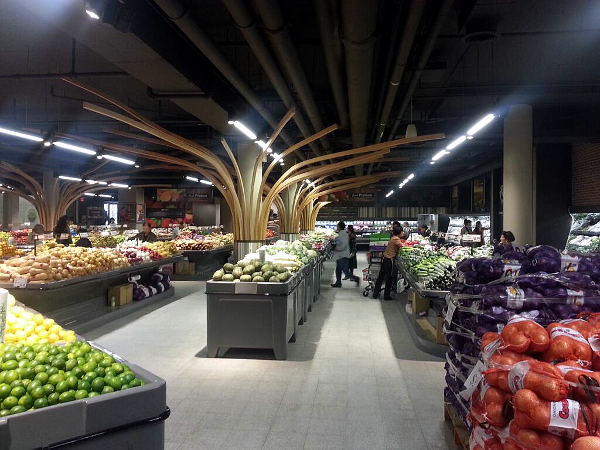 Produce section
It carries a wide variety of fresh goods from around the world, but I didn't see a lot of local produce. In particular, the store carried American strawberries but not local. Luckily, the Farmers' Market is nearby and remains the most reliable place in the city to buy local berries.
The other thing to note is that while you constantly feel you're going deeper and deeper into the store, you eventually arrive at the opposite side. Here's the view if you're coming in from the Bay Street entrance to Jackson Square:

Entrance from Bay Street side
I was a bit surprised that there does not appear to be an entrance from directly outside. The closest thing is the entrance from the underground parking garage. Elevator technicians, freshly back from a recent strike, were on the job as I passed and the elevators should be up and running soon.
All in all, the new Nations Fresh looks very, well, fresh: clean, modern, spacious and stylish. It also successfully avoids looking cheap or cut-rate, though at a quick glance, the prices I saw seemed on par with other grocery stores.
This will be a most welcome addition to the downtown. Major props to Nations Fresh for seeing downtown Hamilton as a good risk and investing here, and to Yale Properties for securing a high-quality anchor tenant and working hard to make the opening a success.
Update: this article originally made reference to a Shopper's Drug Mart in Jackson Square, but it is actually a Rexall Pharma Plus. Thanks to RTH reader phyx for pointing out the error. You can jump to the changed paragraph.
Post a Comment
You must be logged in to comment.