Boost Bike Share Success With Complete Street on Cannon
With Council's approval of the Hamilton Bike Share proposal, Cannon Street represents both a severe accessibility challenge and an exciting opportunity for improvement.
By Ryan McGreal
Published March 20, 2013
At today's General Issues Committee meeting, City Councillors approved the bike share proposal [PDF] they first saw at the February 25 GIC.
Council referred the plan back to staff at the end of an all-day meeting that mainly focused on the city's B-Line LRT plan.
The bike share proposal makes a business case for a network of 300 bikes at 35 stations between west Hamilton and downtown, a catchment area reaching over 53,000 residents, plus 30,000 students and various businesses.
The $1.6 million capital costs would be fully funded by earmarked Metrolinx money. The operation would then be run by a private company and would be self-funding with 3,000 annual subscriptions plus 0.5 non-subscribed trips per station. Those numbers are realistic, given comparisons to other similar cities with successful bike shares.
Hamilton's model would be a "4th generation" bike share system, like the Bixi model used in Montreal and Toronto, which incorporates lessons learned from cities that already operate bike shares. Those lessons include minimizing losses due to theft and vandalism by requiring credit card access and tracking location of bikes with GPS.
Council pushed back on February 25 due to fears about liability (and likely sheer exhaustion), but approved it unanimously today, despite some misgivings raised by Councillors Terry Whitehead and Tom Jackson. Jackson said he would take a "leap of faith" and support the plan.
Bike Share and Bike Lanes
The potential service area and suggested station locations spans an area from McMaster University through downtown to the Stadium and Ottawa Street.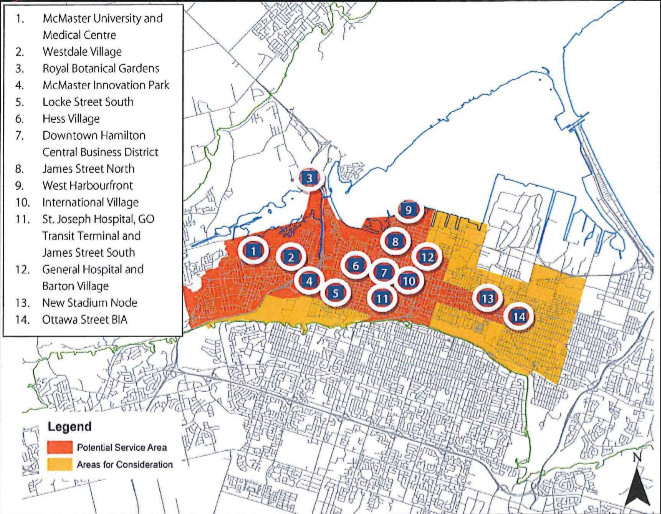 Bike share potential service area map
A major cycling challenge Hamilton still has to overcome is to ensure that its streets - particularly streets within the bike share service area - are safe and accommodating to cyclists.
In particular, Cannon Street represents both a severe accessibility challenge and an exciting opportunity for improvement. To put it bluntly, Cannon is crying out for some love after decades of neglect and abuse.
The Stadium district an important redevelopment node, the proposed placement of a bike share station there, and the Pan Am Games are happening in 2015. As cycling advocates have been pointing out, it would look very good on Hamilton to have a continuous bike lane network between the James North GO Train station and the rebuilt stadium in time for the Games. We may even be eligible for some capital funding from Metrolinx.
Jason Leach has written about turning Cannon into a complete, cycling-friendly street, and I'd like to post some thoughts on this based on the traffic volume data we managed to obtain from the City last December.
Cannon Traffic Volumes
Cannon goes from four lanes of two-way traffic east of Sherman to four lanes of one-way traffic west of Sherman. Looking at traffic volume counts from 2009-10, Cannon carries 10,800 vehicles east of Sherman (2,700 per lane) and 9,100 vehicles west of Sherman (2,275 per lane).
West of Mary, where it is still four lanes of one-way traffic, Cannon carries 16,700 vehicles (4,175 per lane).
For comparison, here are the per-lane volumes of some other streets, all two-way:
Golf Links west of Stonechurch: 6,650
Upper James south of Mohawk: 8,200
Main east of Dalewood: 9,217
Garth North of Fennell: 9,850
So what can we do to tame Cannon and make it a safer, more welcoming and more complete street for cyclists and pedestrians as well as for drivers?
Separated Bike Lanes, Two-Way Traffic
We can remove one lane of Cannon to build separated bike lanes - the safest and most effective type of cycling infrastructure.
If automobile traffic volumes stay the same, the street would have to carry 3,600 cars per lane (east of Sherman) and 3,033 cars per lane (west of Sherman) - a very low per-lane traffic volume for an arterial city street.
Even west of Mary, where current volumes are higher, removing a lane would mean the remaining lanes have to carry 5,567 vehicles per lane (again, assuming traffic volumes don't go down) - still lower than the city's high per-lane volume streets.
In addition, there is absolutely no reason not to convert the full length of Cannon to two-way automobile traffic at the same time. It's already two-way east of Sherman, and somehow the world does not end.
Meanwhile, the one-way stretch that runs west from Sherman really is a cannon - a violent device that hurtles cars and transport trucks at dangerously high speeds through both residential neighbourhoods and the James North business district.
We know for a fact that the volume of traffic simply does not warrant four one-way lanes. A more humane design would provide more flexibility for motorists, a safer environment for pedestrians, real accessibility for cyclists and safe, traffic speeds for local residents and businesses.
Add Curbside Parking
Let's round out the street improvement and dedicate the other curb lane for curbside parking. Now Cannon is down to two traffic lanes, though the curbside parking can be pushed back from intersections to allow a left turn lane.
East of Sherman, current volumes would mean 5,400 daily cars per lane - basically in the middle of the pack for Hamilton arterial streets. West of Sherman, curent volumes would mean just 4,550 cars per lane.
If you want to know what that looks like, look at Concession east of Upper Gage, which is one lane in each direction and carries 4,700 cars per lane.
West of Mary, current volumes would mean 8,350 cars per lane, which is closer to the high end of per-lane volumes on city streets. The city could mitigate this by prohibiting curbside parking during rush hour.
Complete Street on the Cheap
Essentially, we have turned Cannon into a complete street.
Dedicated separated bike lanes in both directions.
Protected sidewalks for safer walking (on one side by parked cars and on the other by separated bike lanes).
Slower-moving traffic due to street design.
It wouldn't have to be expensive, either. You can block the bike lanes with planters, which simultaneously makes the street more attractive and signals drivers to slow down.
This is absolutely achievable between now and 2015, and it would make an enormous difference to the quality of life of people living, working and travelling on the street.
Speed, Volume and Induced Demand
Finally, the numbers above assume traffic volumes won't change if we change the number of lanes, but that is very unlikely. The evidence strongly demonstrates that traffic volumes are subject to the law of induced demand, or the tendency for additional lane capacity to generate additional traffic.
The reverse is also true: when you reduce lane capacity, some of the traffic simply disappears. This effect has been observed in dozens of cities across North America and Europe. As one engineering study summarized:
Many cities, either not provided with dissuasive modelling forecasts, or disbelieving them, have introduced measures to reallocate road space away from cars.

In general, they reported that there has often (but not always) been a fairly short period of traffic disruption, but that 'gridlock' or 'traffic chaos' are rare, and never last longer than a few days, as traffic adjusts relatively quickly to new conditions. Sometimes there has not even been a short-term problem.
Unfortunately, while induced demand is well established among engineering researchers, it does not yet factor into the traffic studies of most municipal traffic engineers. As a result, they default to "self-fulfilling predict and provide planning", as transport planner Todd Litman puts it.
In addition, the carrying capacity of additional traffic lanes is subject to the law of diminishing returns. That means the average carrying capacity per lane goes down with each additional lane.
All in all, the evidence strongly indicates that transforming Cannon Street into a complete street will not only make the street safer for pedestrians, cyclists and drivers alike - because adding bike lanes to a street makes it safer for all users - but will actually result in an overall reduction in automobile traffic.
Of course, with dedicated bike lanes and safer sidewalks, some trips currently taken by automobile will shift to those other modes, providing net social, economic and environmental benefits on both sides of the equation.
Really, what on earth are we waiting for?
Post a Comment
You must be logged in to comment.