Hamilton's Car-Centric Infrastructure Strikes Again
Each one of these deadly automobile-centric intersections represents negligence on behalf of the city, putting road users at risk with a benefit to no one.
By Sean Burak
Published January 25, 2013
Hamilton's car-centric infrastructure strikes again:
Emergency crews are clearing the intersection of Main and Frid streets in the west end after a young man was struck by a car. ...

The victim was crossing at a median where the road exits Frid onto Main. There is no stop light at that crossing, only a yield sign for drivers.
How many injuries must be sustained by our citizens before we take our mandate seriously and start implementing our official plan to put pedestrians first?
When someone is killed at the Frid intersection or one of the 403 ramp crossings along King or Main Streets, who will be held accountable? This infrastructure presents a serious danger to citizens, and represents a liability on the part of the city, with the province being complicit in the negligence.
After a multi-year, multi-million dollar ramp rebuild project, we are still left with a design where highway traffic merges onto neighbourhood streets, crossing bike lanes and sidewalks where cyclists and pedestrians put their lives at risk mingling with cars moving at 401 speeds.
These ramps, and the Frid intersection should have been redesigned to be proper signalized intersections where all users have an opportunity to proceed safely.
They are dangerous not only for pedestrians and cyclists, but for motorists and their passengers, as they attempt to merge across five lanes of traffic in order to turn at Dundurn.
But this is not the only place where the city is actively putting pedestrians at risk. Our city is saturated with infrastructure features that favour fast-flowing cars.
Highway-Like Street Infrastructure
York Blvd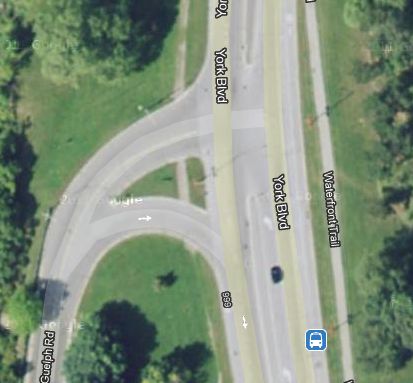 York at Old Guelph Road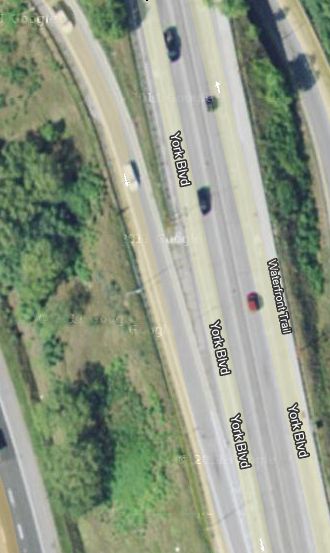 Hwy 403 West to York


York to Hwy 403 East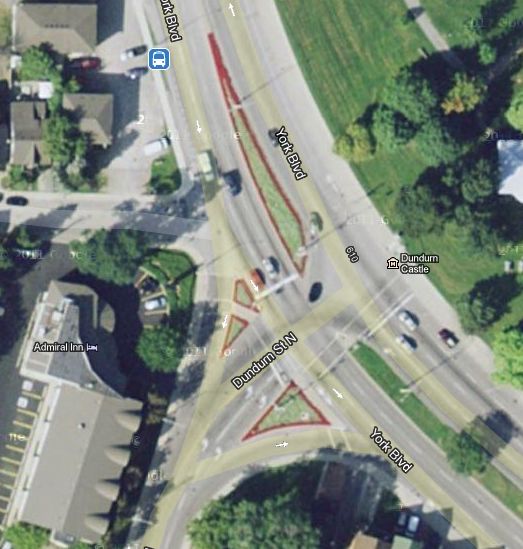 Dundurn and York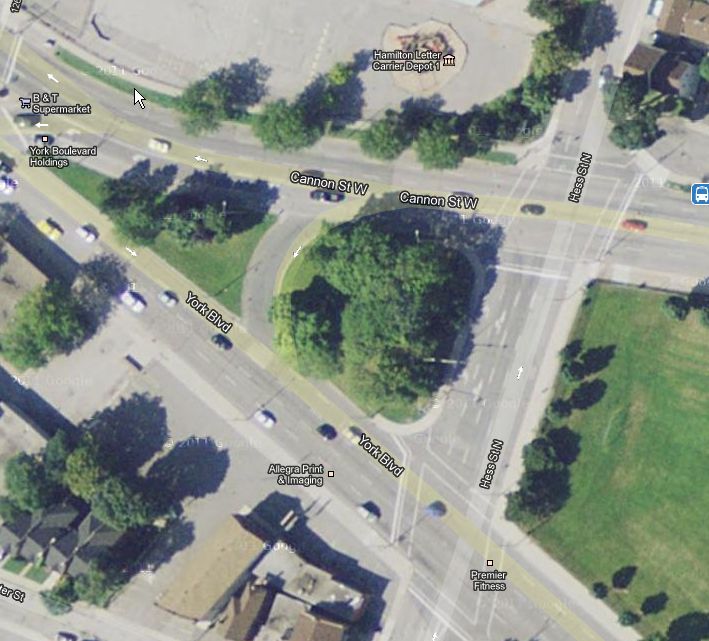 Cannon, York, Hess, Queen
Hwy 403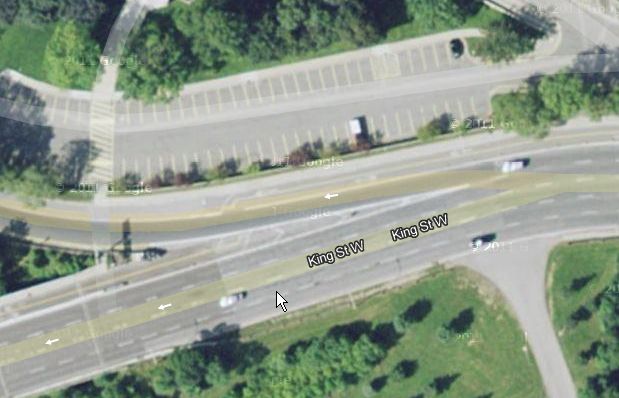 King to Hwy 403 East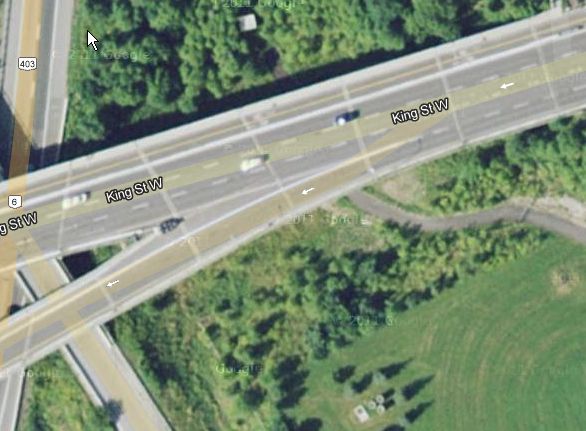 King to Hwy 403 West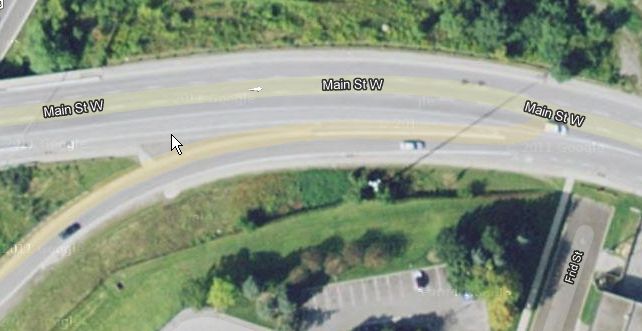 Hwy 403 West to Main East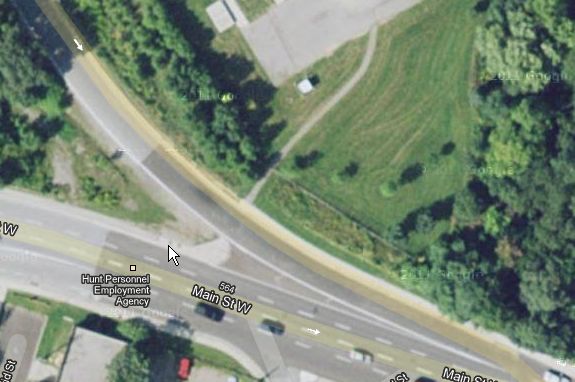 Hwy 403 East to Main East
West Hamilton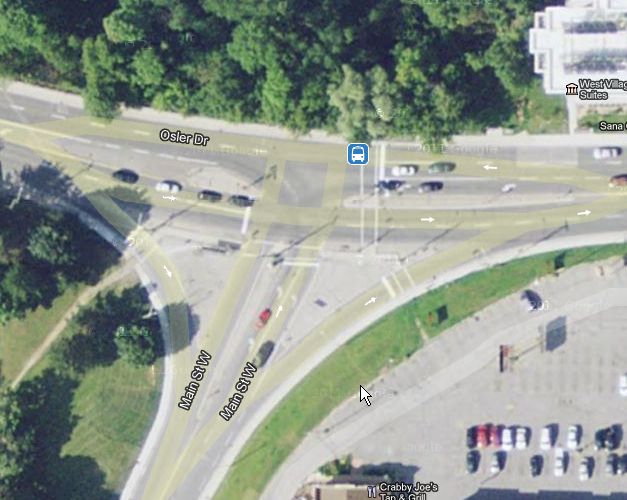 Main and Osler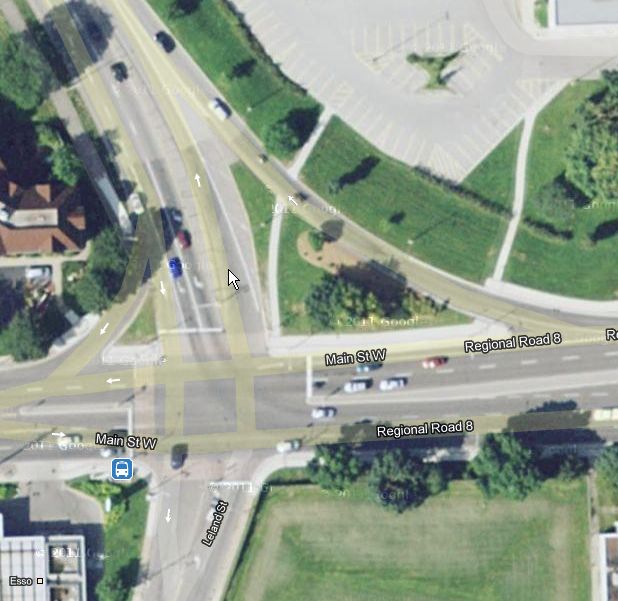 Main and Cootes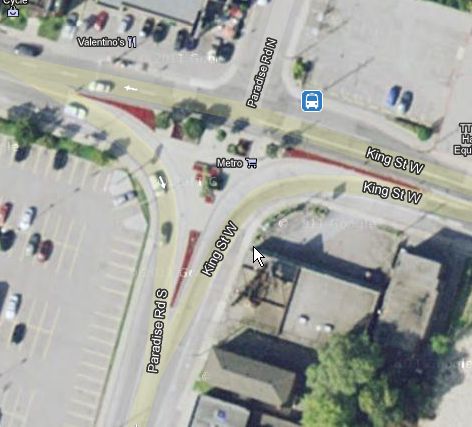 King and Paradise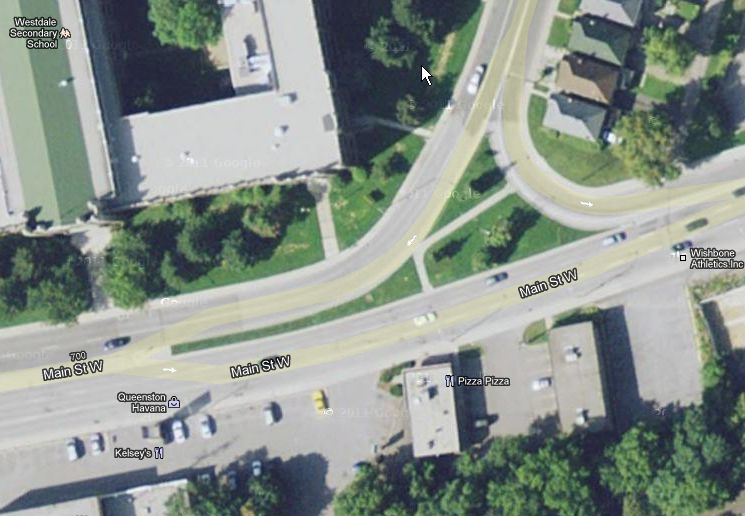 Main and Paradise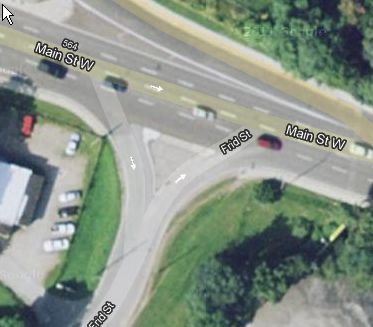 Main and Frid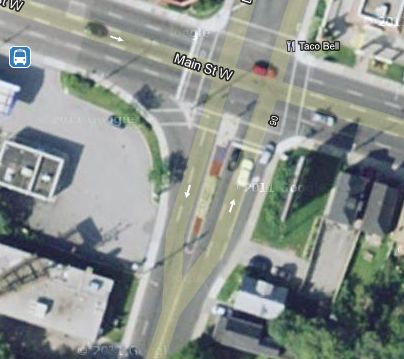 Dundurn and Main
Aberdeen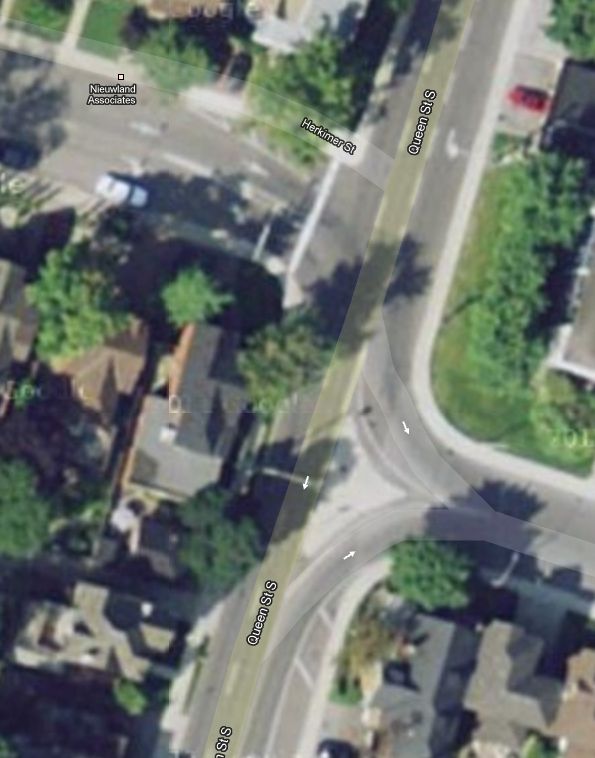 Aberdeen and Queen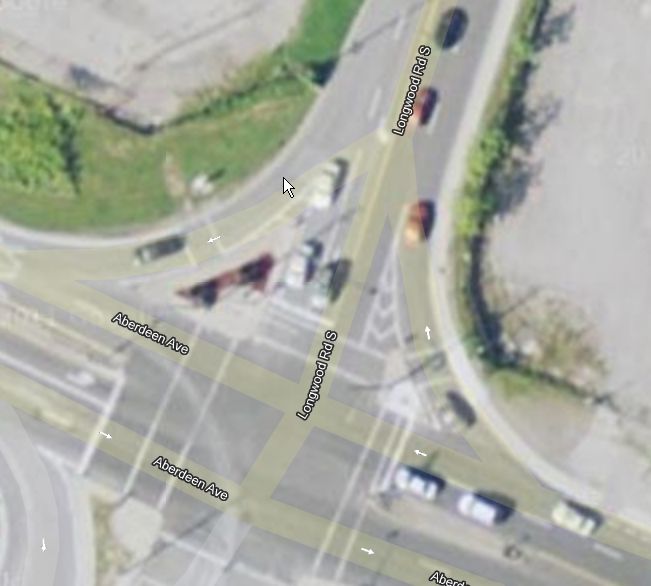 Aberdeen and Longwood
Jolley Cut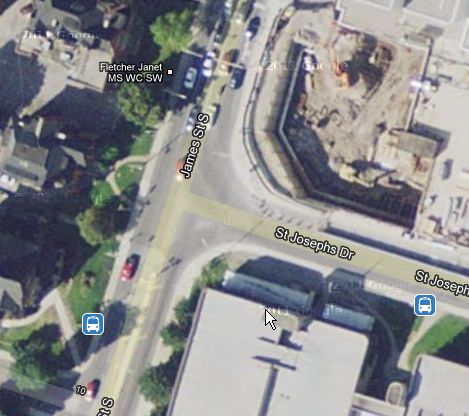 James and St. Joseph's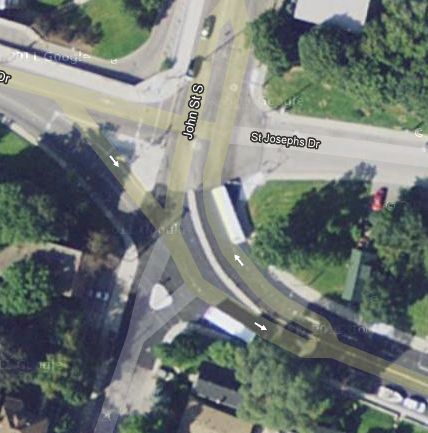 Jolley Cut St. Joseph's and John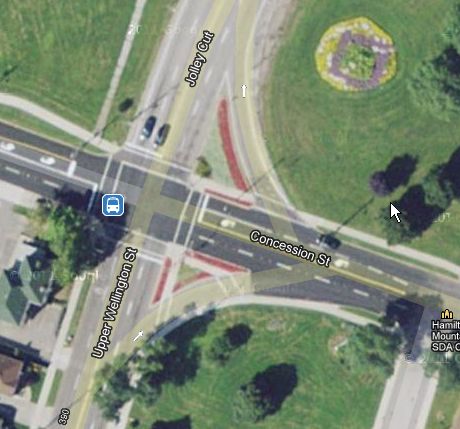 Concession and Upper Wellington at Jolley Cut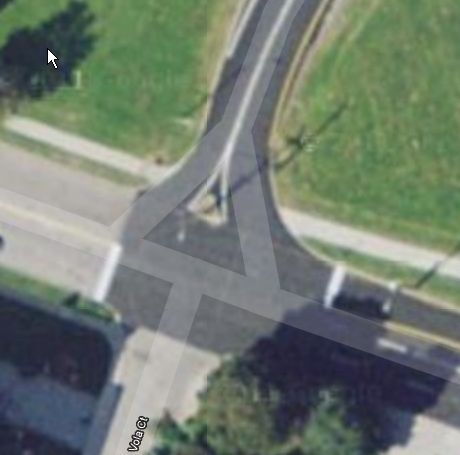 Jolley Cut at Concession
Claremont Acccess

Claremont bottom at Victoria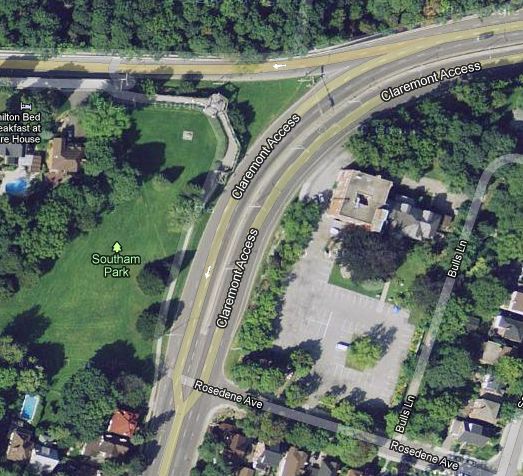 Claremont and Upper James at Southam Park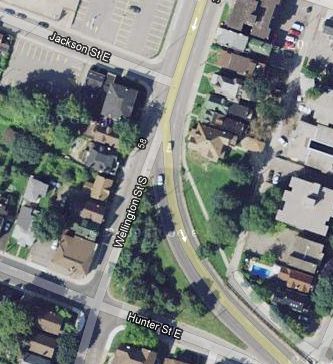 Claremont Access bottom at Wellington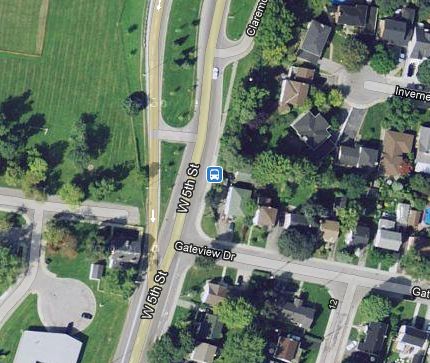 West 5th and Claremont
East End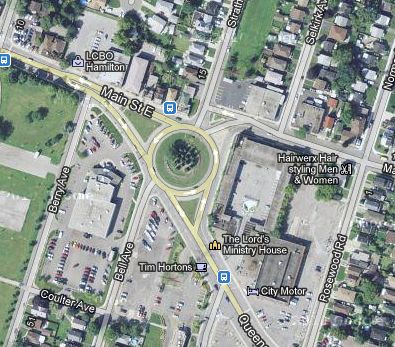 Queenston Traffic Circle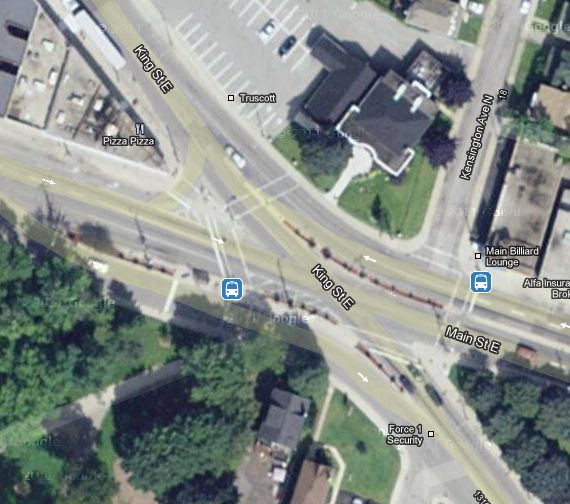 Main and King at Delta
Kenilworth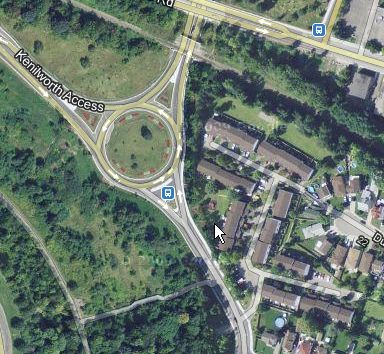 Kenilworth Traffic Circle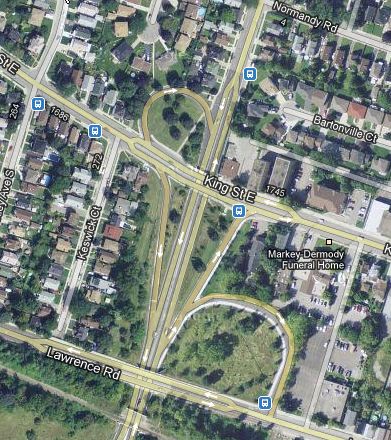 Kenilworth at King and Lawrence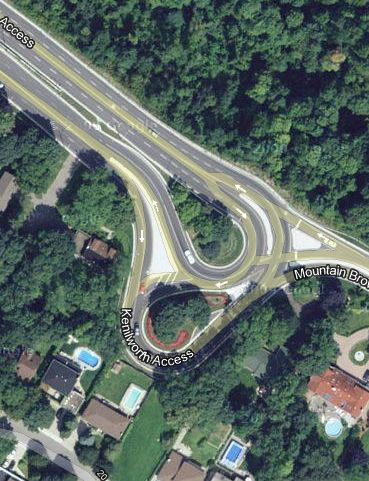 Kenilworth Top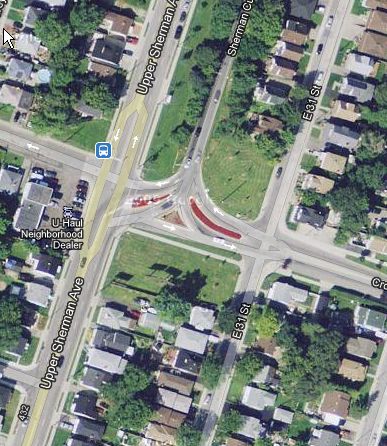 Sherman Cut top - good luck, pedestrians!
Ancaster

Golf Links Road to the LCBO
(To be fair, I have not included any Burlington Street infrastructure as it is clearly designed to be an industrial access corridor.)
Negligence
Each one of these photos represents negligence on behalf of the city, putting road users at risk with a benefit to no one. All of these intersections are either in residential areas, or located in places that pedestrians and cyclists need to navigate.
Note the concentration in lower Hamilton. Even in our suburban fringes, we rarely include freeway-style ramps in our intersection designs. Lower Hamilton is full of them.
These routes were designed in a time when tens of thousands of people drove from the escarpment to their jobs in the bayfront industrial sector. This traffic has evaporated, yet the infrastructure remains.
Drivers needing to get up and down the escarpment or across the city can now choose to take Hwy 403, Linc, RHVP, and QEW or Burlington Street.
There is no longer a need for inner city ramps everywhere, seven-lane escarpment accesses (Claremont), T-intersections with no stop signs (Jolley) and other quick-car cut-through infrastructure.
Proactive
With the amount of money we spend on our roads every year, we need to be ensuring that we do not waste any opportunities to make the necessary changes.
Each project that gets completed with a design that does not follow our stated priorities represents money wasted. We cannot afford to re-do any of our road projects, so each and every one must pass pedestrian-infrastructure scrutiny before work commences.
We need to make changes at the most basic level. We need to put these requirements into the staff job descriptions - and if they are not willing to learn, they should not be allowed to work on such projects.
In other words, we have to take this seriously instead of just writing up a bunch of PDF files.
Liability
Will the city wait until a legally savvy pedestrian is injured, one who recognizes that it was the infrastructure that was responsible? Will we wait until we are sued? Or will we proactively make changes?
We now have a complete ring highway system. There is no reason to have freeway-style ramps spread through the city.
Our local roads should serve the local citizens. That means pedestrians first, followed by cyclists, followed by transit followed by cars.
Post a Comment
You must be logged in to comment.