OMB Rejects North End Speed Limit Appeal on James, Burlington
The Ontario Municipal Board rejected a proposal to impose a 30 km/h speed limit on every North End street including James and Burlington, arguing that the City's transportation plan will increase pedestrian safety without sacrificing flexibility.
By Ryan McGreal
Published January 02, 2013
this article has been updated
The Ontario Municipal Board (OMB) has rejected an appeal from the North End Neighbourhood Association (NEN) requesting a 30 km/h speed limit on all north end streets, including James Street North and Burlington Street.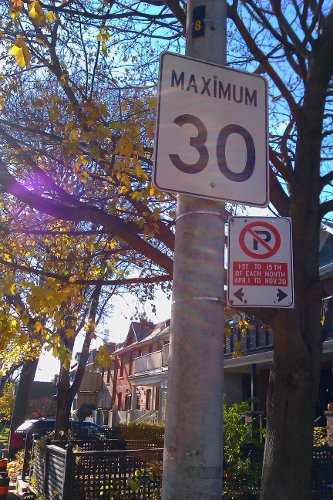 30 km/h speed limit in Toronto's Beaches neighbourhood (RTH file photo)
The OMB just issued its final decision on the West Harbour Secondary Plan (Setting Sail) to establish a formal land use plan for the City of Hamilton's North End Neighbourhood. NEN filed the appeal after Council rejected its request to have all speed limits in the neighbourhood reduced to 30 km/h as part of the Setting Sail plan.
The OMB concluded that the City's plan to introduce traffic calming measures without a neighbourhood-wide speed limit or significant traffic calming on James North or Burlington Street "will increase pedestrian safety in a reasonable manner" while giving the city "the flexibility to make changes when needed".
Speed limits on most streets will be reduced to 30 km/h, but James North and Burlington Street will remain at 50 km/h.
Neighbourhood Speed Limit
The Setting Sail public consultation raised serious concerns about high-speed automobile through traffic heading east/west to Hamilton's industrial area and north/south to the waterfront.
The NEN argues that the reduced speed limit, combined with other traffic calming street design measures, is necessary to protect and enhance the mixed residential character of the neighbourhood. As the OMB summarized:
The guiding principle of NEN's position is the requirement for the City to adopt an approach that determines as a priority what works for maintaining and improving the Neighbourhood as a family-friendly, residential neighbourhood. Under this approach, the streets become more than traffic conduits and become part of the community's outdoor amenity area for recreation and social interaction. This involves a severe reduction or removal of cut-through traffic by the closure of roads and reduction of vehicular speeds to a maximum of 30 km/h.
NEN argued that the traffic calming policy should be included in the Secondary Plan, because it gives the policy greater protection from subsequent change than the City's preferred approach of addressing it separately through the North End Traffic Management Master Plan.
The City maintains that it requires the flexibility to make changes to traffic calming and management measures in an efficient and timely manner if and when changes and adjustments are necessary, and including its Plan in Setting Sail will result in unwarranted expense and delay in making changes.
More specifically, the City "strenuously opposes" the imposition of a 30 km/h speed limit in the neighbourood, on the grounds that it would "penalize traffic" and harm commercial vitality in the neighbourhood by deterring drivers.
The OMB heard from traffic engineer Ted Gill and transportation consultant Brian Hollingworth who defended the city's preferred strategy, as well as from land use planner Brenda Khes, who argued that Setting Sail also entails improving automobile access to the waterfront.
Ms. Khes acknowledged that most people in the Neighbourhood want a blanket speed of 30 km/h, but advised that as a planner she does not recommend this reduced speed on James Street North and Burlington Street East since traffic moves more efficiently at 50 km/h on these streets.
Disputing this hypothesis, NEN wanted the North End to serve as a pilot project for a 30 km/h zone to determine whether the "slow city" movement that has had great success in other North American and European cities would also work in Hamilton.
NEN representatives complained that the City's Public Works Department effectively prioritizes the fast, efficient flow of automobile traffic over all other uses of the street, particularly pedestrians. Leaving the transportation strategy in the Master Plan rather than Setting Sail would allow that automobile-centric bias to dominate the transportation plan for the neighbourhood and leave automobile traffic flow the deciding factor when balancing street uses.
Dan Burden
The OMB heard from Dan Burden, executive director of the Walkable and Livable Communities Institute and "a recognized authority on street design, traffic calming and their effect on the community." Burden argued that the City needs to lower speed limits to bring "civility" back to the streets and "heal" the neighbourhood.
He explained that it is necessary to use traffic calming tools that connote to drivers that they are entering a different place where moderate speed and deference to pedestrians is required. He advised that James Street North and Burlington Street East are principal streets that require the most attention with regard to creating a civil street environment.
These are the streets that the City is most opposed to calming, since they are regarded as "Primary Mobility Streets" for through traffic.
Burden noted that significant research has found a negative correlation between traffic speeds and neighbourhood vitality, and that other cities, including Portland Oregon, have established 30 km/h speed limits in urban neighbourhoods - including principal streets - to great success.
Burden was the keynote speaker at a 2006 Pedestrian Workshop [PDF] organized by the City of Hamilton. Turning the idea of "efficiency" on its head, he told the Workshop that walkability is "the cornerstone and key to an urban area's efficient ground transportation".
Richard Gilbert
The OMB also heard from Richard Gilbert, the Toronto-based transportation consultant who is "recognized for his expertise on child- friendly transportation needs and guidelines".
Gilbert endorsed the 30 km/h speed limit, arguing that it would make the neighbourhood streets safer for walking and cycling and would particularly benefit children. He extended this to James North and Burlington, as they are also primarily residential within the North End and "should be subject to the same standards as other residential streets," as the OMB report summarized.
He noted that the lower speed limit is supported by research from UNICEF and the World Health Organization, and that Austria and Germany have 20 km/h speed limits in urban areas.
Gilbert prepared a report on the implications of peak oil for the City of Hamilton in 2006 and is the co-author of a 2004 report on creating child-friendly cities.
Further reading:
---
Update: Updated to note that most North End streets will be reduced to 30 km/h, but James and Burlington will remain at 50 km/h. You can jump to the added paragraph.
Post a Comment
You must be logged in to comment.