Hamilton: Still Anti-Urban in 2012
King Street west of Bay carries 24,800 cars per day. As anyone in the area has noted, traffic flows fine with the lane closures, even during rush hour. The rest of the day it's a downright scary freeway.
By Jason Leach
Published November 06, 2012
I was perplexed to read Councillor Lloyd Ferguson's comments about traffic issues arising from a lane closure on King Street downtown, during construction.
"King Street is a very busy road. Having one lane blocked off is very inconvenient, and to have it sit for a year with nothing happening is unconscionable," he said.
I live just off King, west of Queen and can attest to the fact that there have been zero traffic delays as a result of this lane closure.
Ditto for the two-year lane closure during construction of the Good Shepherd Square a couple blocks west on King.
King Street over Hwy 403 has been down to two lanes for over a year and traffic still roars uninterrupted at dangerous speeds into Westdale.
Again, the double standard in Hamilton politics and neighbourhood safety is tough to digest for those of us who live here. Councillors and residents outside of the core would protest in the streets if they had such dangerous freeways tearing through their neighbourhoods.
There's a good reason why virtually every neighbourhood association, community group, poverty advocate, small business owner and most residents in our downtown neighbourhoods constantly send emails, hold public meetings, lobby council, write letters to blogs and papers and strategize how best to calm our streets to a safe, normal level.
We don't need more lanes here. We need fewer!
Believe it or not, crazy activists aren't paying off the world-renowned experts who pop into town every year for the Economic Summit and say the same thing - "Get rid of these urban freeways. Now."
It's common sense. And it's long overdue.
Traffic Flows Fine
King Street west of Bay carries 24,800 cars per day. As anyone in the area has noted, traffic flows fine with the lane closures, even during rush hour. The rest of the day it's a downright scary freeway.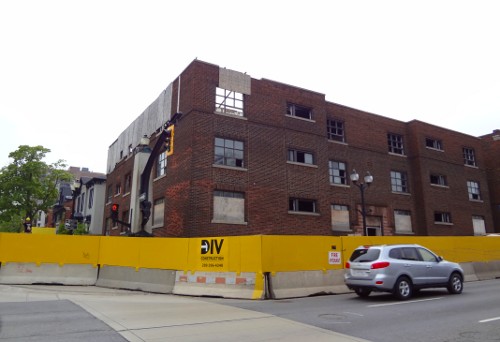 Lane closed in front of 275 King Street West (RTH file photo)
Last Thursday, while I was walking home along King, a car sped past everyone in the north curb lane well over 100 km/h in order to cut back over a lane ahead of traffic.
It was incredibly scary for those of us on the sidewalk mere feet away. Some people were frozen in fear as this car wildly shot past.
No street should be engineered in a downtown core of a city with speeds like this possible during the early evening. I realize some nuts may pull stunts like this off anywhere in the middle of the night, but the fact that Hamilton still has timed lights to accommodate high speeds is unconscionable.
Golf Links Road in Ancaster carries 26,600 cars per day. Why is there no public outcry to rip out the treed median and replace it with an extra vehicle lane, so the street can be converted to a five-lane, one-way street with timed lights?
Last time I checked, traffic wasn't gridlocked on Golf Links. It's two lanes each way with bike sharrows, and it works just fine.
Double Standard
Why is one quality of life and street design acceptable in certain areas of the city, but not others? Does this have something to do with the fact that almost every residential care facility in Hamilton is continually located downtown, while being completely banned in Ancaster?
The double standard in this city is horrendous. I expect our elected officials to lead.
It's amazing to see how anti-urban Hamilton still is in 2012. Despite the entire world understanding that the new economy is an urban one, we are clinging to 1950s planning principles that fly in the face of having a successful economy in the future.
New York City is removing traffic lanes at a rapid pace and replacing them with trees, street parking and separated bike lanes.
Hamilton would be wise to learn from cities that are light years ahead of us, instead of allowing parochial politics and flat out wrong information to guide our development practices.

Redesigned 9th Avenue in NYC (Image Credit: Gothamist)
9th Avenue was reduced from five live car lanes and two curb parking lanes to three car lanes with parking on both curbs and safe, protected bike lanes. New trees and pedestrian crosswalks were included. The distance for a pedestrian to cross the street was cut almost in half.
Vibrant and Interesting
Head in the sand isn't an acceptable excuse anymore, Hamilton. Our own Chamber of Commerce published a report highlighting the great importance of safe, walkable streets to the new economy.
As a local realtor said recently in an interview, Hamilton needs to be exciting and vibrant if we really want to see the momentum pick up of residents and businesses moving here from Toronto.
Cheap and exciting works. Cheap and boring doesn't. King, Main and Cannon scream 'cheap and boring'.
Despite our recent success in seeing a crop of new business moving here from Toronto, we run the risk of stifling the growth, or even missing out entirely on another generation if we don't get our act together.
There's a reason businesses and young creative types are paying top dollar for any basement or 'down the long hall, upstairs, around the corner space they can find on Queen West in Toronto.
Vibrant and interesting are far more attractive than cheap.
Post a Comment
You must be logged in to comment.