Airport Development a Backdoor for More Sprawl
The City's Airport Economic Growth District is a red herring, an excuse to expand the urban boundary so home builders can squeeze a little more money out of sprawl.
By Ryan McGreal
Published October 29, 2012
this article has been updated
When the City of Hamilton undertook its Growth Related Integrated Development Strategy (GRIDS) planning exercise in 2005, all six development proposals included a 3,000 acre urban boundary expansion around the airport - even though the expansion violated seven of the nine GRIDS Directions.
The boundary expansion was called "Aerotropolis" after a model by John Kasarda, an economics professor at the University of North Carolina-Chapel Hill. According to Kasarda, eighteenth century cities grew around shipping ports, nineteenth century cities grew around rail nodes, and twentieth century cities grew around highways.
He believes twenty-first century cities will grow around airports, as people demand the speed, flexibility, and convenience that only air transport can provide. In the aerotropolis economy, the three As ("accessibility, accessibility, accessibility") replace the three Ls ("location, location, location"), as high-tech companies leverage proximity to the airport.
It sounds impressive, and Kasarda's description is nuanced - a dense, diverse, well-planned, and even aesthetically pleasing mix of complementary facilities and amenities. However, the city's plan, now called the Airport Employment Growth District (AEGD), doesn't do this.
Low Value Land Use
Instead, we get a collection of large, low-density, single-use lots used mainly for warehousing and logistics (two-thirds of the total land) with a little bit of high-tech manufacturing and some coffee shops, gas stations and strip plazas.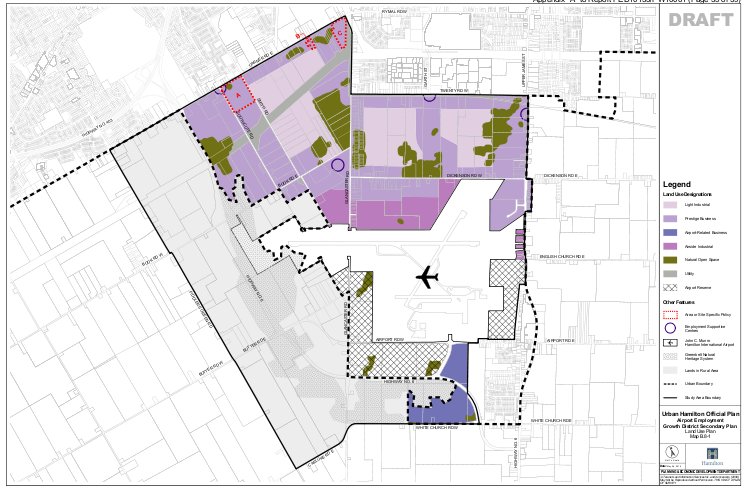 AEGD Proposed Land Use
A large part of the area is dedicated to so-called prestige business uses, which include: building and lumber supply, motor vehicle sales and service, convention centres, couriers, equipment and machinery sales and service, hotels, administrative offices, laboratories, union halls, manufacturing, offices, private power generation, repair services, research and development, surveying and planning, trade schools, skilled trade shops, transport terminals, transportation depots, and warehouses. Yes, according to the city, warehousing and transportation qualify as "prestige business".
Even that proposed land use is optimistic. A number of land owners have appealed the city's plan to the Ontario Municipal Board (OMB), either because they want their land rezoned for residential development or they want their land added to the AEGD area and rezoned for residential development.
While City planners and councillors insist we need thousands of acres of highway-accessible industrial employment land, the fact is that we have spent the past several years caving into developer pressure and rezoning existing highway-accessible industrial employment lands for residential and big box commercial use.
It's About Sprawl
The most likely result if the AEGD goes ahead is that taxpayers will shell out hundreds of millions of dollars in infrastructure costs and then turn the land over to home builders as a way of recouping some of that money.
After decades of unsustainable suburban expansion, Hamilton remains committed to a policy of ongoing sprawl, and the AEGD is part of that policy. Our density targets just barely meet the absolute minimum under the Provincial Places to Grow mandate, and most of the intensification is back-filled into the latter part of the 2015-2031 period.
In 2009, councillors rejected a proposal by Councillor Brian McHattie to increase the city's downtown density target from 250 people+jobs per hectare to 400. In responding to the request, city planner Bill Janssen came out and admitted that a higher density target would threaten the city's plans to expand the urban boundary:
The one concern that we have with increasing, or having a target in the plan that we don't know we can achieve, it may impact what other development can be undertaken, particularly in greenfield developments.
Even worse, the City's official position is that we have hardly any available brownfield lands in the existing built area. A study by Hemson Consulting that was presented to Council in 2007 concluded that there weren't any brownfield opportunities to speak of and that the city's only economic development option was to focus on warehousing and logistics around the airport.
It was so one-sided that even Council noticed, and they directed staff to come back with a more realistic assessment of the city's brownfields.
A follow-up study, also by Hemson, redefined the city's approximately 1,400 brownfield properties almost entirely out of existence, concluding that only two percent of the old industrial area is available for redevelopment - 91 sites totaling less than 75 acres. Despite its mandate, the report excluded underutilized lands like parking lots, scrapyards, and empty warehouses.
Putting the Land First
Richard Gilbert said the following to Council when presenting the Peak Oil report he prepared for the City in 2006:
There is a certain amount of thinking [in Hamilton] of putting the land first and then wondering how to fill the land with jobs. What I'm proposing is an alternative way of going about it, which is figuring out what you want to do and then after you've defined it a bit, what the lands are for that particular thing.
Any business case for airport-oriented development evaporated with the end of cheap fossil fuel energy. The only economically sustainable way for Hamilton to move forward is to make much more effective use of its existing land, already serviced by municipal infrastructure and currently under-performing.
AEGD is a red herring, an excuse to expand the urban boundary so home builders can squeeze a little more money out of sprawl.
It's an economic dead-end that will preclude sound investments in increasing the economic productivity of the city we already have.
---
This was first published on The Hamiltonian as part of a Perspectives Virtual Panel on the AEGD.
---
Update: originally, this article incorrectly stated that AEGD stands for Airport Economic Growth District. It's actually Airport Employment Growth District. You can jump to the changed paragraph.
Post a Comment
You must be logged in to comment.