Word on the Street
Ben's cup runneth over (and his mouth runneth on) as he attempts to hold back the deluge of recent local news.
By Ben Bull
Published October 07, 2005
With files from Jason Leach and Trevor Shaw
Well it's been a stormy couple of weeks, and not just along the battered coasts of the Deep South. Recent events in the Hammer have left us looking at the wreckage of at least one councilor's career, and the flood waters left over by the growing tide of activism will not be receding anytime soon. And it ain't over yet folks! Just as Louisiana and Florida brace themselves for more of the same, you can be sure that there is plenty more huffing and puffing to be done along our shores. And we at Raise The Hammer will be blowing with the best of 'em!
So stock up yer basements, batten down the hatches and start sayin yer prayers, cos there's another storm a-comin! Yes it's Hurricane Hammer, brought to you by everyone's favourite forecaster - the Word on The Street!
Let's make landfall in the heart of the downtown. Saturday, September 24 saw the opening of yet another new Gallery on James Street North. Dave Kuric's Mixed Media Gallery opening was a huge success, by all accounts (well, Jason's, anyway).
Downtown Bureau Chief Jason Leach was loitering along our new 'Artists Row' when he reported seeing "the entire strip full of people walking from gallery to gallery. Each gallery was open and packed full of people. Even one of the food markets next to Sublimatus stayed open till ten and still had their produce stands on the sidewalk and STILL had customers at 10pm on a Sat night!"
What's that noise, I wonder? Sounds like the wonderful wind of change to me, and its blowing right through the core.
Is it just me or does anyone else like saying the word "Spallacci"? Spallacci! OK, I guess it's just me... Anyway, that was all just a useless pre-amble to the latest announcement that the Spallacci Block's St Deny's project is almost underway! Our secret sauces, oops, I used that one last week, ahem, our secret sources have informed us that the deal is almost done, and we should soon be smelling some mighty fine aromas coming from this little part of town. Here's hoping.
OK, altogether now: "Spallacci!"
More downtown lofts anyone? Well, maybe - A month ago Jason Leach was taking himself for a walk along 100 Main East when he noticed a 'Sold' sign on the piece of land immediately east of Landmart Place tower. A month later, while he was busy chasing sticks along the same stretch of road, Hamilton's nosiest newshound spotted a bunch of trucks and tractors clearing the land.
"What's the matter Jassie?" asked his wife, stroking his back and pulling his Leach, I mean Leash. "Is something wrong?"
Jassie, I mean Jason, responded by making strange barking noises.
"What's that, Jassie?" asked his wife.
"You say this site has been approved for a 14 storey residential development? Oh my! Whatever shall we do?"
Jassie then took off in the direction of City Hall, where he was arrested for p***ing in the flower bed 1 . Fortunately he managed to persuade the police he was a city councillor, and they let him off.
OK, so who's got them Big Box Blues? Well maybe we all will if Shoppers Drug Mart gets their way. Word is they are pushing for another 'more of the same' type monstrosity along our historic Hess.
City sources report that the mega-pharmacy has been "horrendous" in its attempts to plonk another drab square on this stretch; however, we have also been informed that the Shoppers developers are "working well with the city at finding a commercial partner so Shoppers will have an office tower above them."
Nevertheless, the worrying word is that these folks are making their own interpretation of our two-storey minimum bylaw, and are trying to push through another Meadowlands mistake. Perhaps it's time to take another look at that bylaw?
Breaking News, folks! I just got some strange growling noises on my voice mail - it was Jassie telling me that the site beside Landmark Place tower is going to be (wait for it) a gas station/convenience store! Woo Hoo!
Downtown Secondary Plan Director Ron Marini told us recently that these folks got their application in before the new downtown zoning bylaw (which doesn't allow drive-thru type sites) was approved - so, alas, City Hall can't do much about it. Apparently they thought about going to court, but the city lawyers said they'd never win as the applicant got it in before the zoning bylaw change. Take a deep breath, folks, there's always tomorrow.
Well, HMP has finally closed. Sadly, HMP owner Mike Dubois felt the need to fire a parting shot at the downtown. He complained to CH news that the downtown was dying and so on and blah blah and...
Hey! Doesn't this all sound familiar? That's right! 'Twas not so long ago we heard the good folks at La Costa saying the same thing. Now look who's come for Dinner in their place - Room 41! Probably the coolest new spot in town. Keep on bashing folks, our downtown is going nowhere but up.
Speaking of the HMP spot, CH news reported last week that downtown Development maestro Darko Vranich has bought the old federal building next door and will be turning it into lofts. What's more, we hear he has already bought HMP and is planning a Hilton hotel with underground parking (who's dying now?). Also, it seems like there might be even more going on that site. Look for the HMP buildings to be demolished soon, followed by the appearance of yet another downtown Phoenix, rising up.
At last! Baroli Caffe in Jackson Square has finally opened, just in time for me to get a new job and lose my office right above the place. Ah well, there's always the McDonalds in Square One.
RTHs yuppie-in-waiting Jason Leach (who's now only a three-wheel stroller shy of official Yuppie status) was slurping an ice Cappuccino and playing with his cell phone the other day when he reported, "this café has a brilliant menu. Great food and coffee." Check out our Suburban Chief Trevor Shaw's piccies in this issue of WOTS, and go and have yourselves a slurp today!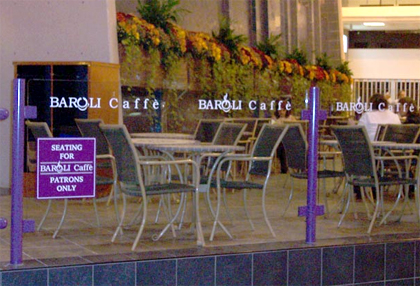 Baroli Cafe, Jackson Square
Hard on the heels of this new opening comes yet another coffee house! Word is that the Colombia coffee house at King and Bay has just painted some new signs out front and the inside looks to be just about done. Look for another opening coming soon!
On October 7, a new café/venue called FRWY opens at King and Wellington. It will feature fair trade coffee, live music, wireless internet and so on - sounds like a great way to waste time to me!
More galleries! Just when you thought King Street East was breaking up, RTH's 6 Million Dollar Downtown Bureau Chief Jason Leach used his bionic eyes to spy what looked like a new art gallery at King and Wellington. Squinting strangely into the distance, Jason "We Can Rebuild Him (But Why the H*** Would We?)" Leach noticed some comings and goings around this new gallery right next door to the International Village antiques and collectibles store.
The Bionic Bureau Chief called up Ryan 'Oscar Goldman' McGreal to tell him, "I think the "other galley on King" looks like it's getting ready to open at King and Ferguson."
"That's nice" replied Oscar McGreal, "But shouldn't you be out saving lives or something?" [The weight of the world is such a troublesome burden - Ed.]
At this point, Jason started to run off in slow motion, scaring some pedestrians and forcing several motorists to slow down and laugh...
OK folks, it's time for an exciting event! I am proud to introduce a WOTS newcomer! Today we welcome RTH's Mad Mountanite, Trevor Shaw, to the WOTS inner circle. Trevor reports to us from his hidden base somewhere on the Mountain.
"Well, another school year has begun and the students of Sir John A. MacDonald Secondary School are still walking past a halfway-house for sex offenders and other convicted felons serving out the remaining - usually last third - of their sentence."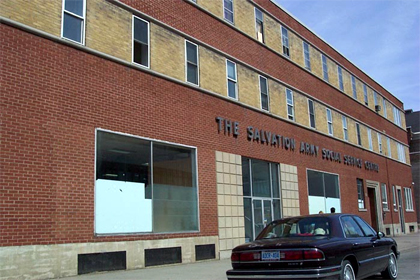 Salvation Army halfway house, northeast corner, Bay St. and York St.
"How short our attention span is. Mayor Larry DiIanni seemed to be making some progress to relocate the facility earlier in the year after a rash of 'walk-a-ways' and a vicious knife attack on a vendor in Jackson Square from 'tenants' of Corrections Canada. Isn't it enough that it practically neighbours a high-school and is across the street from the children's section of the central library, Copps Coliseum, the Farmers' Market, and Jackson Square? Obviously this is a totally ridiculous location for such an institution. Is Corrections Canada still having meetings, 'in order to decide if they will possibly make a decision regarding a potential relocation at some point in time going forward'? Never mind, I have my answer…"
A-ha! Feisty stuff my mysterious mountain dwelling friend! I can see him now, pulling on his white survival suit and stroking a rather vicious looking cat. He flips on the giant screen and announces to the President:
"Judging from the work crews and trucks outside The Royal Connaught, the work appears to have begun on the multi-million dollar renovations. I look forward to the day our jewel is restored. I hope Warren Green (Hi-Rise Group) isn't part of the investors, or else he will be asking 'What's so historical and significant about this?' Note to self: Find out if a city can banish someone."

Royal Connaught Hotel, 112 King St. E. Is there anything historic about these bricks?
Hmm, cryptic…I like it! Suddenly the countdown begins...
10! Our mealy mouthed Mountainite looks menacingly into the camera and confirms his arch enemy Jason Bond's earlier announcement: "Baroli Café has opened in Jackson Square. The manager informed me that he 'doesn't allow pictures.' Anyway, I still encourage people to try it out, it looks very good and has a cool patio beside the waterfalls."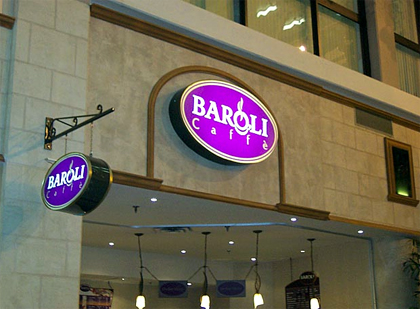 Baroli Cafe looking shyly away from the camera
9! "If the food isn't any good, you always have Druxy's. This area of the Jackson Square definitely needs some good news."
8! Stalling for time, tied up Downtown Bureau Super-sleuth Jason Bond blurts out, "Your evil plans will never work, Dr Shaw!" At which point, the mad Mountainite launches into a loooong speech about a City Hall movie shoot (or something)...
7! "I knew it was a hot summer but I didn't think we could grow tropical plants. City Hall was recently the scene of a movie-shoot. The fore-court was filled with palm trees and razor wire, all that remains are the international flags, I think they look good maybe they can stay, it makes our City Hall look like a miniature UN Building in New York."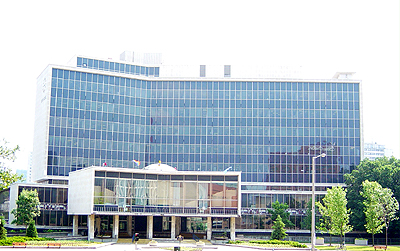 City Hall would look nice draped in a lei
5! As he leaves our superhero to the mercy of the sharks, Dr Shaw looks back and offers these parting words. "Too bad the razor wire didn't stay. It could be used to protect Dave Mitchell from the angry downtown supporters for trying to taint the very successful loan program."
Blast Off!
Fortunately, Jason Bond slipped out of his shackles and wobbled his way down the mountain on his Canadian Tire Chopper bike. Back at base, the Secret Agent files his report to Judi Dench, or whoever that actress is: "The main floor of the Salvation Army building is completely gutted right now...not sure what's going on..."
"Very good, Mr. Bond. But where are the nuclear warheads?"
"I was talking to my brother. He says a friend is working in the area of Jackson Square that is closed. Apparently the guy who wired up Ivor Wynne Stadium (and I think the Eaton Centre) for wireless connections is planning on using the space in Jackson Square for some kind of wireless central station for all Canada. I will try to find out more info."
All of a sudden Miss Moneypenny enters the room and starts stroking Jason Bond's beard. The screen goes blank. The music begins... Nobody Dooooes it betterrr…
OK, who's for a little chess? Several new chess tables are about to be set up in Gore Park according to Kathy Drewitt, Executive Director of the Downtown Hamilton BIA. Kathy tells us, "The tables and chairs will be somehow embedded into the landscape. Not sure yet how we are going to do that. However people can use the tables for just about anything, checkers, chess, or just reading a book or having lunch. We hope they will be in by next May." Well, I'm up for a game - any takers?
Looking for some locally made produce? Well, don't scout around too long on the Mountain. The Eat Local Project recently compiled a list of local markets and found approximately zero at the top of the escarpment. There were, however, 32 in the outlying areas and 32 in the lower city. Check out the listing at http://environmenthamilton.org/eatlocal/directory/location.htm and buy local today!
OK, let's catch up with Hamilton's beardiest busybody, and find out who he's been annoying these past two weeks.
"The old church across from Locke street bakery had a market in it today," reported Jason, in a September 27 email I tried unsuccessfully to delete. The market was from Plan B Organic. "I popped by and chatted...they gave me some free food, which was sweet. The building has been sold and sounds like it might become Locke's version of the downtown cultural centre...a co-op for meetings, arts, music, theatre, market stands etc...the owner is throwing it open for use by the community. If this works, it'll be another positive move in the core."
Anybody catch the cool Bill Dunphy piece on Councillor Braden's EcoHouse in the Spec? On this same theme, Green Venture invites us all to take part in their Premier EcoHouse Exhibition Series opening, featuring the work of Bill Powell in "Landscapes by Powell". The reception is Tuesday, October 11, 2005. Show closes Saturday October 29, 2005. Thirty percent of sales are donated towards Green Venture's numerous community initiatives.
We're in for a long, expensive winter, folks. It would be wise to check out some 'new age' thinking, methinks.
Strathcona Remembers! Remembers what? I don't know, I forgot...
Ah yes, the Strathcona Community Council presents a history of Strathcona - a slide show by Murray Aikman, on Tuesday October 18, at 7pm, Erskine Presbyterian Church, 19 Pearl Street North. For more info call 905-526-8238.
And finally, what have those crazy CAN folks been up to lately? Well, I can't really say, but I can report that Hamilton's Community Action Network is looking to get into orbit sometime around the one-year-to-election timeframe.
One year to election, you say? That's right. This November marks the one year countdown to the next municipal election. This will be a critical year where the likes of you and me can really make an impact and do what we can to help get good councillors elected.
The rumour mills are already churning around who will stay and who will go. Margaret McCarthy, Art Samson, Tom Jackson, Bill Kelly, Dave Braden and Dave Mitchell are all rumoured to be stepping down or stepping up (to Provincial/Federal politics).
The rumblings around Bob Bratina's possible bid for the Mayor's chair are already Hamilton's worst kept secret. Why not think about helping someone's campaign this time around? After all, our lives will all get a lot easier if we can just have the right minds at the table.
OK, that's a wrap for this issue. Keep holdin' on to yer hats folks, and don't let the rain get you down! After all, isn't there's always a rainbow after the storm?
Notes
Due to RTH's new swearing policy (Please read Jason's article in this issue), WOTS is pleased to introduce an abundance of gratuitous swearing to this page. We hope you approve.
Post a Comment
You must be logged in to comment.