New Building a Milestone in James North Revitalization
If a proposed new building on a vacant lot at James and Vine goes ahead, it will mark an important milestone in the ongoing revitalization of James North.
By Ryan McGreal
Published July 05, 2012
If a proposed new building on the vacant lot at on the northwest corner of James Street North and Vine Street goes ahead, it will mark an important milestone in the ongoing revitalization of James North.

Sign at James and Vine showing a rendering of the proposed building
The property owner, developer Jack Beume, has posted a rendering for a new three-storey, 10,000 square foot office building he plans to construct there if enough tenants step forward. He already has a tenant who can fill 30 percent of the building and hopes to fill another 40 percent by the end of the year.
If he pulls this off, it will cap an amazing recovery for a street that was written off as a lost cause just a decade ago.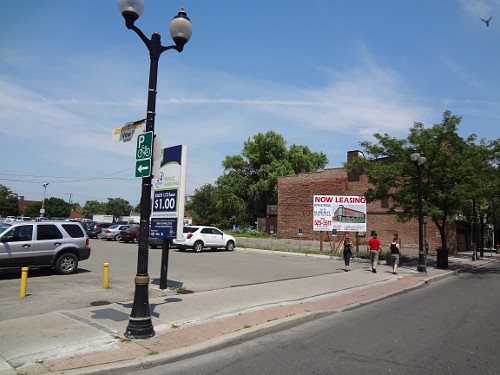 Beume plans to merge the parking lot with the adjacant vacant lot to construct the new building
Bootstrapping Revitalization
At the start of last decade, James North was in such bad shape that even its own former councillor wrote it off. Former Ward 2 Councillor Ron Corsini told residents: "Forget about it. Shops and businesses are never going to return to James North. They're gone forever."
One of the biggest advantages of James North is that it retained a continuous streetwall of intact two- to four-storey buildings. Thanks to that gift from the past of cheap fixed investment in square footage, the street has since been able to pull itself up by its own bootstraps.
James North was tamed and converted to two-way in September 2002. With traffic moving more slowly, curbside parking and safe, welcoming sidewalks, the street finally got its chance to begin recovering from a long, painful decline.
Slowly, steadily, early adopter entrepreneurs started to bet on James. They bought buildings cheap and renovated them to allow retail on the main floor and apartments or condos upstairs.
Many storefronts started out in the arts - galleries, art supply shops and so on - more as labours of love than cash cows. But the street felt good and people came. They came to the stores to shop, and they came to the apartments to live.
Ethnic grocery stores opened and thrived. Old restaurants found new clientele and new restaurants followed. Coffee shops, pubs and concert venues joined the mix.
Soon, creative professionals were locating on James North as well, both fueling and drawing from the increasingly palpable energy on the street.
The bootstrapping continued on several fronts. Gallery owners collaborated on monthly Art Crawls that drew thousands of visitors who rediscovered James North and went forth to spread the word about the street's ongoing revival.
The Art Crawl, in turn, leveraged an annual Supercrawl that has exploded since its launch in 2009, growing to an amazing 50,000 attendees last year and expanding to two days this coming September: Friday the 14th and Saturday the 15th.
New Construction
It's one thing to buy an undervalued existing building and renovate it, and for decades this has been a well-understood way to revitalize a flagging neighbourhood. As Jane Jacobs famously wrote:
Cities need old buildings so badly it is probably impossible for vigorous streets and districts to grow without them. By old buildings I mean not museum-piece old buildings, not old buildings in an excellent and expensive state of rehabilitation-although these make fine ingredients-but also a good lot of plain, ordinary, low-value old buildings, including some rundown old buildings. ...

If you look about, you will see that only operations that are well established, high-turnover, standardized or heavily subsidized can afford, commonly, to carry the costs of new construction. Chain stores, chain restaurants and banks go into new construction. ...

But the unformalized feeders of the arts - studios, galleries, stores for musical instruments and art supplies, backrooms where the low earning power of a seat and a table can absorb uneconomic discussions - these go into old buildings. Perhaps more significant, hundreds of ordinary enterprises, necessary to the safety and public life of streets and neighborhoods, and appreciated for their convenience and personal quality, can make out successfully in old buildings, but are inexorably slain by the high overhead of new construction.

As for really new ideas of any kind - no matter how ultimately profitable or otherwise successful some of them might prove to be - there is no leeway for such chancy trial, error and experimentation in the high-overhead economy of new construction. Old ideas can sometimes use new buildings. New ideas must use old buildings.
But when a developer seriously proposes the big capital risk of a new building, that means the overall value of the street has increased to the point where bigger tenants paying higher rents start to see a new building as an investment worth making.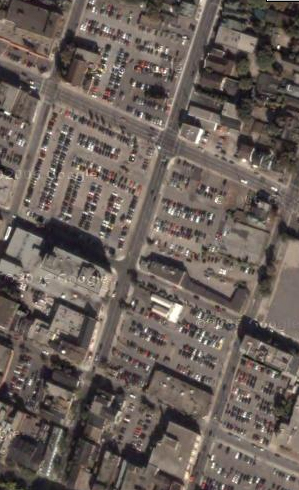 Razed city blocks east of James North
James North has traded on its existing stock of intact buildings for the past decade. With all of the new value it has generated for investors, a successful new construction offers new hope for the vacant lots nearby - particularly on Hughson North and John North, which have suffered the indignity of entire city blocks razed between King William and Wilson.
---
Update: The building is going ahead and construction is underway.
Post a Comment
You must be logged in to comment.