Support Growing for Walkable Streets
Momentum is building among councillors and city staff to revisit Hamilton's 50-year-old commitment to fast traffic flow through the core.
By Ryan McGreal
Published May 28, 2012
The City may soon be changing direction on its one-way thoroughfares. With a steady increase in public awareness of the social, health and economic value of walkable, complete streets, public and institutional momentum is building to revisit Hamilton's 50-year-old commitment to fast traffic flow through the core.
Farr: Neighbourhoods Want Walkable Streets
A May 2012 study published by the Hamilton Chamber of Commerce found that pedestrian-friendly streets attract new creative businesses and concluded, "walkable environments should be viewed as economic infrastructure that attract employment and should be invested in accordingly."
Jason Farr, Councillor for downtown Ward 2, agrees with the study. In an email response to RTH, Farr confirmed that all six neighbourhood associations in his ward have expressed support for walkable streets. He has requested a meeting with staff to ask why the city isn't moving ahead with making its downtown streets more walkable.
"Specifically," writes Farr, "I have been interested for some time now in investigating the transformation of Cannon Street. For me, the issue arose early last year at the Beasley Neighbourhood charter planning sessions."
He adds, "King and Main remain on the radar and I am hopeful the Pedestrian Mobility Plan that will be presented to Council in the coming months will shed light on the issue to a much greater extent."
He believes the Pedestrian plan "will be an eye-opener for all of us on Council. Recent discussions on the subject by the Chamber, the CEO of the Hamilton Community Foundation (Terry Cooke) and the many offerings from residents and concerned citizens (through blogs and editorials and emails to Council) who have taken the time to thoughtfully address the issue are also very helpful."
Farr notes that several pedestrian-activated crosswalks and stop signs are in the works to calm traffic and improve pedestrian mobility, and that work is proceeding to convert Park Street and the part of Caroline Street between Main and King to two-way traffic.
Other Councillors
Brian McHattie, Councillor for Ward 1, has long supported improved neighbourhood walkability and is also interested in "tackling two-way on Cannon" Street as a first step.
McHattie notes that it may be "a bit more difficult" to convert Main Street to two-way due to the proposed Light Rail Transit system on King Street. However, the city's own LRT plan recommended two-way conversions of Main and Cannon before the traffic engineering department nixed it due to an overriding priority for traffic flow.
On Friday, Ward 3 Councillor Bernie Morelli shared his thoughts on the lower city's one-way thoroughfares, saying he believes improved walkability is "absolutely a part of the picture".
Ward 4 Councillor Sam Merulla also believes "two-way streets are conducive to the improved walkability of the Core." He notes that he is hearing about the "inconvenience factor of two way streets" from people opposed to two-way conversion.
Street Engineering and Economic Development
City staff are also looking more closely at walkable streets. RTH contacted Glen Norton, the City's manager of urban renewal, for his take on the walkable streets agenda. He confirmed that his office shares the conclusion of the recent Chamber study, writing, "It is becoming more obvious that it will be very difficult to achieve the changes we all want to see in our downtown without some significant changes being made to our traffic system."
Norton agreed that two-way conversion is "one of the potential solutions," along with "reducing the number of lanes, adding parking and 'bump outs', adding dedicated and separated bike lanes (as in Vancouver and many European cities), widening sidewalks, slowing down the speed of traffic, and even 'breaking' the synchronizaton of the street lights."
He announced that the urban renewal office has begun "actively stepping outside of our 'box' and taking on more of the role of advocate for all of our downtowns, and we are committed to furthering the goals of walkable/livable streets for all of our citizens."
Norton also believes the time is right to advance the agenda of walkable streets:
I am known as an optimist, but I believe the general public is "there" already, largely due to coverage this issue has received from RTH and other media, and due to their own experiences in trying to navigate our downtown streets on foot or bicycle. Our citizens have been increasingly vocal, and specific, about what they want for these streets.
He concludes that the next step is for Council to "provide the policy direction to the appropriate staff departments to make it happen."
With the initiative by Councillor Farr, supported by Ward 1 Councillor Brian McHattie, to tackle Cannon Street, that new policy direction may well be forthcoming.
Background
Hamilton converted nearly all of its lower city streets to coupled one-way streets in 1956, as part of a wave of one-way conversions across North American cities that were being recommended by the brand-new traffic engineering profession.
The one-way streets were effective at moving large volumes of traffic but harmful to the local business and community vitality of the neighbourhoods they passed through. Business groups were already begging the city to reconsider, only months after the 1956 conversion.
After decades of neighbourhood decline and business stagnation, public pressure started to build in the mid-1990s for the city to reconsider its commitment to one-way streets. A Downtown Ideas Charette in 1996 brought architects, planners, developers, engineers and creative professionals together to call for pedestrian-friendly streets, two-way traffic flows, a network of bike lanes, mixed use zoning and more infill development.
That inspired the 1998 Smart Moves urban planning document that emphasized fostering pedestrian- and cyclist-friendly livable streets with dense, mixed use development. Smart Moves evolved in 2001 into Putting People First [PDF], the city's secondary plan for downtown land use. It was developed around the following vision:
The Downtown Hamilton of the future will be a vibrant focus of attraction where all our diverse people can live, work and play. The future Downtown must be built on a human scale, with streetscapes offering comfort, access and safety for pedestrians. The future Downtown will combine the best of our heritage with new commercial and domestic architecture and use. The future Downtown will redirect our gaze from the urban core to the surrounding neighbourhoods, the waterfront, and the escarpment, seamlessly linking commerce, housing and recreation.
Unfortunately, the rollout of the plan was based around modest incrementalism rather than bold action, and the pace of execution has been glacial.
Slow Progress
Ten years after James Street North and John Street North were converted from one-way to two-way traffic in 2002, the City of Hamilton remains stuck in the slow lane on converting additional streets. In the decade since, the city as also converted sections of James South, John South, Charlton, Herkimer, Hess, Caroline, York, Wilson, and Park.
York Boulevard is a significant eastbound thoroughfare, and the manner in which it was converted to two-way reflects the City's ongoing commitment to traffic flow. With three eastbound lanes and only one westbound lane and severe restrictions on westbound turns from cross streets, York has been engineered into a TWINO: two-way in name only.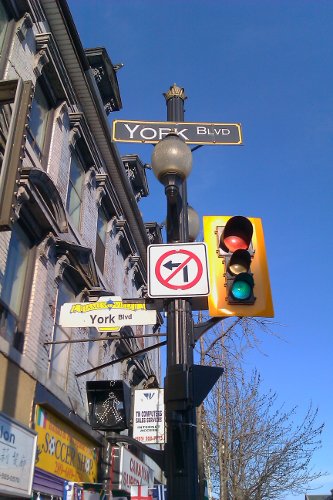 No left turn onto York westbound from James. You can't turn right onto York westbound from James, either. (RTH file photo)
Similarly, a proposed pedestrian scramble intersection at York and MacNab was removed from the plan because it would be "inefficient" for motorists.
On the Cusp and Holding
When Ken Greenberg, who participated in the 1996 design charette, spoke again in Hamilton at last month's On The Cusp event, he wryly noted, "What's really interesting is that a lot of the ideas that came out of that charette are the very same ideas that you may be on the cusp of realizing."
He went on, "Some have actually happened, and they're pretty significant, and some are still there for the taking. But I look back at the material that came out of that charette, I realized that there was a set of ideas, a powerful, integrated set of ideas that still make sense."
Unfortunately, the effectiveness of that integrated set of ideas has been hampered by the slow, piecemeal manner in which it has been put into practice.
Post a Comment
You must be logged in to comment.