Socks
Apparently, making sure that each sock in a pair goes into the wash at the same time is rocket science.
By Michelle Martin
Published May 16, 2012
I still have a pair of socks from my old school uniform. While I have great memories of my old high school, those uniform socks aren't in the bottom drawer for sentimental reasons.
They occupy a spot in the dresser because they are warm and still in excellent shape. I figure I'm keeping my ecological sock-print smaller not only by not throwing them out, but also by turning down the thermostat during the winter and wearing them to bed.
And it's clear they aren't there because they are beautiful (unless a Pinterest page for socks that have lasted thirty years would generate a lot of clicks).
Wait....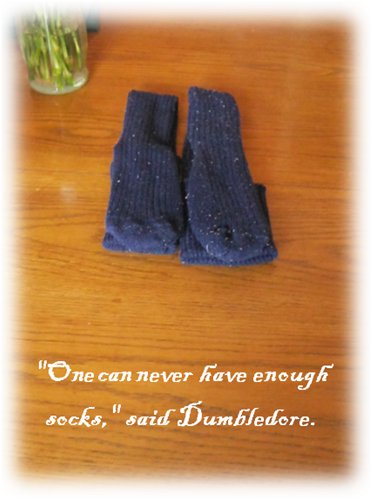 The rest of the socks in this house, being more recently purchased, do not last as long. I do my best to be frugal and eco-conscious, and mend them if they can be mended, but they don't often last too long after one mending.
I also have a large basket of unmatched socks. Apparently, making sure that each sock in a pair goes into the wash at the same time is rocket science. What about sock-eating dryers? No such thing.
The dryer we own used to belong to my parents, who bought it new 35 years ago. When Stephen and I bought our first house 20 years ago, Dad replaced the motor himself and gave the dryer to us to use.
One of the reasons it has lasted so long is we hang most of our clothes up to dry, and save the dryer for socks, underwear, sheets and towels. Still, the drive belt has been replaced a couple of times. Each time Stephen has taken the dryer apart he did not find a single sock.
Not. One.
Possibly something sinister is afoot (there are a couple of hair salons nearby), but it is more reasonable to blame our children and insist that they suffer the consequences: if they find they are low on socks, they have to raid the unmatched sock basket and put together two socks that look kind of okay together.
This means that, when they are in grade nine Geography class and fill out one of those quizzes about their personal ecological footprint, they can often answer "No" to the question: "Do your socks match?" This response, apparently, reduces the size of their ecological footprint. So, win-win.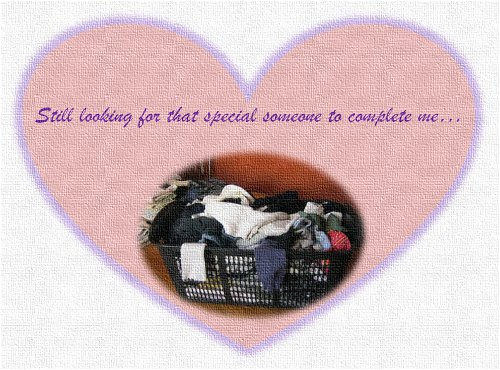 Will we replace our old dryer before it dies its natural death? No. We will keep fixing it. When we use it, it does what we need it to do, even though it looks like hell. Could we replace it with a more energy efficient dryer? That's hard to tell, since Energy Star does not provide ratings for dryers.
It does, of course, provide ratings for washing machines. Washing machine Energy Star ratings are calculated in part by an estimation of how long it takes a dryer to remove the excess moisture left by the washer.
I'm not sure exactly where that leaves a household that uses a clothesline, but this discovery assisted us in the decision to replace our broken-down, electronic front-loader with an older top-loading model that we bought on Kijiji from someone who was replacing hers with an electronic front-loader.
The second-hand model we bought was one that we were familiar with and knew how to fix. It was the same model we had replaced with what had become our unusable front-loader. Stephen has fixed the top-loader since, for the cost of an $8 part that was easily picked up from the local appliance parts store - no $150 back-ordered non-returnable parts that turn out not to be the problem after all, when even a repairman can't help because the flashing error message could mean any of several different problems, each requiring its own expensive back-ordered part.
We save water and electricity by washing only full loads of clothing that is visibly soiled or actually smelly, using cold water as much as possible, and by using the clothesline and drying racks.
Consequently, our laundry room is
not Pinterest-worthy
. It looks like laundry rooms used to look when people my age were kids: just functional, and
nothing to include
on a tour of the house.
As for our socks, sometimes they are Pinterest-worthy, and sometimes they are not.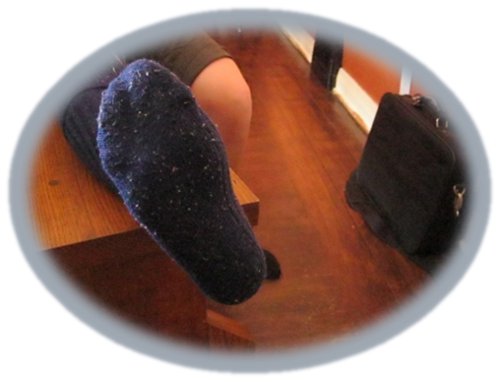 Post a Comment
You must be logged in to comment.