AIESEC McMaster Attracting Globally Minded Citizens
A globalizing economy is the next economic transformation affecting Hamilton. AIESEC McMaster is a local chapter of a worldwide NGO that pairs local businesses with international interns to further this change and satisfy the diverse needs of both parties
By Kevin Carmona-Murphy
Published April 13, 2012
Hamilton is a city with many notable characteristics. It is uniquely situated at the centre of the Golden Horseshoe, a region with strong economic activity, and access to large and differentiated markets.
It has the busiest port on the Great Lakes, and Canada's busiest cargo airport by cargo plane volume.
Hamilton's beautiful escarpment and its title as the City of Waterfalls helps promote tourism, which has an economic impact to the city of over $130 million [PDF link] per year.
Hamilton has also been earning accolades for its investment potential. The Real Estate Investment Network of Canada ranked Hamilton the best place to invest, over the next five years, after Calgary and Edmonton. The Financial Times ranked Hamilton as one of the top 10 large cities in North America for quality of life.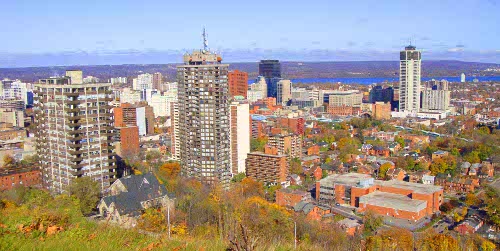 Overlooking downtown Hamilton (Image Credit: Kevin Carmona-Murphy)
The list could go on. What is apparent is that Hamilton is no longer the epitome of a blue collar manufacturing centre, but rather of something bigger and much more diverse.
The economy has transformed, and with it, the people. While Hamilton's steel plants have had to make massive layoffs, and the traffic on Burlington Street is no longer as bustling as it once was, other sectors have sprung up to fill the gap left by the manufacturing industry.
Among them is the health sciences, which employs nearly 10 000 people in the city, and has contributed to a number of breakthrough medical innovations.
Other rising economic trends include the burgeoning arts scene helping to transform the core, on-location interest from film companies, knowledge based nodes such as the Innovation Factory in the McMaster Innovation Park, the continued development of our higher education institutions, and the overall gradual transition to a service and knowledge based economy.
AIESEC in Hamilton
The next step in this economic transformation is that of evolving into a globalized city. An organization on the leading front of furthering this change is the International Economic and Commercial Sciences Students Association (AIESEC). AIESEC is an international student-run NGO with the goals of providing a platform for developing youth leaders and globally minded citizens.
AIESEC connects students from around the world who are studying various disciplines such as finance, engineering, or business management, and matches them with internships at local area businesses.
The organization operates in over 110 countries across six continents, with local chapters based out of universities and colleges. AIESEC McMaster is a local chapter with the vision of bringing international talent to the Greater Hamilton Area.
What are some of the benefits AIESEC can provide to the city? For starters, AIESEC maintains a global database of available interns and businesses willing to accept them. Thus, from a recruiting standpoint, AIESEC can considerably reduce a business's human resources overhead and time spent looking for candidates.
AIESEC also gives local Hamilton employers access to the diversity in skills, ideas, and viewpoints that international students may possess. Numerous past interns, who have worked in the greater Hamilton community, have brought their unique talents to the local economy.
Two years ago, AIESEC McMaster connected the Hamilton Police Services with Peggie So, a recent graduate in business administration, from the Chinese University of Hong Kong. So said this about her internship: "From my experience in Hamilton, I have learned how to be proactive and take initiative in the workplace. [By] working with different cultures and nationalities, I have improved my communication and interpersonal skills. In the [policing] industry, we are always working with people from all over the world."
More recently, Wei Lie Yew completed an internship at Greenhorizons Hamilton Sod. Returning to Malaysia a few months ago, Yew had the following to say about his AIESEC experience in Hamilton: "The AIESECer's at McMaster made me feel right at home, though home was more than half a world away. There are always new places to explore in Hamilton."
Currently, AIESEC McMaster is supporting George Takyi-Asiedu, an intern from Belgium who is working with B2B Credit in Oakville. George's boss, Bruno Santia, says George "has been nothing but positive" and that he is an "excellent, hardworking, and reliable individual."
In just a few months, AIESEC will be hosting an intern who will be working at ASECO Integrated Systems, in Oakville. Other Hamilton-area businesses that have supported interns in the past include: Columbia International College, Jervis B. Webb, and the City of Hamilton.
Potential interns must go through several levels of screening and interviews before they are allowed to work abroad. The quality of interns that local AIESEC chapters raise is reflective of the extensive screening and quality assurance process.
AIESEC provides the businesses of Hamilton with an international reach, allowing companies to extend their connections worldwide, while engaging in sound corporate social responsibility through the hiring of young persons.
A recent article from Yahoo finance illustrates the grim employment prospects for young persons in Canada. Unpaid internships, low-skill and low wage service jobs, and a 14.7% youth unemployment rate (double the Canadian average) are realities youth under the age of 25 are facing today.
By pursuing international internships with AIESEC, students gain important work skills that can increase their marketability and employability while allowing them to explore other parts of the world. Often, having international experience can mean being chosen for a position over someone who doesn't.
As students search for meaningful work, and as businesses become more competitive, AIESEC is uniquely poised to satisfy the demands of both parties.
With a strong local AIESEC chapter, Hamilton is ready to leap into the future - a future which sees the city as more than just a mosaic of cultures. The Hamilton of the future is a jigsaw puzzle where local employers connect with foreign students to collectively achieve their diverse goals.
It's Hamilton's time to rise in the international platform.
---
Editor's note: this article was co-written by Julian Emmanuel.
Post a Comment
You must be logged in to comment.