Longwood Road Plan Sacrifices Complete Streets for Cars
Against the city's own objectives, the Longwood Road preferred plan jettisons walkable streets, bike lanes, scaled roadways - any consideration of anything other than cars and trucks.
By Graham McNally
Published April 05, 2012
I must admit that I have not been following the development of the Longwood Road project very closely. I had intended to go to the public meeting last week but due to a last minute schedule change, was unable to.
However, I saw the issue in the news yesterday and decided to take a look at the work that has been done to date. I was thrilled!
I saw presentation boards that had images of divided bike lanes, walkable streetscapes, wide sidewalks, benches for elderly people that need to take a break. I saw images of trees and of scaled roadways that promote slower traffic rather than faster.
Then I realized I was looking at Step 2, the previous public meeting's materials.
I opened Step 3. I was horrified.
Gone were the walkable streets. Gone were the scaled roadways. Gone were bike lanes. Gone were, seemingly, any consideration of anything other than cars and trucks.
I have seven specific issues with the plans presented.
1. I see that a roundabout is proposed for the intersection of Aberdeen and Longwood. If the goal is to create a neighbourhood walkable street, which I believe was a stated goal and certainly should be given the type of development that MIP is, then a roundabout of the scale indicated will not accomplish that goal. How exactly does a pedestrian cross a roundabout?
2. I see in the ultimate build-out of the roundabout, a bypass lane is proposed for people making a right hand turn from Longwood onto Aberdeen. What purpose does this serve? The whole purpose of a roundabout is to eliminate the need to stop. So why do cars/trucks need two ways to turn right?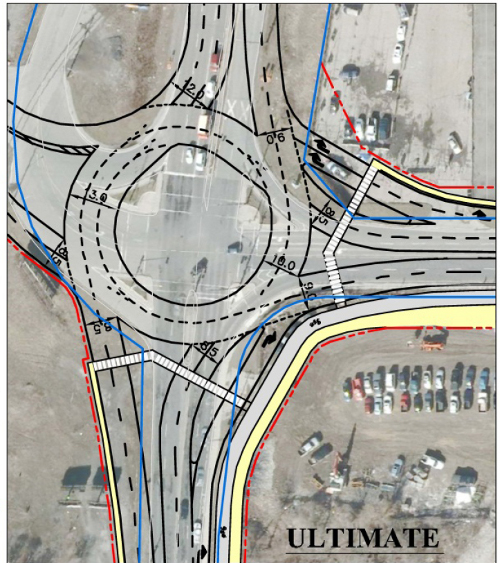 Proposed roundabout with bypass
I can't see that lane becoming anything other than a great place to get in an accident. It will create two different merge points within likely less than 100 feet! Absurd!
3. Why is a roundabout being proposed for this location? I live in the area and am rarely stopped at that light due to congestion. Even in peak traffic times, it has been my experience that one can make it through the light in one cycle.
4. Why put a roundabout here when a light was just installed at the road by the rail tracks? It seems completely counterintuitive.
5. A roundabout and the proposed roadway will not create the type of environment that will encourage people to walk from McMaster Innovation Park to the neighbouring residential zones. When MIP was proposed, it was understood that it should be a connection between two parts of a the city. This road and roundabout will ensure that they are divided.
6. I noticed that in Step 2, all the images and pictures were from street level. In Step 3, all the images were in plan view. There were a few sections on one board, but predominately, all the drawings were in plan. I believe that this is a subconscious conceit to the real force in the recent work on this project - the car is paramount, the experience of the street secondary.
I would have expected to see a great deal more work done on the section of the roadway and how different modes of transportation could be accommodated, instead of just how can cars and trucks get through here.
7. Step 2 talked about roads designed for 8 and 80 year olds. What happened to that idea?
To conclude, the design of a road will affect the behaviour of the cars on it. It's more comfortable to drive on the highway (or in Ancaster subdivisions) because the roads are wide, the bends have a long radius and any visual distractions (people, mailboxes, light standards, trees) are kept well back from the road.
A roundabout and wide road without careful consideration of the sidewalks, bike lanes, street trees will not create a street that meets any of the stated goals or achieves any of the images displayed in Step 2.
I urge the City to reconsider this work and spend more time devising a design that considers how this road will support the stated objectives of the study, MIP and the City in terms of creating a walkable, safe community.
Post a Comment
You must be logged in to comment.