Accountability and Transparency Subcommittee Passes Gag Order Against Citizen Complainants
An accountability and transparency subcommittee that does not publish its agendas or minutes has now voted to gag citizens from speaking publicly about their integrity complaints.
By Joey Coleman
Published March 30, 2012
Hamilton City Council's accountability and transparency subcommittee met Thursday and acted to decrease both accountability and transparency at City Hall. Among their decisions was a vote passing a gag law against citizens who file complaints to the integrity commissioner.
The accountability and transparency committee does not publish any of its agendas or minutes and there is no streaming of their meetings. Efforts to get City Hall to publish these documents on its website have been unsuccessful.
Instead, the City posts the phone number (but not the email address) of the contact in the clerks' department to request a copy.
Thankfully, CATCH attended the "accountability and transparency" meeting and filed a report about the committee's decisions.
(I could not attend the meeting as I'm in Ottawa to speak at the University of Ottawa about open data this afternoon. There will be a livestream.)
Council sub-committee passes gag order
Among its decisions, the committee passed a motion banning citizens who have filed complaints about council behaviour from talking to the media. If citizen complainants speak to the media, their complaint will be dismissed regardless of merit. It is not clear whether another citizen can file a separate complaint about the same matter.
While not retroactive, this policy would have resulted in the current complaint against Mayor Bratina - spurred on by councillors only days after they voted to maintain the $100 complaint filing fee - being dismissed after the citizen complainant responded to media enquiries.
Lobbying to make the transparency sub-committee transparent
I've lobbied City Council to make the "accountability and transparency" committee transparent by publishing agendas and minutes on the city website so citizens may be aware of what this ironically named committee is debating.
On Saturday, I tweeted every Councillor on twitter to ask publicly if they felt the committee should be transparent. I wrote about the issue on my personal blog.
Councillors promised to action the matter and get the transparency committee to post documents.
On Wednesday morning just after 9 a.m., the clerks' department sent a copy of the agenda without any documents or motions. There is nothing on the agenda to indicate the committee was considering a gag order against citizens.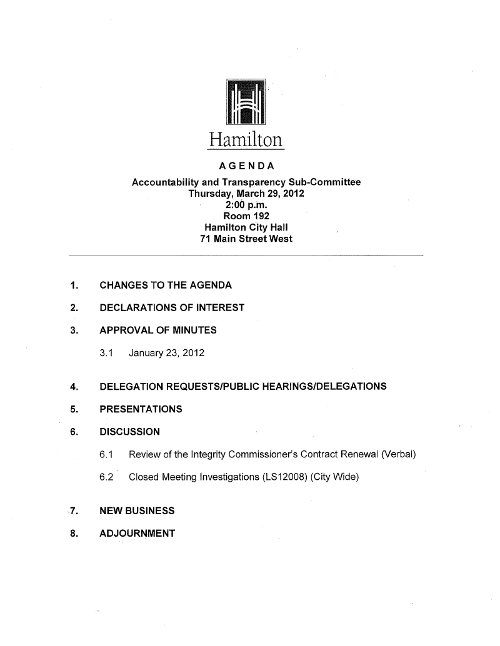 Agenda for the March 29, 2012 meeting of the Accountability and Transparency Committee
Consequences of the gag order
The gag order will not stop the media and public from learning of complaints against members of Council. As noted by now-former city solicitor Peter Barkwell yesterday afternoon, the gag order is unenforceable.
The immediate response to the gag order from the media will be an increase in anonymous sourcing. The only method of protecting citizens who wish to speak out about Council behaviour is to ensure they are not fingered as an anonymous source by the process of elimination.
It's ironic that councillors cite concerns about complaints damaging their reputations and then create conditions that force media to shield critics.
It will further discredit an already discredited process. It appears the only purpose of having the city's ineffective complaints process is to impose gag orders on citizens and shield council from accountability.
Council can't gag their own internal leakers. How do they plan to gag citizens?
In another irony, council can't gag themselves. Everything leaks out of city hall - emails, conversations, behind-the-scenes manoeuvres and pretty anything else of political gain to the leakers.
How can council prove that a citizen is the source of a leak? They can't and they know it. So why pass such blatantly anti-accountability legislation? It appears some members of council just don't get it.
Council promised to do better
Only weeks ago, in light of criticism by the provincial ombudsman about improper closed meetings, council promised to do better. A new era of transparency was upon us. Council had seen the light and were going to amend their ways.
Council decided to censure the mayor this week but instead of obeying the Municipal Act and debating the matter in public, they scripted the meeting behind closed doors. It was a blatant disregard for public accountability and the public record - they are no minutes of why each councillors choose to vote in favour of a historic censure against the mayor.
Decades from now, historians looking back will know there was a censure, but have no record of any debate. To make matters worse, the livestream failed during the meeting and there is no public video record of the meeting. I'm sure it's just a coincidence that council's livestream fails at tense moments such as the censure vote.
Of course, even when the livestream works, it does not work for everyone. But despite using a proprietary technology (Microsoft Silverlight) that doesn't work on mobile devices, tablets, or open source operating systems, city staff have no plans to adopt open standards for streaming.
Councillors moved to meet at 5:00 PM to better suit their schedules, thereby depriving employed citizens the opportunity to exercise their right to attend meetings. The least council can do is immediately fix the livestreaming issues and offer live audio streaming so citizens can listen to meetings during their commute home.
What needs to happen now
It's time make citizen members - completely independent of employment in government - the majority on the "accountability and transparency" sub-committee.
Following this, the accountability and transparency committee must be made accountable and transparent in how it conducts its business. Agendas, motions, and minutes must be posted on the city website.
Council's audit, finance and administration committee must immediately reject the gag order against citizens.
Council must direct city staff to make livestreams available for all modern platforms using open HTML5 streaming standards. If the stream is not working, no committee shall be allowed to meet until it is fixed.
These are simple steps that council can take to fulfill their promise of a new era of transparency.
Alternately, council can continue to write my stories for me. A transparency committee that doesn't publish agendas or minutes - that's a headline that writes itself.
Post a Comment
You must be logged in to comment.