Independence and Accomplishment Through Mobility
Most of us don't stop to consider the many small decisions that go into even a short bus trip.
By Michelle Martin
Published February 10, 2012
Most of us take for granted the role that transportation plays in our lives, and how our ability to get to where we intend to go means that we can fill our day with self-directed, meaningful activity - whether that activity is employment-related, recreational, or just plain-old taking care of our own errands.
We typically don't think of being able to meet a friend for coffee (or pick up toothpaste at the store, or get to an appointment) as empowering.
But all of these things are empowering, precisely because they provide us with a sense of being able to plan how our day goes, including what we will do, and where we will go.
We are reminded that we are masters of our own time, our own movement, and of our own immediate futures. The entire city is open to us every day, with a myriad of possible experiences as well as encounters with friends and acquaintances.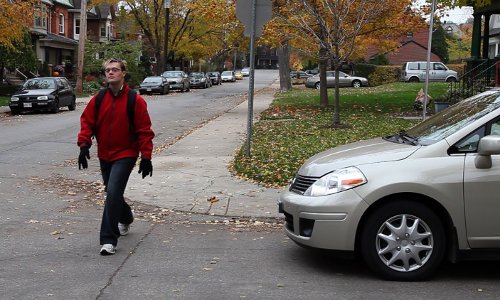 Most of us take mobility for granted (Image Credit: Airborne Video Productions)
Readers here may already know about the Community Access to Transportation project from Emma Reilly's article in The Spectator last month, and know that I was hired in the fall as project coordinator.
Funded entirely by the city and administered through Salvation Army Lawson Ministries, it is a two-year project that aims to train two hundred adults who access developmental services in Hamilton to use the HSR safely and independently.
This is no small thing. It is recognition from the city that accessible transportation involves not only DARTS (Hamilton's Disabled and Aged Regional Transportation System) service for those who need it, but also independent travel on an HSR bus for those who are able to learn how.
Community Access to Transportation was actually the brainchild of the Developmental Services Transportation Committee: a committee of representatives from developmental services agencies in Hamilton who have been working together for many years to ensure that public transportation in Hamilton is as inclusive as possible.
The training itself is a two-part process which includes both classroom instruction and individual, on-the-bus field training. Individual field training is provided by developmental services agency employees, who are experienced with, and knowledgeable about, trainee learning needs.
In fact, it is this partnership among developmental services providers across the city that makes the project such a unique and interesting endeavour.
Staying in touch with field trainers throughout Hamilton has been, to date, fruitful and informative as we collaborate to develop the best transit training program that we can, in consultation with the Developmental Services Transportation Committee.
Most of us don't stop to consider the many small decisions that go into even a short bus trip. But when that trip is broken down into the individual tasks involved in its successful completion, it becomes quite clear how challenging it can be for some.
Think about it. Even if someone else is doing the trip-planning for you (perhaps a family member or a support worker), you still have to walk to the bus stop safely (obeying all pedestrian rules), and wait at the correct bus stop safely (being aware of possible dangers including from strangers, and knowing where you might possibly obtain assistance should you require it).
You need to get on the bus safely (remembering not to approach the bus until it has come to a complete stop and the doors are opening), and ride it safely (including knowing to ask the bus driver for help if someone is harassing you, and standing behind the yellow line to do so safely).
Finally, you need to disembark safely (holding your knapsack in front of you, so it doesn't get caught in the bus doors) and proceed to your destination (again following all pedestrian safety rules, and being aware of the places you might get help if you need it).
It is not in the least surprising that a recent Globe and Mail column about loneliness among young people who have a disability mentions the lack of access to transportation as a factor.
Typically, what happens to a young person with a developmental disability (let's say she's a girl) as she grows into young adulthood, goes something like this: in elementary school, a bus takes her to a place where she is integrated into a regular classroom, and where she plays with her classmates each recess.
In high school, a bus takes her to a regular school where she may be integrated for some subjects (such as physical education), and is in a special classroom for others.
At this point, she has lost touch with most of her elementary school chums, because everyone's schedules and lunchtimes are different.
Once she has transitioned out of high school at the age of 21, there is no more bus service to take her to a place where her peers are. Unless she learns to ride the city bus on her own (or unless she has parents who are available and able to drive her around), she's stuck at home.
Right now, because she is ambulatory, she does not qualify for DARTS service, because DARTS eligibility is limited to people who use scooters, wheelchairs or walkers, are on kidney dialysis or have Alzheimer's disease.
Here is where a program like Community Access to Transportation comes in. For someone who is able to learn even just one simple, no-transfer bus route, it means the difference between getting somewhere on his or her own steam and the sense of independence and accomplishment it provides - or depending on the availability of others, which may ultimately mean staying home.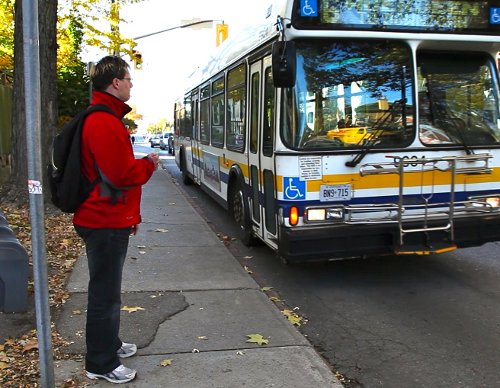 Learning how to take the bus provides a sense of accomplishment (Image Credit: Airborne Video Productions)
Staying at home can be devastating. I had the experience, when providing instruction to trainees during the classroom portion of bus training, of seeing trainees who didn't want classes to end because this was a regular outing, a social time with others who share similar goals (even though, let's face it, reviewing pedestrian signal safety isn't exactly exciting stuff).
This is one reason why we are starting a monthly transit-users discussion group at the FRWY Coffee House at King and Wellington.
It will function not only as a forum to share tips and concerns (and hear the occasional guest speaker), but also as a kind of class reunion for trainees past and present – another place to socialize as they keep broadening the horizons that have opened up to them with their increased travel know-how.
It needs to be noted that not everyone who accesses developmental services will be able to learn to ride the bus safely and independently.
Many families look forward to the full implementation of the Accessibility for Ontarians with Disabilities Act (AODA) regulations here in Hamilton, when DARTS service will be extended to those who access developmental services and who aren't able to learn to use transit on their own.
Meanwhile, the Community Access to Transportation project will be working with those who can learn, with an eye to keeping them as independent as possible.
Indeed, one of the criteria on which this project will be evaluated is its potential for mitigating costs to Hamilton as the Public Works department moves to fulfil its transit accessibility obligations under the AODA, by keeping people who are transit-trainable off of the DARTS system and on the city buses.
Success here would be of threefold benefit: the city will save money, people will be as independent as possible, and DARTS will be kept free for those who need it most.
I am going to ask all of you, when you are tempted to be impatient with someone who is taking a little extra time to fish a bus ticket out of his or her pocket, or to listen to a bus driver's instructions, to remember how important it is to you to travel independently, and to have the opportunity to learn new things.
"Each of us has an instrument to bring to the vast orchestra of humanity, and each of us needs help to become all that we might be." – Jean Vanier, Becoming Human.
Note: Images in this article were taken from the Community Access to Transportation instructional video, produced by Airborne Video Productions: a company that provides developmental services supported employment opportunities both behind and in front of the camera.
Post a Comment
You must be logged in to comment.