Online Protest Against PIPA/SOPA
Several US websites are protesting proposed legislation that would damage the architecture of the web and censor legitimate free speech.
By Ryan McGreal
Published January 18, 2012
A number of high-profile American websites have "gone dark" today in protest against two bills moving through the US legislative process that threaten to damage the architecture of the world wide web and censor legitimate free speech - all in the name of anti-piracy.
People connecting to google.com from the USA will see the Google logo blacked out and a link below the search box reading, "Tell Congress: Please don't censor the web!" The link takes you to a page articulating Google's concerns about the proposed legislation.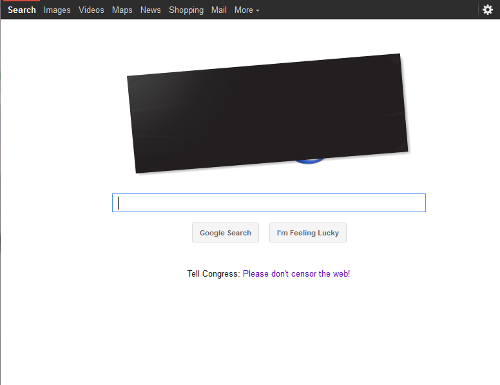 The U.S. Google home page has a blacked out logo and a link to learn more about PIPA/SOPA
Meanwhile, Wikipedia's English-language site has gone completely dark today: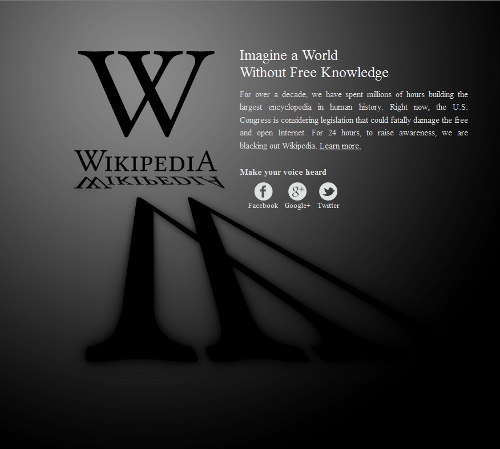 The English language Wikipedia site has gone dark in protest against PIPA/SOPA
As the Wikimedia Foundation explains:
We believe in a free and open Internet where information can be shared without impediment. We believe that new proposed laws like SOPA and PIPA, and other similar laws under discussion inside and outside the United States, don't advance the interests of the general public.
Likewise, the homepage for WordPress.com has the links to hosted sites blacked out and replaced with the word "CENSORED" and links to sopastrike.com/strike.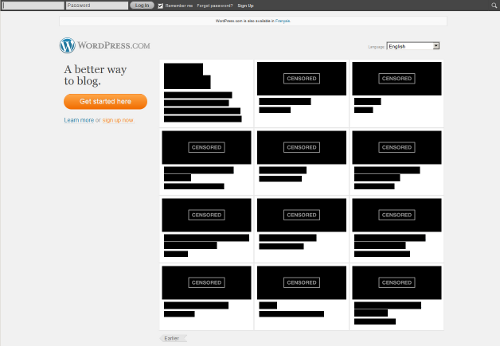 The Wordpress home page has gone dark in protest against PIPA/SOPA
The list of US websites participating in today's strike also includes: Boing Boing, Creative Commons, Copyblogger, Duck Duck Go, the Daily WTF, the Electronic Frontier Foundation (EFF), Fark, Michael Geist, GNU, Imgur, the Internet Archive, Make, Minecraft, MoveOn, Mozilla, O'Reilly, Rackspace, Reddit, TechCrunch, TorrentFreak, Tucows and Wired.
PIPA/SOPA
The Protect IP Act (PIPA) [PDF] in the US Senate and the Stop Online Piracy Act (SOPA) [PDF] in the House of Representatives both seek wide government powers to cut off revenue sources and access to credit and to shut down international websites that are determined to be infringing intellectual property rights.
The legislation would enable the US Attorney General to order search engines and other websites to stop linking to targeted sites, order advertisers to stop doing business with them, and even order Domain Name Servers to stop resolving domain names to their associated IP addresses, based on complaints by rights-holders.
This power would go far beyond the current mechanism under the Digital Millenium Copyright Act (DMCA), which already allows rights-holders to issue "takedown notices" to websites that host infringing content.
PIPA/SOPA encourages internet service providers (ISPs) to block websites voluntarily under a "vigilante" provision that protects ISPs from damages for unilateral bans if they act in "good faith" based on "credible evidence".
It would also give the Attorney General broad and vaguely-defined powers to go after websites that provide information on how to circumvent attempts to block access to targeted websites.
Easy to Circumvent
Targeted websites like The Pirate Bay have already announced that they will be able to circumvent the legislation, and a developer has released an add-on for the Mozilla Firefox web browser that will use offshore domain name resolution services to find the IP address for any domain that has been blocked in the US.
Failing that, some people are compiling "emergency IP lists" of websites likely to be blocked in case the legislation goes through so they can connect directly to the site without having to resolve the domain name.
This circumvention will ultimately serve to weaken and undermine the integrity of the DNS system and actually make it easier for harmful websites to spoof legitimate sites.
Opposition to PIPA/SOPA
Various analysts have raised objections to the legislation based on technical, constitutional and economic concerns.
The engineers and scientists who invented the internet - i.e. people who know what they're talking about - have written an Open Letter to the US Congress warning:
both bills will risk fragmenting the Internet's global domain name system (DNS) and have other capricious technical consequences. In exchange for this, such legislation would engender censorship that will simultaneously be circumvented by deliberate infringers while hampering innocent parties' right and ability to communicate and express themselves online.
The entire letter is definitely worth reading, but the authors conclude:
When we designed the Internet the first time, our priorities were reliability, robustness and minimizing central points of failure or control. We are alarmed that Congress is so close to mandating censorship-compliance as a design requirement for new Internet innovations. This can only damage the security of the network, and give authoritarian governments more power over what their citizens can read and publish.
The engineers are not alone. A group of 17 internet company founders and executives, including the founders of Netscape, Google, Flickr, PayPal, Blogger, Twitter, Yahoo, Craigslist, eBay, YouTube and LinkedIn, wrote an open letter to Washington [PDF] to warn that the legislation would stifle innovation by requiring website owners to monitor what users link to or upload, deny website owners due process in the case of a complaint, undermine the structural security of the internet and "give the U.S. Government the power to censor the internt using techniques similar to those used by China, Malaysia and Iran".
Adam Savage of Mythbusters savages the legislation:
These bills aren't simply unconstitutional, they are anticonstitutional. They would allow for the wholesale elimination of entire websites, domain names, and chunks of the DNS (the underlying structure of the whole Internet), based on nothing more than the "good faith" assertion by a single party that the website is infringing on a copyright of the complainant. The accused doesn't even have to be aware that the complaint has been made.
The American Society of News Editors has also written a letter [PDF] stating:
it is our longstanding dedication to First Amendment rights that drives our opposition to SOPA. Navigating the balance between copyright and free speech demands precision, and in seeking to protect the interests of copyright holders, the First Amendment requires Congress to adopt the least restrictive intrusion on speech available.

SOPA fails this test. It allows individual copyright owners to effect the most onerous restriction on speech - the prior restraint - with little evidence and virtually no due process, utilizing vague and overbroad definitions in the process.
Constitutional lawyer Marvin Ammori sent Congress a letter [PDF] arguing:
As a result of burdening speech far beyond copyright infringement, the bills' provisions would not receive the more relaxed First Amendment scrutiny generally available for run-of-the-mill copyright statutes. Rather, standard First Amendment scrutiny would apply, and the core provisions of PROTECT IP and SOPA clearly fail to withstand that scrutiny.
Leading Constitutional law professor Laurence Tribe similarly sent a letter warning that the legislation:
runs afoul of the "prior restraint" doctrine, because it delegates to a private party the power to suppress speech without prior notice and a judicial hearing. This provision of the bill would give complaining parties the power to stop online advertisers and credit card processors from doing business with a website, merely by filing a unilateral notice accusing the site of being "dedicated to theft of U.S. property" - even if no court has actually found any infringement.
On the business side, Harvard Business School professor James Allworth argues that this kind of legislation harms innovation by deterring investors and inventors from starting new internet businesses for fear of being caught up in legal liability for user generated content.
If you're the next YouTube, would you want to locate here in the U.S. and risk having the government simply switch off your site at the behest of Big Content?
Canada
Byron Holland, president and CEO of the Canadian Internet Registration Authority (CIRA), warns Canadians that we are not immune to this legislation:
If a Canadian website is found to infringe on copyright, U.S. search engines may be required to stop indexing the site in their results. If the site is hosted by an American ISP, it could be shut down. A Canadian online business could find itself without a system to collect payments if a U.S. online payment provider is required to not do business with them.
Holland compares SOPA to the infamous Helms-Burton Act, which extended the American trade sanctions against Cuba to businesses from any other country that traded with Cuba.
Meanwhile, an anti-piracy bill making its way toward law in Canada reflects the same narrow interests as PIPA/SOPA and takes the same heavy-handed legal approach.
Bill C-11 is an update to Canada's copyright legislation that would impose a blanket ban on "circumvention" of any "technological protection measure" in a product.
That means it would be illegal to make a copy of a legally-purchased DVD for one's own personal use, since DVDs are encrypted. Bill C-11 recognizes "fair dealing" exceptions that allow some limited copying "for the purpose of research, private study, education, parody or satire", but the anti-circumvention measure trumps fair dealing.
It would also be illegal to "root" a device with digital rights management - like an iPhone - in order to protect one's legitimate privacy.
Setback
Just last week, after remaining quiet for many months, the US White House formally announced that it will not support any legislation to combat piracy that "reduces freedom of expression, increases cybersecurity risk, or undermines the dynamic, innovative global Internet."
As a result of the opposition, the House has put SOPA on hold until February and both the House and the Senate are talking about taking DNS blocking out of the legislation.
However, the general tenor of the legislation remains the same, and the other harmful provisions are serious enough to threaten the integrity of the internet and the viability of internet businesses even without DNS blocking.
Failure to Innovate
The bills enjoy strong support from the entertainment industry, particularly the Motion Picture Association of America (MPAA) and the Recording Industry Association of America (RIAA), and their sponsors, like Senator Patrick Leahy, receive heavy campaign funding from those industries.
These industries lean heavily on hyperbole about "foreign based thieves" who are "stealing the hard work and creativity of millions of American workers", but the online piracy that supposedly threatens their existence has not stopped Hollywood from steadily-growing, record-breaking box-office receipts year after year.
Similarly, study after study has determined that file-sharing does not hurt music sales, despite the hysterical claims of the music industry.
As venture capitalist Steve Blank eloquently argued in a recent essay, legislation like PIPA/SOPA are the result not of the movie industry fighting for its life against malicious pirates but rather of the industry's abject refusal to innovate in the face of new technology.
The fact is piracy is rampant in all forms of commerce. Video games and software have been targets since their inception. Grocery and retail stores euphemistically call it shrinkage. Credit card companies call it fraud. But none use regulation as often as the movie studios to solve a business problem. And none are so willing to do collateral damage to other innovative industries (VCRs, DVRs, cloud storage and now the Internet itself.)
Remember MPAA president Jack Valenti's infamous words to Congress in 1982?
I say to you that the VCR is to the American film producer and the American public as the Boston strangler is to the woman home alone.
Back then, the US government stood up to the entertainment industry, and the result was a long boom in VHS cassette (and later DVD/BluRay) sales and rentals that vastly enriched the industry's bottom line despite their early attempts to stifle it.
We see the same reflexive opposition to innovation in the music industry, which systematically sabotages attempts to develop business models that use the internet as a distribution channel for music.
As Canadian legal scholar Michael Geist argues in a summary of a global study by Canada's International Development Research Centre, piracy is a market failure rather than a legal failure.
In effect, piracy supplies markets that rights-holders refuse to supply, and the way to reduce piracy is to correct the market imbalance by embracing new technologies and taking advantage of the efficiencies they provide by passing the savings onto consumers.
Gabe Newell, co-founder and managing director of Valve Software, described this response to piracy in a November 2011 interview:
Piracy is almost always a service problem and not a pricing problem. For example, if a pirate offers a product anywhere in the world, 24 x 7, purchasable from the convenience of your personal computer, and the legal provider says the product is region-locked, will come to your country 3 months after the US release, and can only be purchased at a brick and mortar store, then the pirate's service is more valuable.

Most DRM solutions diminish the value of the product by either directly restricting a customers use or by creating uncertainty.

Our goal is to create greater service value than pirates, and this has been successful enough for us that piracy is basically a non-issue for our company. For example, prior to entering the Russian market, we were told that Russia was a waste of time because everyone would pirate our products. Russia is now about to become our largest market in Europe.
Post a Comment
You must be logged in to comment.