Cranespotting, Christmas 2011 Edition
It's possible that more cranes currently tower over the Hammer than any time since the 1970s.
By Trey Shaughnessy
Published December 21, 2011
It's possible that more cranes currently tower over the Hammer than any time since the 1970s. Let's just begin.
Staybridge Suites
This is probably the most anticipated crane downtown. The Staybridge Suites hotel is under construction by Vrancor at 68 George Street.
It's not the most most exciting - a bit stock design - but we'll take it. The rumour is that the City actually had to ease up on its height restriction to allow this towering hotel - the same type that you see a few times between every exit along the QEW, from four floors to top out at six.
It appears Vrancor made a mistake and pushed it to seven floors. I wish his mistake went another 12 floors. Anyway, the Hammer can rejoice in this.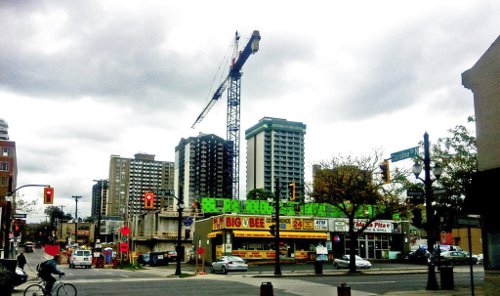 Photo credit to wareg75 over at skyscraperpage
Hey BigBee, why don't you guys go make like a big bee and build an urban supermarket for downtown?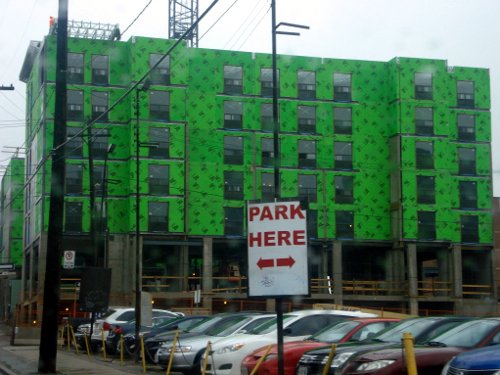 Photo much appreciated from Dwils01 at SSP showing the topping out.
No hope for a curtain wall on those structural exteriors, but it sure beats a parking lot. We'll end up with facade stucco, siding or half-brick. That's okay, though: it'll be turned into a seniors' housing centre in eight years anyway.
Moving on.
City Square Parkside
This is a beauty on the site of the former and historic Thistle Athlete Club Racquet Ball club thing. The old building was a modest red brick, but big - it occupied an entire block in Hamilton's downtown, picturesque, exclusive but-not-so, lovely and sought-after Durand neighbourhood.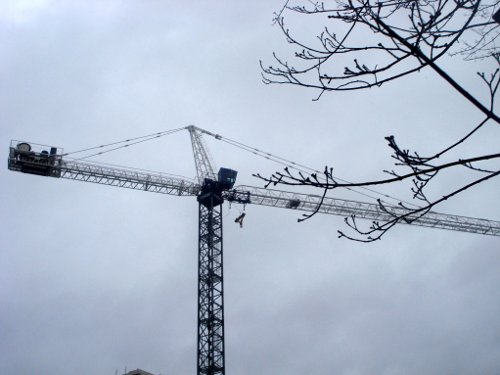 She's so lovely.
This neighourhood rarely sees a "for sale" realtor sign, for as much as it costs to gain entry to Hamilton's version of the Annex or Rosedale, the properties are sold before the sign hits the ground.
There is still time to make this neighbourhood your home address as the condo prices steadily rise. I may be wrong but this baby's first phase may be sold out already. There will be a second tower coming soon.
Unfortunately, this building was also clipped at the knees from Hamilton's ridiculous height limits. I don't get when Hamilton allows a 43-floor Century 21 regional office and mixed residential building in 1974, but then prohibits Harry Stinson soaring can't soar over 10 floors. Not to mention forbidding him from building to the same build-to line, in case the city decides to make Main Street even wider.
But I digress. There are towers surrounding City Square Parkside that may be taller, but none are so lovely and modern. Enjoy these pics thanks again to Dwils01.

Great massing here. I love the mansions and scrapers in the background. Durand rules.
Next on the list...
Urban West Condos
Dwils01 is still doing a fantastic job keeping us informed. It doesn't get much better than to see a one-storey Tim Horton's leveled to make room for a infill condo development.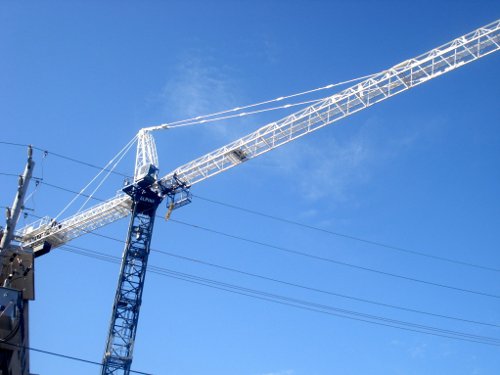 Urban West condos at Aberdeen and Dundurn.
This lovely structure will top out at seven floors, but this time I won't be so vexatious over the height. This is density in a dense vibrant neighbourhood: the tower shares a laneway with its southern neighbour, another '70s tower.
You want increasing density? You want to know what the next Locke Street is? Where the next Ottawa Street is? It's Dundurn.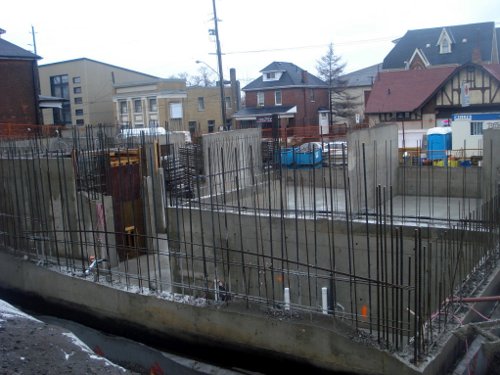 Great pour.
St. Joseph's Mountain Centre for Health
When it comes to cranes and quantity, nothing in my lifetime has seen such a site as the St. Joseph's Mountain Health Centre at West 5th and Fennell.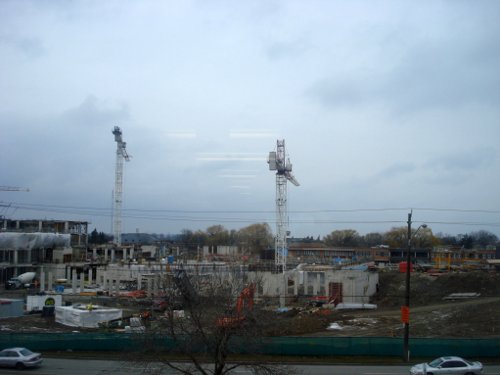 St Joseph's Mountain Centre for Health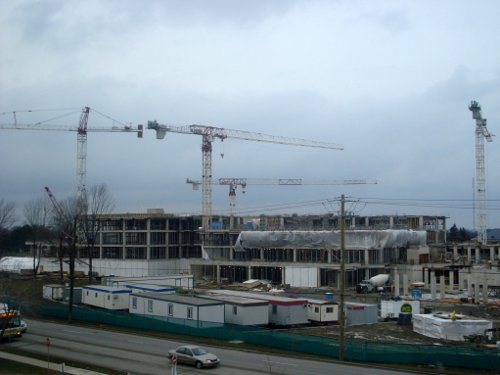 Another view.
Thanks to Dwils01 again for this. I don't know how he got this photo, because he/she must've climbed a tree for that particular vantage point.
This new hospital is replacing the former Hamilton Pyschiatric Hospital (HPH). Not too often is a new hospital built, but this honey of bunny structure is a new thing. With new services, jobs and facilities to serve an under-serviced area of healthcare, that is mental healthcare.
I was driving along Fennell and glanced over at some of these cranes. There are multiple cranes, including a cool-looking zigzag crane structure, but unfortunately I could not take a pic. The view for crane/construction lovers is magnificient from the Mohawk College Fennell entrance. In the meantime, enjoy these pics from Dwils01.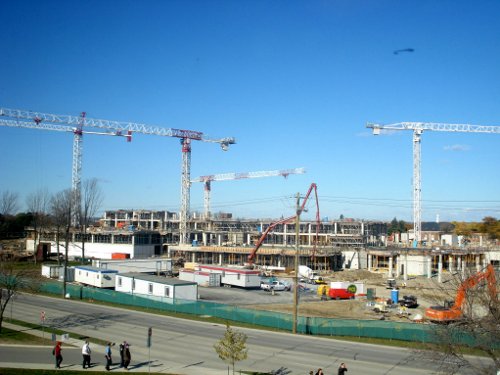 Still not sure how Dwils got this pic. But for now, allow me to allow it to be entered into history, because this building is moving fast.
I'm not sure how tall it will be, probably in the two- to five-floor institutional range. Crane-city, man.
Mystery Crane
To round up this segment, there is a mysterious crane. Yes, a mysterious crane in Hamilton. This baby rises from behind Centre Maul.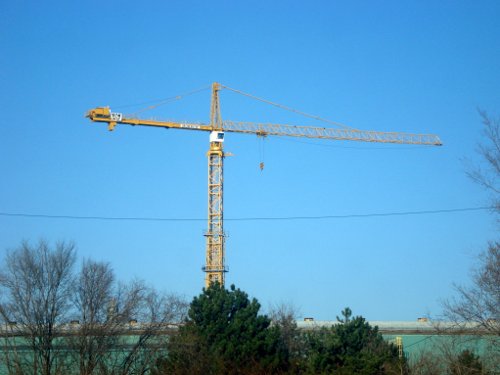 Thanks again to Dwils01.
It's a monster, clearly seen from Hamilton's east end. I mean, it is a tall, lean, sexy building-raising machine, but what is it building?
I think it sits over Dofasco, but beyond that, I can only present you with a final fine photo from Dwils01.
Post a Comment
You must be logged in to comment.