Imported Stone in Hamilton Buildings
Though Hamilton had its own sources of stone in the nineteenth century, some stone was imported, at first by ship and later by rail. Local stone was difficult to carve, and not always suitable to changes in architectural style.
By Gerard V. Middleton
Published December 11, 2011
Though Hamilton had its own sources of stone in the nineteenth century, some stone was imported, at first by ship (Ohio sandstone, Queenston stone, Indiana limestone) and later by rail (east coast "brownstone," Credit River sandstone, Tyndall stone). Local stone was difficult to carve, and not always suitable to changes in architectural style.
For the purpose of this article, "imported stone" includes not only stone brought from the United States (and other countries) but also stone from elsewhere in Ontario (e.g., Kingston, Queenston, and the Credit River). Hamilton had its own sources of stone (Whirlpool sandstone from the face of the escarpment; Eramosa dolomite from quarries on the Mountain), but even in the mid nineteenth century it was easier to bring some building stones to the city by ship (notably the Ohio sandstone).
Most imported stone ("brownstones" from New England or New Brunswick; Indiana limestone) were not used much before 1880-1910. Others (Credit River sandstone; Tyndall stone) were used mainly after 1920, and brought in by rail.
Queenston stone is a strongly crinoidal dolomitic limestone, until recently quarried at Queenston from outcrops of the Gasport Formation. The quarry is currently being redeveloped as a residential, recreational and heritage site: see Masterplan.
Several quarries were developed over the years, and produced a variety of stones, some very coarse (suitable mainly for heavy construction), some finer, more compact, and suitable for carving. The coarser variety was used to construct The Burlington Lighthouse, on the beach just south of the canal.
The stone lighthouse was built in 1858 (at a time when this location would have been considered part of Hamilton). It replaced a wooden structure that had been built in 1837 and burned in 1856. It is 55 feet high, and was in use until 1961.
It is easily the first structure in the Hamilton region built from this stone - which was also used in many other lighthouses (Toronto, 1806; Buffalo, 1837).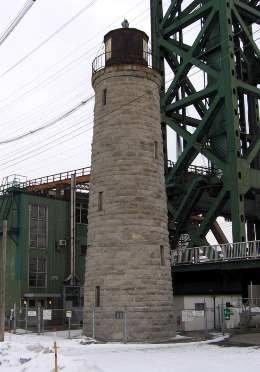 Figure 1. The Burlington lighthouse, built of Queenston stone in 1858.
In the nineteenth century, the fact that Queenston could be quarried in large (metre size) blocks, made it particularly useful for industrial purposes, and it was extensive used in the locks of the second and third Welland canals, and in railway bridges and embankments. It was also used for buildings in the Niagara region: see Guide [PDF].
In the city of Hamilton it was not much used in buildings until the twentieth century, when it had to compete with Indiana limestone. The Indiana limestone is a better stone for detailed carving, but fine carvings, mainly bas reliefs, can be seen on several Hamilton buildings: see ACO Exhibit.
Among the earliest buildings that used Queenston stone are the Cathedral Highschool (1928), and Bank of Montreal in Hamilton (1929), both built by J.M. Pigott; the high school has elaborate carvings over the main door.
Other significant buildings include 360 James St N., the Liuna Station, originally the CNR station (1931), the TH&B Station (1933) and 245 Bay Street North, the Harmony Apartments (1935, see Figure 3). Minor use can be seen in earlier buildings, e.g., the Armouries, built in 1907.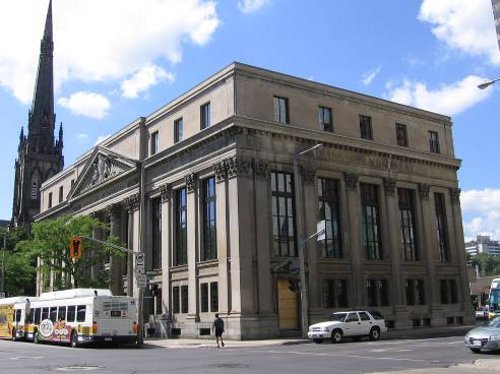 Figure 2. Old Bank of Montreal building, built of Queenston stone (on a granite base) in 1929.
Queenston stone was widely used only much later, when it was used in the Burke Science Building (1953, enlarged several times to 1969), the Hodgins Engineering Building (1958), Whidden Hall (1959), the General Sciences Building (1962) and the Bourns Building (1968) at McMaster University; and also at the Teachers' College (1955, now part of McMaster).
At the Queenston quarry, dimension stone was no longer produced after the 1970s, so when the later buildings and extensions were built at McMaster, Queenston stone was no longer available. Wiarton stone (Eramosa from the Bruce Peninsula), artificial stone, or concrete was substituted.
In redeveloping the quarries, the new owners are making limited supplies of the stone available for restoration of old buildings.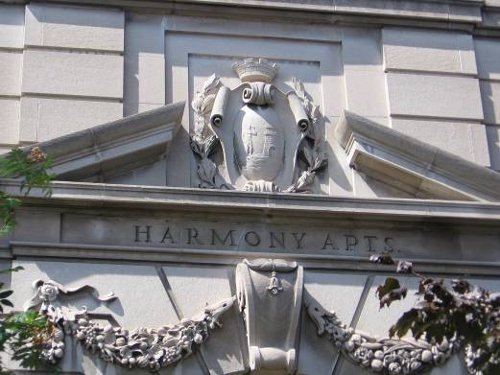 Figure 3. Carvings in Queenston stone on the Harmony Apartments, built in 1935. It is rare to see such detailed carvings in this stone.
Kingston stone is a fine-grained, hard, pure white limestone, of Ordovician age. It was brought in as ballast to many communities along the shore of Lake Ontario, but is rare in Hamilton.
It can be seen in the TH&B Tunnel at Park St. The original tunnel built in 1895 for the Toronto, Hamilton and Buffalo Railway had an arched opening which has since been removed for widening. It was built to provide both a passenger and freight service directly to Buffalo. The stone embankment of Kingston limestone dates from the original construction.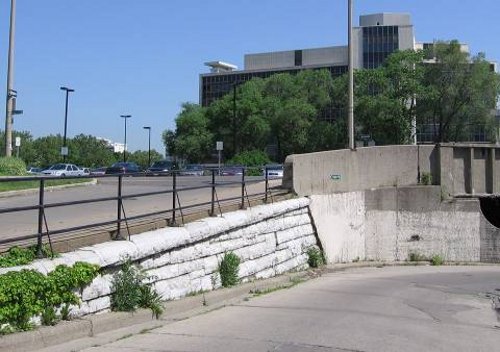 Figure 4. TH&B tunnel embankment (at Park St), built of white Kingston stone in 1895.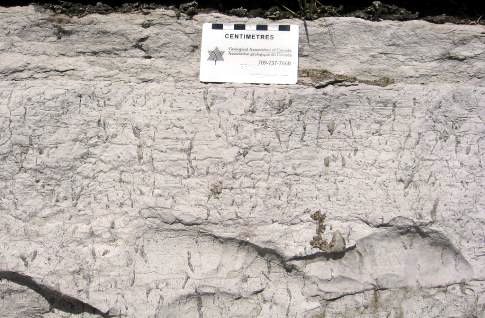 Figure 5. Detail of Kingston limestone, showing vertical structures produced by organisms burrowing in the Ordovician carbonate muds.
Another, earlier, use in a railway embankment can be seen at the bridge on King Street in Dundas, built in 1851. Also in Dundas, the "Bluestone" Presbyterian church, a modest building of Kingston stone (derived from ship ballast) was built in 1846, and still exists as part of the Legion Hall (Newcombe, 1997, p.89) though it is now mainly covered in white plaster.
85 King Street East (the Desjardins Cottage) is a stone cottage, built close to the terminus of the Desjardins canal. The front is built largely of blocks of Kingston limestone, presumably brought in through the canal as ship ballast. Examples from further afield include the Anglican Cathedral in St Catharines, and the Gooderham and Worts distillery in Toronto (built 1860).
Ohio sandstone, also known as the Berea sandstone is a widely used sandstone of late Devonian to early Mississippian age. It was the first imported stone in common use in Hamilton. It is a freestone; that is, it can be cut in any direction, is relatively soft and weathers to an attractive golden brown colour - so it was valued particularly for carving in the surrounds of doors and windows.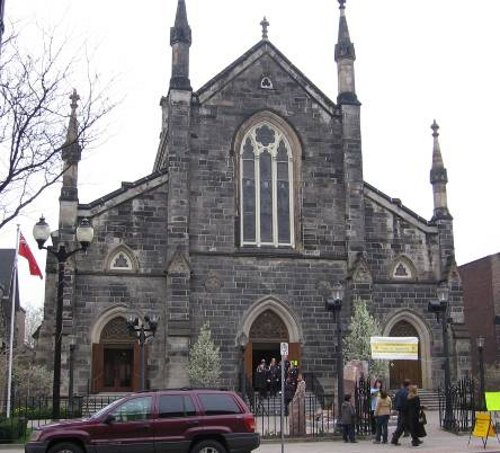 Figure 6. Christ Church Cathedral; the façade was built in 1854 of Ohio sandstone, which has been much discoloured by "black soiling" due to urban air pollution.
It was used in the Customs House in 1860, in Christ's Church Cathedral in 1852-1876, in the now-demolished Hamilton Provident and Loan building in 1880, in the Steeple of St. Paul's Church in 1857, in the tower added to the Central School in 1891, and in lesser quantities in churches for carved doorways, etc.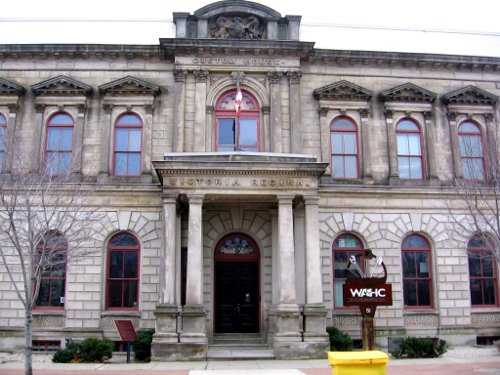 Figure 7. Customs House, built 1860 of Ohio sandstone, which was finished in several different styles. Note the pleasant golden colour.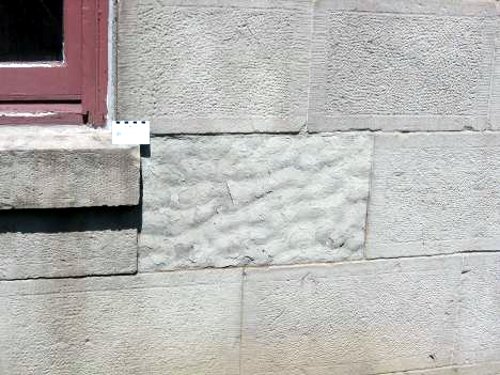 Figure 8. Detail of the stone at the back of the Customs House. Here, the stone blocks were oriented with the bedding vertical, and frost action has caused the surface of one block to flake off, revealing fossil ripple marks.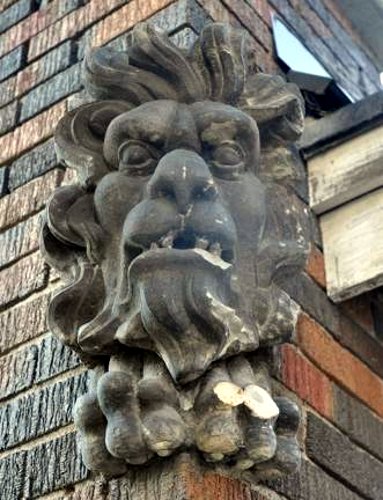 Figure 9. Carved grotesque head, moved from Arkledun (built in the late 1840s) before it was demolished in 1930. The stone is Ohio sandstone. Photo by Nina Chapple.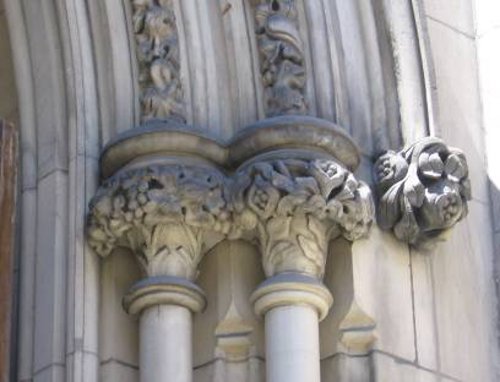 Figure 10. Carvings in Ohio sandstone on the main door, St Paul's Church.
Indiana limestone is a pure, grey limestone, of Mississippian age, generally fine to medium grained. It is one of the most widely used building stones in the world. Though it may display faint cross-bedding, it is a freestone that may be cut in any direction. It is soft enough to be carved, but strong enough to sustain heavy loads.
As early as 1907, the Terminal Station (now demolished) was built using Indiana limestone, and it was used for the Landed Banking and Loan building in 1908, and the Carnegie Library in 1913. It became popular in the late 1920s and 1930s, mainly for decorative use (because it can easily be carved). Examples can be seen in the older buildings at McMaster, and at several local high schools.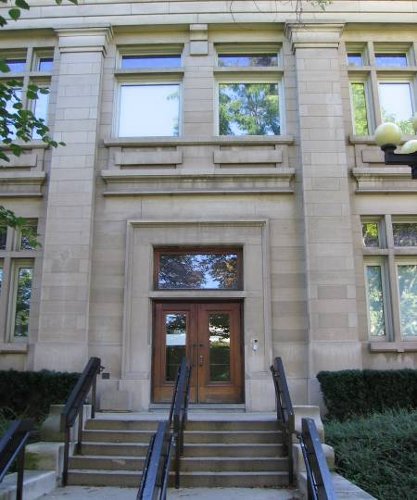 Figure 11. Carnegie Public Library, built in 1913 from Indiana limestone.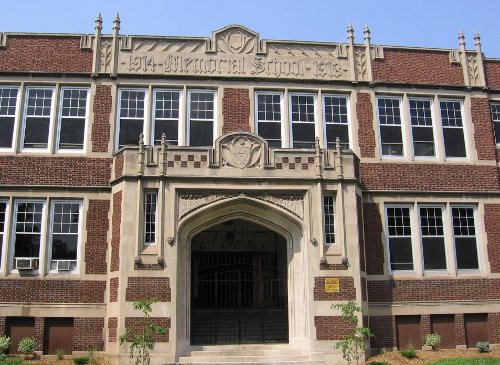 Figure 12. Main door of Memorial Collegiate, built in 1919 of red brick and Indiana limestone. This was one of the first of a series of schools ornamented with elaborate carvings.
Credit River sandstone, also known as Credit Valley sandstone: In the 1880s, a new source of Whirlpool sandstone - the Credit River quarries - became available, due to the construction of the Credit Valley Railway in 1872-1879. The rare chocolate red ("brownstone") variety, used in the Provincial Parliament building in Toronto, was also used in Hamilton, for Central Collegiate built in 1897 (now demolished).
Most of the buildings using Credit River sandstone, however, used the grey variety and it only become popular in the 1920s and 1930s. Cathedral High School built in 1928 was one of the earliest, followed by Westdale Collegiate, built by Joseph Pigott in 1931, and many others.
The early buildings at McMaster (University Hall, Hamilton Hall, Edwards Hall, Wallingford Hall) were all built in 1929, making use of Credit River sandstone and Indiana limestone. They were designed by a Toronto architectural firm, and followed a pattern previous established at the University of Toronto by Knox College (1915), Hart House (1919) and Trinity College (1925).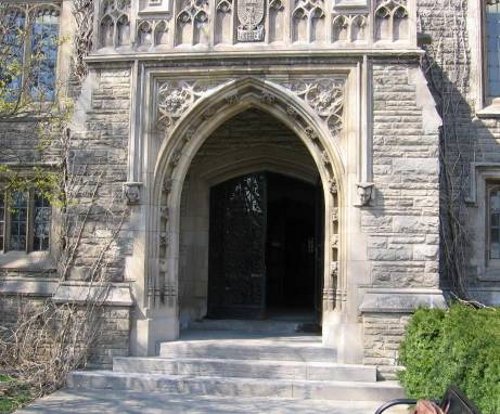 Figure 13. Doorway at University Hall, McMaster University, built in 1929 from Credit River sandstone (rock face, small blocks) and Indiana limestone (door surround and carvings).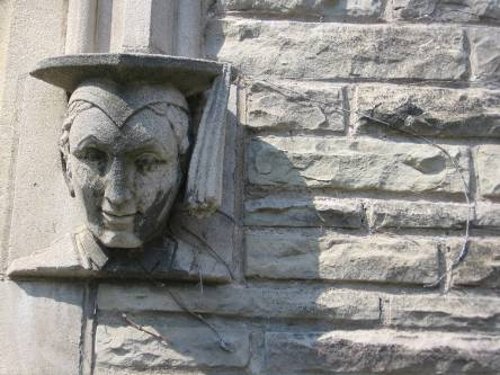 Figure 14. Detail of Carving (in Indiana limestone) and Credit River sandstone blocks, University Hall, McMaster University. Carving by William Oosterhoff.
The carvings at McMaster were described in detail by Graham (1988). They were carved by William Frederick Karel Oosterhoff (1895-1962), who was appointed Parliamentary Stone Carver in Ottawa in 1949. He was also responsible in Hamilton for carvings on the James Street North Station (1930), and the Bank of Montreal (1929), as well as carvings at the Royal Ontario Museum in Toronto.
Triassic "brownstone." In the late 19th century the Richardson Romanesque Revival style became popular. It was introduced in Buffalo in 1870 and rapidly spread to other cities in the northeast US, particularly New York.
The first Toronto buildings in Romanesque style were built in the 1850s, and the Richardson variety was introduced in1886-8 (Mikel, 2004, p.84). Though brick or a light coloured stone could be used (e.g., University College, Toronto, built from Credit River and Ohio sandstone in 1859), most buildings made use of "brownstones," reddish brown sandstones generally derived from the Triassic basins in the USA (Newark and Connecticut) and New Brunswick.
The term "Triassic" is actually inaccurate, as much of the sediment in these basins is now known to be Jurassic in age: see Newark. The building stone is also known as Portland stone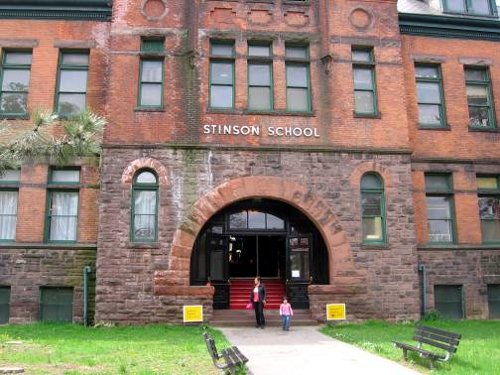 Figure 15. Main doorway of the Stinson Street School, built in 1895, showing the use of two differently coloured "brownstones," as well as red brick (second floor).
Most of the buildings built in this style in Hamilton have not survived. The Birks building built in 1883 (now demolished) was designed by a Buffalo architect (Waite). He used Connecticut brownstone in this building and also in the Bank of Hamilton in 1890 (now demolished).
The same stone was used by W.P. Wilton in the old Hamilton Spectator building in 1898 (now demolished). The old City Hall (1891-1930s) was also in this style. Local architects William Stewart and his son Walter designed Central Collegiate (1897, now demolished) and several other buildings in this style.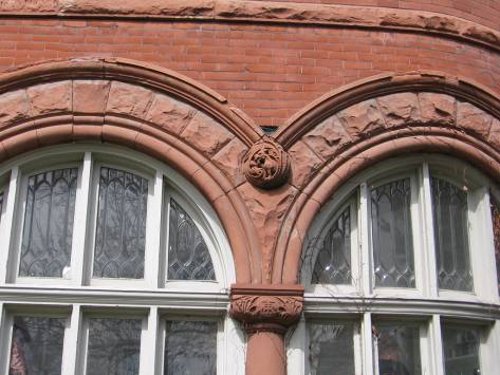 Figure 16. Detail of the window surround and carving on the Hendrie House, designed by W.A. Edwards in 1892. Brownstone and red brick.
The last surviving major public building built in this style is the Stinson Street School designed by Alfred W. Peene. For views of Hamilton's early schools, many built in red brick in a style influenced by the Romanesque Revival, and all now demolished, see postcards. A marked change away from this style of school buildings took place in 1914.
The main surviving brownstone houses include the Myrtle Hall, now part of the Scottish Rite building built in 1895, and Ravenscliffe, built in 1880. Brownstone survives as trim in several other surviving buildings. 252 James Street South (Hendrie House, aka Tunis Griffiths Manor) now the Mercedes Spa is a red brick house, with a slate roof and window trim in a "brownstone" (Triassic sandstone) imported from the USA or the Maritimes. It was built in 1891-1892 and the architect was W.A. Edwards. (Shaw and Grimshaw, 2004, p.142)
Tyndall stone (an Ordovician mottled dolomitic limestone quarried in Manitoba. The characteristic mottles resulted from the activity of boring organisms. It can be seen every day on TV, because it was used in the Parliament buildings in Ottawa.
1284 Main Street East (at Ottawa), the Delta Collegiate was built in 1924, of red brick, with extensive use of Tyndall stone. Marble from Phillipsburg, Quebec was used for the interior stairs.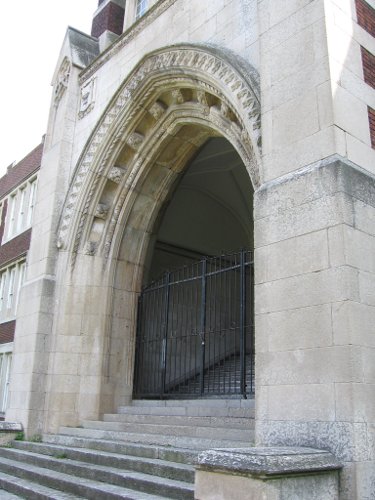 Figure 17. Main door, Delta Collegiate, built in 1924 from Tyndall stone.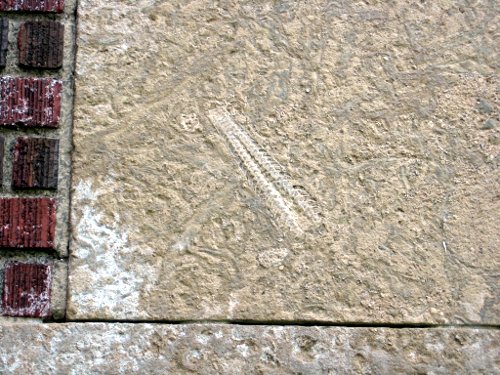 Figure 18. Detail of Tyndall stone at Delta Collegiate, showing fossil (cephalopod), and mottled texture.
The Dundas District Public School was designed by William J. Walsh and built in 1928 of black and red brick, but with doorways and ornamentation using Tyndall stone. The carvings, however, appear to be in a different stone.
The first high rise building in Hamilton, the Pigott Building, 36-40 James Street South, built in 1929, (Manson, 2003, p.78-79) was also constructed from Tyndall Stone: see Pigott
Many churches and schools constructed in the 1930s or later used a combination of Credit River sandstone, Indiana limestone, and brick or other stones. The sequence: Credit River sandstone and Indiana limestone, followed by Queenston stone (followed now by Wiarton stone, or artificial stone) is also well illustrated by the buildings on the McMaster campus.
References
Graham, R.P., 1988. The Carvings of McMaster University. McMaster University Press, xlv p.
Manson, Bill, 2003. Footsteps in Time: Exploring Hamilton's Heritage Neighbourhoods. Burlington ON, North Shore Publishing, v.1, 168 p.; v.2, 2006, 59 p.
Mikel, Robert, 2004. Ontario House Styles: The Distinctive Architecture of the Province's 18th and 19th Century Houses. James Lorimer, 128 p.
Richards, Larry Wayne, 2009. University of Toronto: the Campus Guide. Princeton Architectural Press, 259 p.
Shaw, Susan Evans (with photography by Jean Crankshaw), 2004. Heritage Treasures: the Historic Homes of Ancaster, Burlington, Dundas, East Flamborough, Hamilton, Stoney Creek and Waterdown. James Lorimer, 160 p.
Williams, David B., 2009. Stories in Stone: Travels through Urban Geology. Walker & Co., 272 p. (See this book for more on Indiana limestone, brownstone, and other US building stones). See also his web page
Post a Comment
You must be logged in to comment.