It's Time to Get on Board
Hamilton needs an Architectural Review Board to ensure new developments follow the principles of good urban design.
By Trey Shaughnessy
Published September 15, 2005
Architectural Review Boards (ARB) are very common in the USA. In fact, it is difficult to find a municipality not having an ARB. ARBs are charged with many responsibilities, but generally exist to enrich the built environment and to improve the city's overall appearance, resulting in a more livable city.
ARBs are typically a volunteer board of five to nine members. Two members must be architects, and the other members usually are landscape architects, building designers or other design professionals. An established term of three to four years is also typical.
Although they add another layer of bureaucracy to a process that is often criticized by developers as having too much red-tape, I believe they are worth the additional hurdle to land development if it means our city will get good buildings.
I know this looks like it could easily be corrupted, but a method to mitigate any corruption could be to have a pool of a hundred potential members, and with every development that requires ARB approval, a lottery of five people are selected from the pool to vote on the proposal.
Most ARBs work efficiently and have an established checklist of things to look for. A land development proposal is tabled along with blueprints, maps and artists' conceptual renderings. These are usually sufficient for the ARB to grade the proposal and either approve, approve with alterations, or disqualify with reason. This can take from one to three weeks and the process can happen concurrent with other approval processes thus creating an almost seamless process.
ARBs look for buildings that:
Are cohesive to the community
Reflect the established surrounding buildings
Are integrated with the community
Are pedestrian friendly
Are built with the intention to last
Are cosmetically appealing
Are made up of quality materials
Have made efficient use of space (that is adding height versus 'footprint')
Have made attempts at efficient use of energy (heating and cooling efficiencies)
Can be retrofitted for alternative use
Are mixed-use
Add to the quality of life in the environment
A building either makes the environment more livable or less livable. On that judgment is the sole purpose of an ARB. Why would a city want to allow a building that degrades the area?
There are plenty of examples in Hamilton where a new development has clearly made the area less appealing, less livable, and even lowered adjacent property values. The following come to mind: the strip-mall at James and Wilson, the strip-mall at Bay and York, and the 'missing-tooth' on King just east of John.
What do we have to gain as a city by not allowing these buildings? You might say that we risk not having any development. Not true. If a market exits with a need, then the suppliers of that market will be there to meet the need.
Allowing a 'carte blanche' to enterprise will only make them build the cheapest most efficient building for their purpose, leaving the environment to pay to maximize their profits.
So-called Power Centres wouldn't exist otherwise. Simply put, the Meadowlands only serve the retailers and land developers. Those buildings make the environment less livable.
Hamilton does have LCAC (Municipal Heritage Committee) and Hamilton Historical Board but these committees only apply to existing buildings that have been designated historically significant.
Hamilton needs to apply standards to new buildings. By doing so, we will have a guarantee that goes beyond mere by-laws, helping to ensure that new buildings add to a more livable urban environment.
Currently, we have a height minimum of nine metres for buildings in the core, intended to prevent one-storey buildings, and to encourage at least a two storey with multi-uses - retail on the ground floor and residential above, for example.
However, many one-storey box stores have ceiling heights that could easily meet the nine-metre minimum and be acceptable according to the by-law. An ARB could then have veto powers over a situation like this.
Rumours abound that Shoppers Drug Mart is looking for a downtown location. The only requirement is a by-law with a height minimum and it must have parking on site. This is hardly going to prevent the de-urbanization of our downtown.
Imagine a Shoppers at the corner of Bay and Main - a one floor stucco box complete with a parking lot. What image will this portray at a gateway into downtown?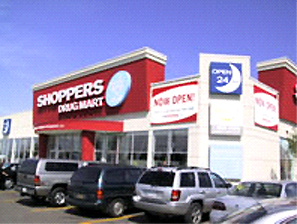 Do we want to witness the suburbanization of our downtown?
Living in a dense urban environment doesn't involve the same pattern of land use and transportation as the Meadowlands. Having said that, why is that format acceptable for downtown, where car use shouldn't be a requirement?
Shoppers has many examples of neighbourhood friendly buildings with a residential or office space occupying floors above - including Bathurst and College in Toronto, downtown London and even one St. Thomas. How about a Shoppers in the St. Deny's building and condos above in a redeveloped St. Deny's? It was done in Kingston.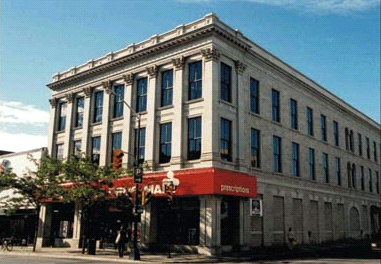 This recent downtown Kingston building is faithful to the original and integrated with its surroundings
By establishing an Architectural Review Board, Hamiltonians can only gain. They will gain buildings that make an environment worth living in. Making buildings meet minimum requirements will only serve to raise property values and improve living quality of our city. Our urban environment deserves this respect.
Post a Comment
You must be logged in to comment.