Successful Pedestrian Places Can Inspire Hamilton
Successful pedestrian places provide public space that is attractive and functional, feels comfortable and safe, mixes a variety of uses (including residential), and de-emphasizes the automobile.
By Ryan McGreal
Published May 26, 2011
As Hamilton makes slow progress on its Gore Master Plan, we need to look for lessons and inspiration to other cities that have successfully created pedestrian-friendly places in their city centres.
On a recent trip to Europe, I encountered three cities that all enjoyed lively pedestrian centres. From a global metropolis of 1.2 million to a small regional node of 50,000, from balmy Mediterranean heat to dismal North Atlantic chill, these cities are very different in their composition, but they all managed to carve out excellent people places.
What they have in common is that they provide public space that is attractive and functional, feels comfortable and safe, mixes a variety of uses (including residential), and de-emphasizes the automobile in relation to other modes, chiefly walking, cycling and transit.
Dublin
Ireland's dynamic capital city has some 500,000 residents (with another 600,000 in the greater metro area), with a high proportion of recent immigrants (close to 20%). For an historic centre built mainly in the 18th and 19th centuries, Dublin is also a very young city: half of its residents are under 25 years of age.
Dublin is a major cultural centre and a significant share of its economy turns around tourism, music, theatre and the arts. It has produced some of the greatest writers of the 19th and 20th centuries.
Since the advent of the Celtic Tiger years, Dublin has also been the industrial centre of Ireland's high-tech renaissance, hosting the European headquarters of such global companies as Microsoft, Google, Amazon, eBay, Yahoo! and PayPal.
Dublin is home to three significant pedestrianized areas: Henry Street, Temple Bar and Grafton Street.
Henry Street
North of the Liffey River, Henry Street runs west from O'Connell Street through a major commercial district. It was pedestrianized in the 1980s and is lined with both street-facing shops and department stores, including two indoor shopping centres.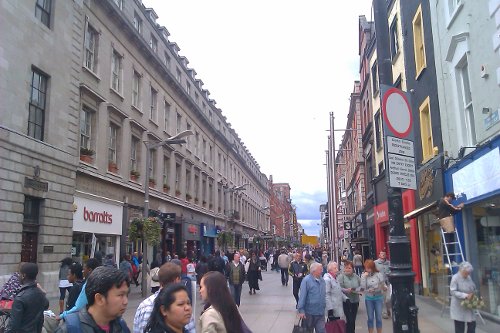 North of the Liffey, the pedestrianized Henry Street runs west from O'Connell Street
On the day we were there, a farmers' market was operating on a side street.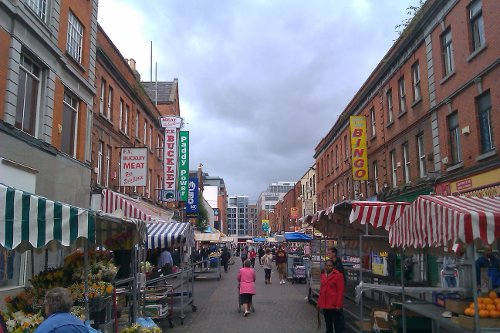 Farmers' Market just off Henry Street
A block south of Henry, the Luas (Irish for "speed") Red Line tram runs east-west along Upper Abbey Street as part of its 16 km range. Launched in 2004, the Luas has been an amazing success, carrying 90,000 passengers a weekday and 26 million passenger trips a year (as in other cities, ridership dropped a bit during the economic crisis).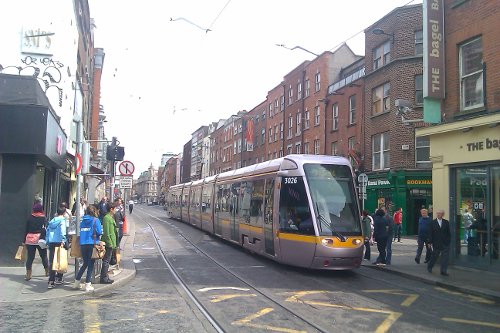 The Luas LRT runs along Upper Abbey Street, north of the Liffey
The construction was publicly funded, but the service runs without public operating funds and runs an annual surplus in operating revenue. The lines have already been extended, and several more extensions are in the works.
Temple Bar
South of the Liffey, Dublin's famous Temple Bar is a narrow, winding, cobblestoned lane of medieval streetwalls hidden behind the Merchants Arch, south of the Ha'penny Bridge over the Liffey. (My eight-year-old exclaimed, "It's Diagon Alley!")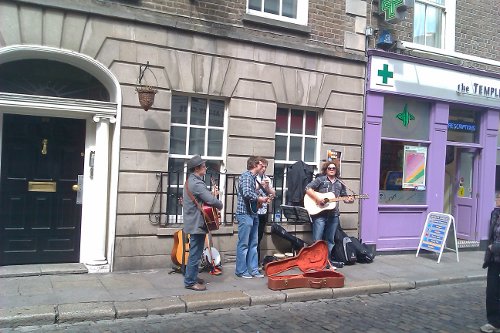 A band performs in Temple Bar
Thick with street performers and given over almost entirely to galleries, pubs and restaurants, Temple Bar feels a bit more touristy than functional. At the same time, 3,000 people live there and it's an important cultural hub, hosting several arts institutes and a weekly book market.
Grafton Street
A little further east, Grafton Street runs north-south from College Green, just south of the Liffey, to St. Stephen's Green. Paved with red bricks and framed by eclectic 19th and early 20th century four-storey buildings, Grafton is one of the most beautiful shopping districts I've ever seen.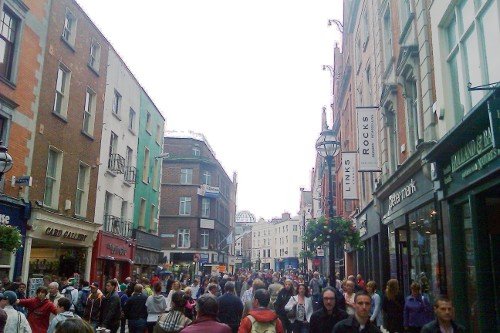 Pedestrian-only Grafton Street is a major destination for shoppers and browsers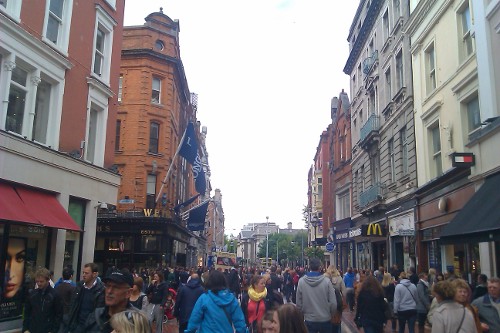 Shops line Grafton Street
Like Henry Sreet, it was pedestrianized in the 1980s and is an extremely popular shopping destination. It also commands some of the highest property square footage rates in the world.
Like Temple Bar, Grafton Street plays host to some fantastic street performers. (If you watched Once, Glen Hansard's character is seen busking on Grafton Street in the movie's opening scene. Hansard himself started out as a Grafton Street busker.)
Galway City
On the other side of the country, Galway City in western Ireland sits nestled against Galway Bay, which opens into the Atlantic. With a population of just 75,000, it is the third largest city in Ireland and the fastest-growing.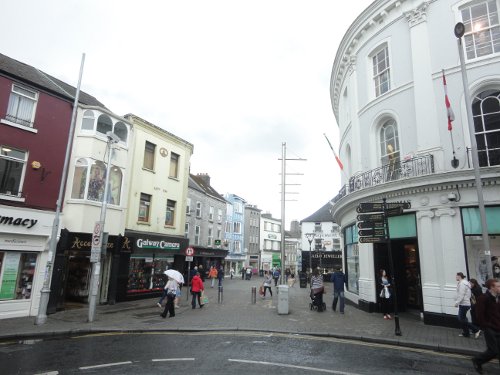 Entrance to Shop Street in Galway City
The central business district, based around Shop Street, was converted to a pedestrian-only street in 1998 and has since enjoyed tremendous success as a popular public space for shopping, strolling, browsing, people-watching and enjoying the many excellent street performers.
The pedestrianized area is usually referred to as "Shop Street" but also encompasses Eyre Square West, William Street, Main Guard Street, High Street and Quay Street. It runs from Eglinton Street down to the east bank of the Corrib River near its mouth.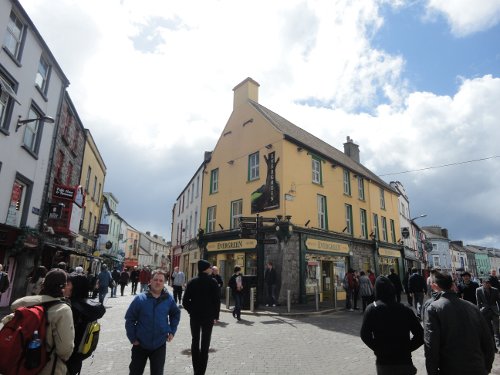 Shop Street runs into Mainguard Street and High Street
The pedestrianization happened despite strong opposition from local shopkeepers, who were afraid that removing cars would hurt business. Nevertheless, it has been a tremendous success that has kept downtown Galway City lively and economically viable while other city centres have been bled by cheap box stores in the suburbs.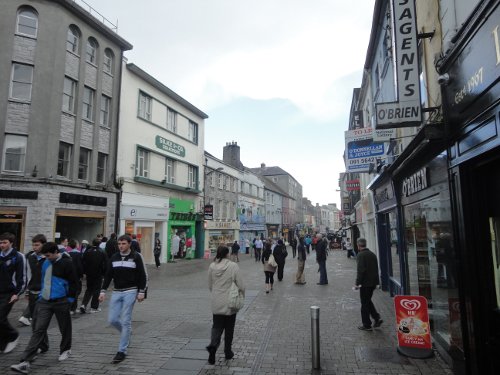 Even on a Monday, Shop Street is pretty lively
Astonishingly, despite the fact that the original fears were proven wrong, a 2009 proposal to expand the pedestrian area from Shop Street onto Williamsgate Street and Eglinton Street elicited the very same fears from local business groups as the original 1998 proposal.
[B]usiness representatives have this week voiced concern that Galway could become get a reputation as an "unfriendly city" for cars and could drive customers away from the heart of the city.
Meanwhile, during a debate over the proposed pedestrianization of a downtown commercial street in nearby Sligo Town, the mayor voiced what most supporters of pedestrianization already understand:
Shop Street in Galway has been a huge success but there was fierce initial opposition to the proposal. I know a businessman, Sean Hynes of Hynes Shoes, who had serious reservations at the beginning, but everyone can now see the obvious benefits pedestrianization had for Galway city in general.
If you create a comfortable, attractive, inviting public space and make it easy for businesses to invest there, people will frequent it.
Galway City has some of the most dismal weather in Europe - it's nearly always cold and wet - but that doesn't stop people from enjoying the beauty and amenity that Galway's pedestrian-friendly core has to offer.

Rain does not deter pedestrians from beautiful public spaces
It is important to note that even those parts of the downtown core that aren't pedestrian-only are still pedestrian-friendly. Elegant streetwalls, wide sidewalks, narrow driving lanes, curbside parking and street trees conspire to produce an environment in which pedestrians feel comfortable and protected.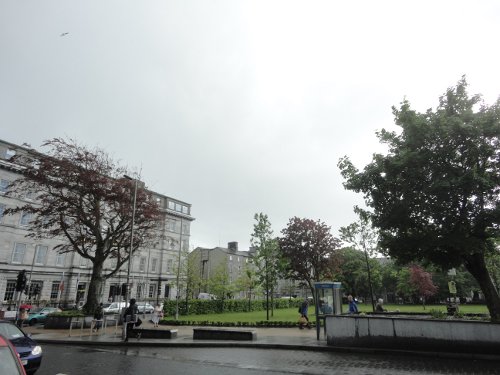 Nearby Eyre Square provides yet another attractive place for citizens to congregate and enjoy their city
While myopic business representatives worry that making Galway more pedestrian-friendly might send the message that the city is "anti-car", the lively urban environment continues to attract artists and other creative people.
Like Dublin, it has become a major cultural centre and hosts a large number of music and art festivals and other events. The economy remains strong through Ireland's economic crisis, in part through its role as a major tourist destination.
Carcassonne
Finally, in the south of France, the city of Carcassonne provides another example of a pedestrian-friendly downtown environment. With a population of 50,000, Carcassonne is smaller even than Galway and has a comparatively large suburban ring around the historic downtown. (It also has a medieval castle, restored in the 1800s, overlooking the city from a nearby hill.)
The downtown core of Carcassonne is approximately a seven-by-seven grid of narrow one-lane streets that frame short blocks of two- to four-storey buildings in the French style.
It is surrounded by a ring of boulevards lined with platane trees (similar to the sycamore trees in front of Hamilton's City Hall), tall trees with broad, leafy canopies and mottled, camouflage-like trunks. The boulevards also have angled parking for people heading into town from the suburbs.
The central north-south lane, Rue Georges Clemenceau (colloquially called Rue de la Gare because it runs to the train station just north of the core), is pedestrian-only and lined with shops, cafes and restaurants.
Right at the centre of town on the west side of the Rue de la Gare is a cobblestone pedestrianized plaza called the Place Carnot, which features a central fountain and statue. Framed with platane trees and surrounded by cafes, restaurants and bars, the plaza is crowded with tables and chairs in which people sit under umbrellas and enjoy life.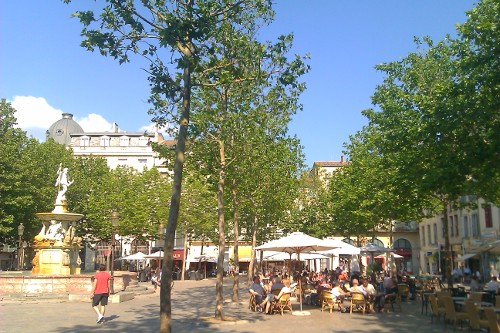 People relax in Place Carnot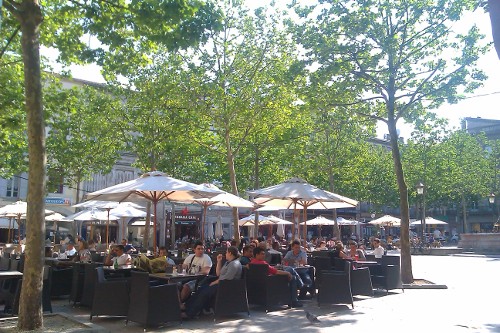 Umbrellas and tree canopies shade the patrons
On Market days - Tuesdays, Thursdays and Saturdays - the seating shares space with a lively farmers' market featuring local fresh produce, breads and pastries, cheeses, preserves and other artisinal goods.
The market attracts tourists, to be sure, but it's clear that the majority of people frequenting Place Carnot are residents enjoying their city.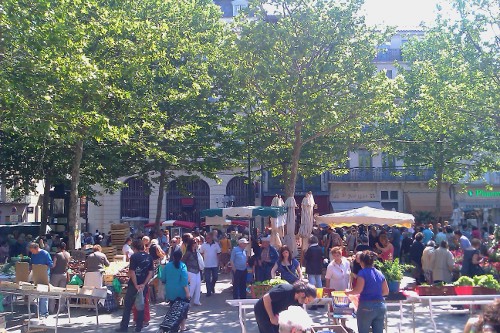 Saturday Market in Place Carnot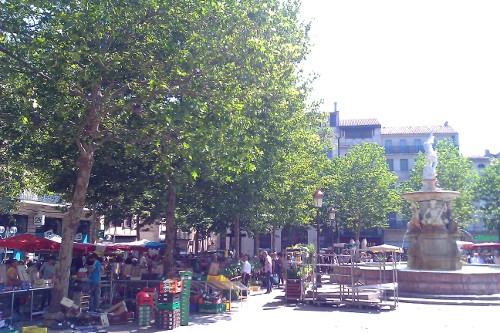 Does this look anything like another central city plaza you've seen?
As we were preparing to leave, they were just setting up the main stage in the Place Carnot for the Festival de Carcassonne, which promises a hugely diverse roster of performances - including Bryan Ferry, Moby, Iggy and the Stooges and, er, Supertramp. Not bad for a city of 50,000.
Conclusion
The pedestrian places I visited all had some things in common:
The public space is framed by intact streetwalls of 2-4 storey buildings.
Trees provide shade and help frame the space as a vaulted hall rather than an empty space.
The ground is hardscaped attractively, e.g. using cobblestones or coloured bricks.
A varied mix of commercial and residential uses is encouraged in the buildings framing the space.
The uses in the buildings spill out into the public space: patios, market stalls, and kiosks.
Street performances and other public entertainments are encouraged.
Automobiles are banned or severely restricted.
The area is well-served by transit.
Non-automobile modes of transportation, like bicycles, are allowed and even encouraged.
Places that are attractive, feel safe, and provide a variety of uses and amenities at all times of the day will succeed as people places.
Business owners who fear that the loss of easy motoring access will drive away patrons must remember that they gain far more than they lose: in a city neighbourhood, a beautiful, functional public environment that draws thousands of people every day is better for business than any number of driving lanes or parking spaces.
Post a Comment
You must be logged in to comment.