Signs, Signings, and Signs of the Times
From work to leisure to volunteering, we constantly have to sign up, sign on, sign out, sign in, or sign off on something.
By Kevin Somers
Published March 20, 2011
Tobogganing is fun, free fitness. In an era plagued by obesity, sedentariness, depression, and debt, you'd think we'd erect signs that say, "Toboggan!"
However, this sign was recently installed at the base of the escarpment in Highland Park.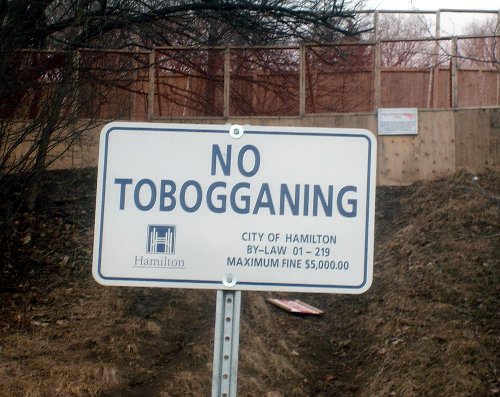 No Tobogganing
It's a sign, all right. Ostensibly, it's there to discourage sledding, but, sometimes, I think it's another sign someone is trying to kill me.
The sign is at the bottom of a well-beaten path, which means people use it.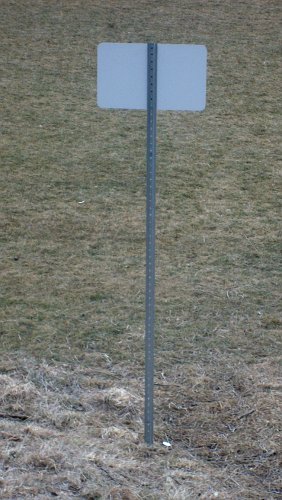 Sign from the hill
Walkers, joggers, runners, cyclists, as well as tobogganers, navigate the hill. The incline is steep and the terrain is rocky and rooted; perfect for stumbling. I use it sometimes and between momentum and gravity, an out-of-control head-of-steam is often the result. Bang.
It's easy to imagine a reckless teenager risking fate or an excited child veering off course. Crash.
The park isn't lit and the signpost is practically invisible at night. Everyone knows young people drink in the area. We don't need a big, bright billboard sign to broadcast that, burnt-out bonfires and broken booze bottles are bountiful. It's not hard to picture an inebriated youth flying down the hill oblivious to the unforgiving sign, dedicated to his safety, fixed at the bottom. Splat.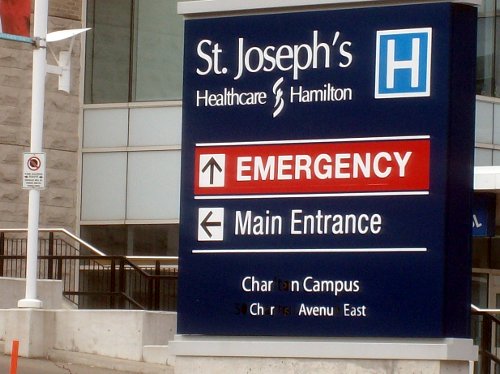 St Joseph's Hospital
Perhaps, from base to summit, there should be signs that read "Beware of Signs" or "Caution - Men with Signs."
There's a song about signs that goes, "Sign, sign, everywhere a sign, blocking the scenery and breaking my mind."
There are, indeed, plenty of signs, but not quite everywhere. A few blocks from the park, I'd like to see a crosswalk or stop sign on Aberdeen Ave.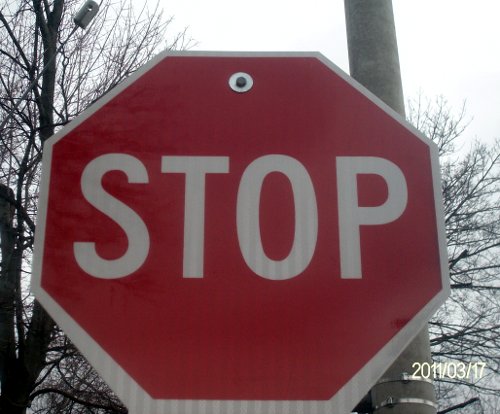 Stop sign
Aberdeen is used by a lot of West Mountain and Ancaster commuters, especially when the 403 is congested. Although hundreds of children walking to school cross the street everyday, Aberdeen is treated like part of a highway series that exists only to expedite traffic flow to and from the burbs.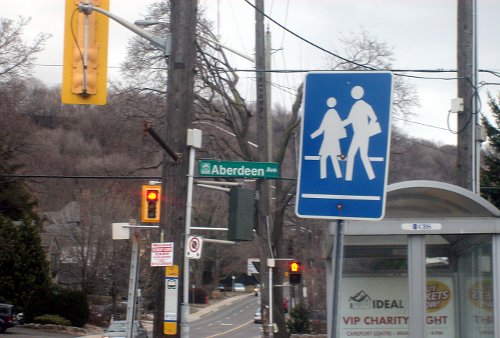 Aberdeen / school
This is not a new concern and I, along with many others, have signed a petition asking the city to erect a sign or two to slow everyone down.
There's no sign of new signs on Aberdeen, which is a sign of priorities. It's only a matter a time before there's an unnecessary tragedy.
The suggestion of inconveniencing Ancaster residents will likely have Councillor Lloyd Ferguson talking of revolution, again. It's hyperbole, of course, but a sign of how he thinks.
Perhaps, a week in Libya would give Lloyd a different perspective on oppression and revolution. I wonder if he'd stand in downtown Tripoli and hold a "Revolt!" sign.
It's revolting how quickly council sign off on free lunches. Their collective sense of entitlement is a sign of a bigger problem.
I might spend an afternoon walking around City Hall with a sign that says, "Buy your own lunch!"
I might not. I might just think it because that's simpler than making a sign.
The pathological ease with which hundreds of thousands of civil servants spend on themselves is a really bad sign. I think we should eliminate expense accounts and cards for all politicians and public servants, right now. If I were Emperor Harper, I'd sign that bill, yesterday.
Apparently, the Conservatives want to be known as "The Harper Government," which is not a good sign. Megalomania rarely ends well, but a lot of signs are pointing that way.
Signs was 2006 movie about crop circles starring Mel Gibson and Joaquin Phoenix. I wonder if other cast members and crew saw signs of their impending implosions. Mel and Joaquin, of course, both went "Charlie Sheen" before Charlie did.
It took and an earthquake to shake Charlie from the headlines, which is a sign of the times.
Tiger Woods, after all, set a record by being on the cover of The New York Post twenty day in a row. The previous record was nineteen following 9/11.
Tiger isn't signing his scorecards with much relish these days, but he's signing a lot of alimony and please-be-quiet cheques, which might be a sign of Karmic justice.
There are signs of spring everywhere.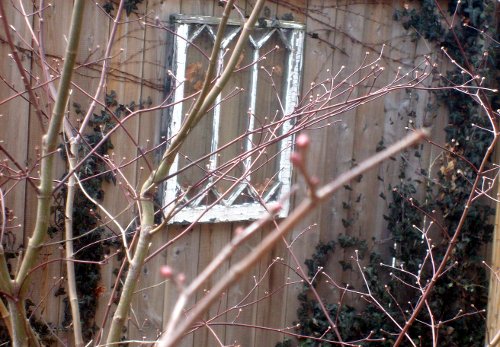 Buds
Maybe it's a sign of God.
God, if you're behind this, give me a sign.
Signs:

Beware of Dog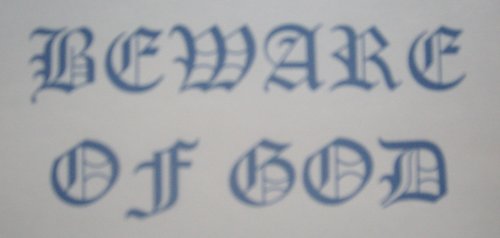 Beware of God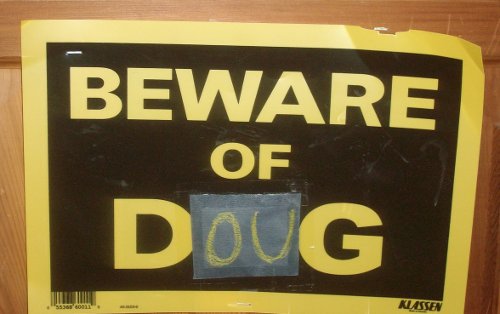 Beware of Doug
Doug is our dog. I have scientifically proven, beyond any doubt, Doug is the greatest mammal ever. I'm going to publish the research as soon as other experts sign off on its validity.
Here's sign I like: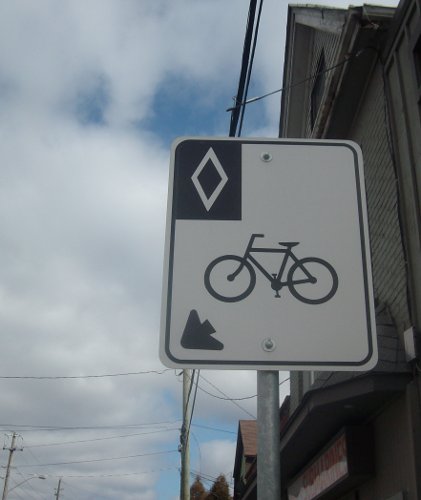 Bike sign
The only commutes I've ever enjoyed were walking to school as a student and riding my bike to school as an English teacher in Japan. Poor Japan.
Some insist the recent rash of disasters and upheaval are signs of The Apocalypse. Time will tell. Maybe I'll put that on a sign.
I think small businesses are going to save this city. There are positive signs everywhere.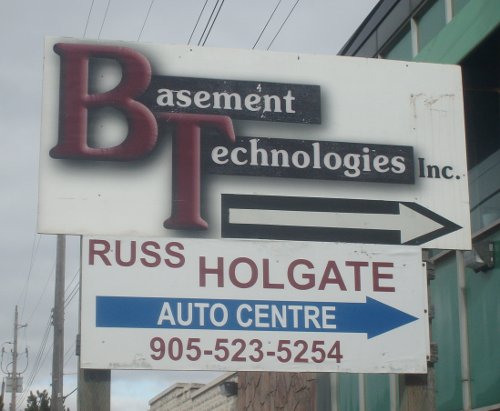 Small business sign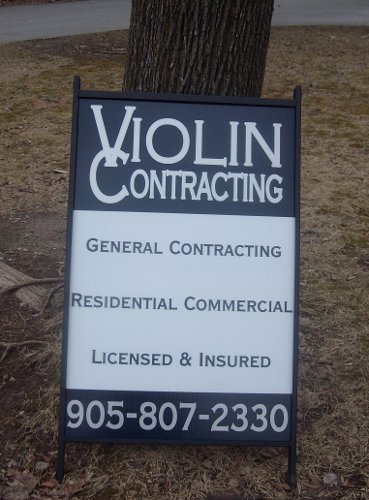 Another small business sign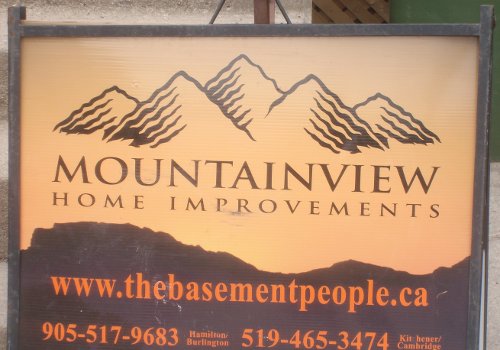 Yet another small business sign
We've become exceedingly officious and almost every aspect of life requires organization. From work to leisure to volunteering, we constantly have to sign up, sign on, sign out, sign in, or sign off on something.
I'm signing my life away.
Some signs are carved in stone.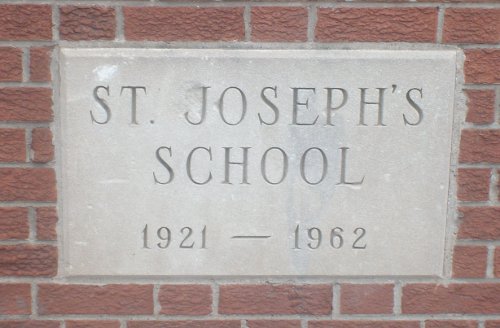 St Joseph's School
There are a lot of signs we could be living healthier.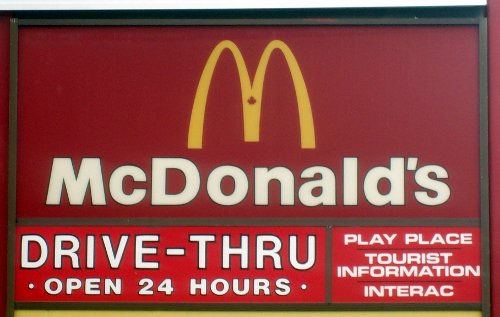 McDonald's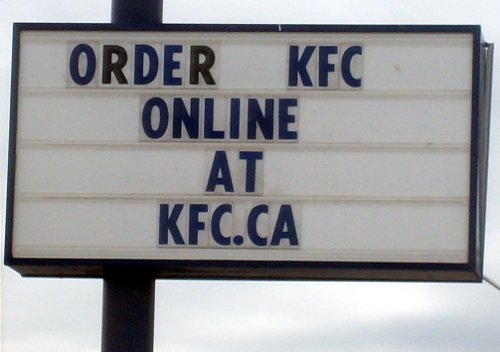 KFC
The guy commonly called Prince wanted to be known as a small sign. Sign recorded an album, single, and concert film all titled Sign o' The Times, but the "o'" was a peace sign, which is a sign of Sign's cleverness.
Touching upon AIDS, drugs, gangs, infanticide, starvation, poverty, and war, Sign o' The Times is not a happy song.
Signs of The Times is a monthly magazine that "encourages readers to lead joyful Christian lives as they await the soon return of Jesus."
Signs of The Times is also a magazine that "has been the leading source of comprehensive sign-industry news, technical information and in-depth analysis since 1906."
Who knew?
"What's your sign?" is the greatest pick-up line, ever.
Some signs are, like, so random.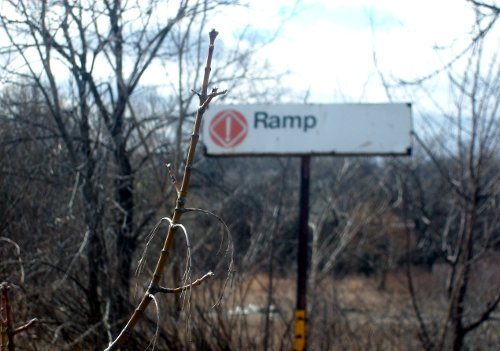 Ramp
There are plenty of signs and I could go on forever. However, I think it's time to sign off.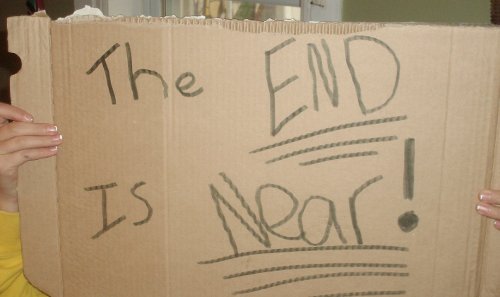 The End is Near
It's a sign.
Post a Comment
You must be logged in to comment.