Supercrawl and Open Streets Hamilton
James North is wide-open this weekend, with the epic annual Supercrawl on Saturday, followed by the second Open Streets Hamilton on Sunday.
By RTH Staff
Published September 24, 2010
James Street North is wide-open this weekend, with the epic annual Supercrawl taking place on Saturday night and the second Open Streets Hamilton picking up on Sunday where Supercrawl leaves off.
Event Details
Supercrawl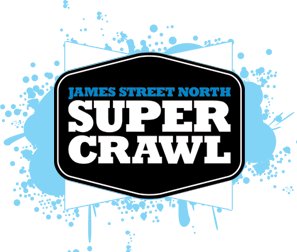 James Street North Supercrawl
Unlike the monthly James North Art Crawl, which takes place on the second Friday of the Month and lives up and down the sidewalks and in local galleries, restaurants, clubs and other businesses, Supercrawl spills out onto the street with live concerts, performances, booths, displays, and lots of other events.
The long list of performers includes Elliott Brood, Cadence Weapon, Bruce Peninsula, Lost In The Trees, New Look, Eiyn Sof, Wax Mannequin, Lee Reed, Terra Lightfoot, Joel Elliott And Thin Lines, Annie Shaw And Sarah Good, Mean Old Hammer (featuring Gord Lewis Of Teenage Head), Snowblink, Opera Hamilton, Warchild Canada Buskers, Hamilton Philharmonic Orchestra, and Altobeelays.
Supercrawl will also feature screenings from the National Film Board, Art Gallery of Hamilton and Toronto International Film Festival, art installations, dance groups, and more.
Of course, no Art Crawl is complete without the famous after-parties. You can continue partying at Supercrawl after the 11:00 PM closing at 118 James St North, The Brain at 199 James North, and This Ain't Hollywood at 345 James North.
Last year, teeming rain dampened the inaugural Supercrawl. The turnout still numbered in the thousands, but the cold, dreary weather kept a lot of people at home. As at this writing, the weather forecast for this coming Saturday gives us 15°C and cloudy with a 30% chance of rain - pretty good odds for a fantastic afternoon and evening.
Open Streets Hamilton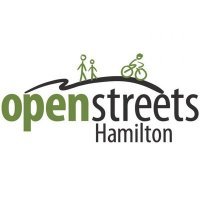 Open Streets Hamilton
Coming right on the heels of Supercrawl, Open Streets Hamilton will be comparatively unstructured - not so much a festival as a celebration of community life. On Sunday, september 26 from 10:00 AM to 3:00 PM, James North will be closed to cars but open for people to walk the street and enjoy the community.
The first Open Streets Hamilton event, held this past June 6, was wonderfully eclectic, featuring everything from live music, street art and local vendors to an impromptu soccer game, road hockey and free ice cream. According to the organizers, nearly 5,000 people attended.
Organized by a coalition of community organizers including Environment Hamilton, Green Venture, Smart Commute Hamilton, the City Department of Public Health and the Beasley, North End and Strathcona neighbourhood organizations, Open Streets is part of a worldwide movement for cities to transform their normally car-dominated streets into true people places, even if it's just for a day at a time.
Post a Comment
You must be logged in to comment.