York Renovation Starts Today
The City starts work today on the York Blvd Streetscape Master Plan.
By RTH Staff
Published May 31, 2010
The City's Public Works Department starts work today on the York Blvd Streetscape Master Plan, which will convert the stretch of York between Queen St. North and James St. North to two-way traffic, with wider sidewalks and a configuration that allows flexible street closures for events.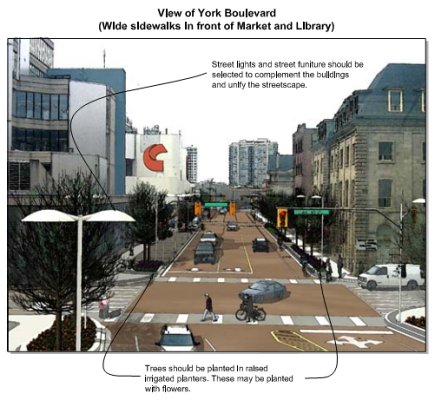 York Blvd Master Plan rendering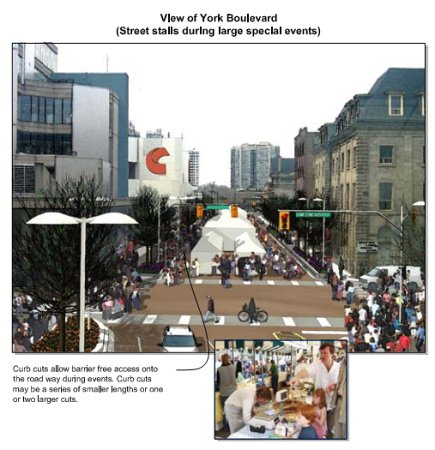 York Blvd special event street closure rendering
At the same time, the city will also be resurfacing and two-way converting Wilson Street between James North and Victoria Ave.
The original impetus of the work was to replace the water main and resurface the road, but the improvements are coordinating with the ongoing renovations to Central Library and the Farmers' Market that will upgrade the interiors of the buildings and replace their Brutalist facades with a flexible glass curtain that can slide open so the Market can extend onto the sidewalk.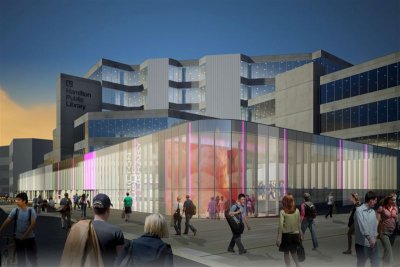 New Library/Market glass curtain
The glass curtain will employ a new technology that embeds LEDs in the window frames so that the wall can be programmed to change colour.
The building renovations are scheduled for completion in fall 2010, and the York Blvd streetscape is set to coincide, completing in October.
Post a Comment
You must be logged in to comment.