City Hall Reno Photo Tour
Despite poor decision making during the renovation, I must admit that I felt a sense of pride walking back into this fabulous building.
By Jason Leach
Published May 29, 2010
Yesterday I had the chance to head into the newly renovated City Hall. While much has justifiably been made of the poor decision-making during the renovation process, I must admit that I felt a sense of pride walking back into this fabulous building despite its sidewalk cladding.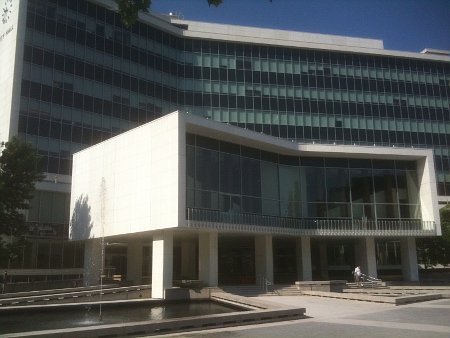 Hamilton City Hall
It's a gem of a building. I recall saying, out of frustration, that I wish they'd just knocked it down instead of butchering it. Truth is, I'm glad we have it and I'm glad we'll have it for decades to come.
Perhaps hunks of concrete will start falling from its exterior, allowing a future Council to do the right thing and put limestone or marble back on, but for today, some positive reviews.
I was unable to snap any interior pics due to time restraints, but was pleased to see all original marble desks and Italian mosaic tiles restored and looking great. The overall cleanliness and freshness of everything was very noticeable. Heck, the sliding doors actually opened when you stepped toward them. Who knew it was possible?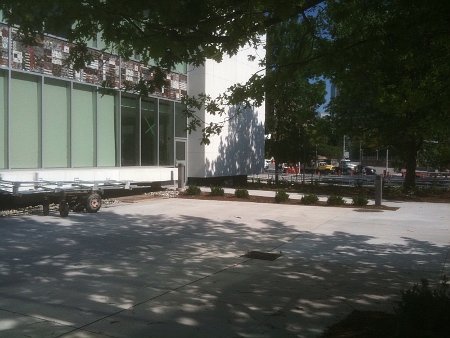 Italian mosaic tiles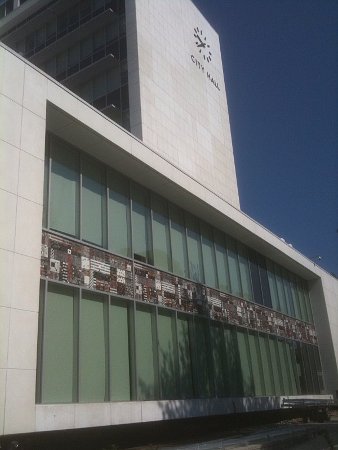 West side view: tiles and clock
Without getting into a rant about why Main Street stinks, I must say that I'm pleased - not thrilled - with the finished forecourt. As previously stated on RTH, I would have preferred a piazza type of development very welcoming and usable by the public.

Forecourt
However, the space that has been renovated is very suitable for public gatherings and if Main Street ever becomes a normal downtown street, the forecourt could be a great space for large markets, music and events.
I'm pleased to see the fountains and water pools back out front with the concrete lip around them perfect for a place to sit (although the lack of shade makes it quite toasty in weather like this).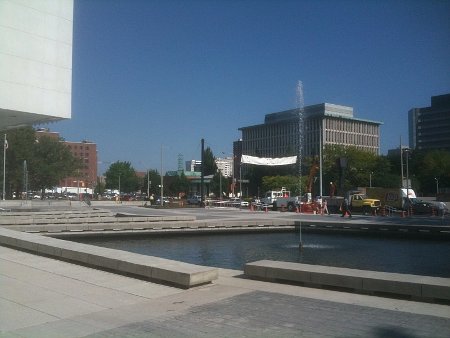 Fountains
The overall redevelopment of the interlocking brick and newly poured concrete makes the forecourt more enjoyable and the cafe patio (can I call Country Style a cafe?) is very nicely situated on the eastern side of the building surrounded by gardens and trees.
My favourite view of City Hall has always been the back, and still is. I love the glass and the angles and the angled steel handrails. The artsy concrete holes remain, along with the mature trees and gardens out back.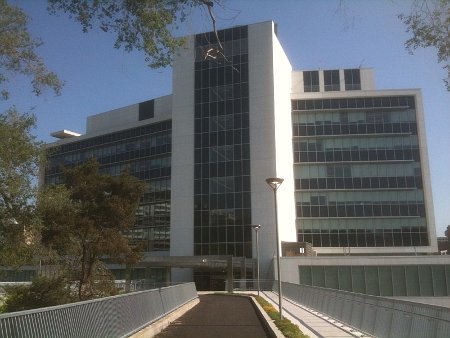 Rear view: glass and angles
Finally, I still find it a great experience to step out the front door of City Hall and catch the view of the Board of Education, Hamilton Place and the Art Gallery of Hamilton across the street.
The potential for a vast civic square surrounded by unique modern architecture is still possible, despite close calls in recent years threatening demolition of both City Hall and the Board of Ed building.
Perhaps LRT, two-way conversion and a reconstruction of the Board of Ed/AGH Main St frontage will give us the Civic Square our great city deserves.
Post a Comment
You must be logged in to comment.