Three Elm Street Nightmares
What sets this series apart from standard slasher flicks are the fantastical elements and trippy dream-visuals, bending the rules of what is "real". I wouldn't call them instant classics, but its distinctive flavour is probably why Freddy became a pop cul
By Albert DeSantis
Published May 03, 2010
Even though I'm pretty sure I hit up the Creek as Freddy Kruger one Hallowe'en, I haven't seen much of him. I've seen Freddy vs. Jason and thought it was like seeing an amusingly bizarre fan-fic crossover brought to life, I've seen that "Simpsons" spoof, and I've listened to "Nightmare on My Street" by Fresh Prince and DJ Jazzy Jeff.
With the remake out, I figured it's time to dig through the series. However, I've cherry-picked just three: the original, Part 3, and New Nightmare because it has a metatexual vibe I usually enjoy.
A Nightmare on Elm Street
The original Nightmare on Elm Street follows Nancy (Heather Langenkamp) and her friends as they experience disturbing and often deadly dreams of a knives-for-fingers burned man. It isn't the most in-depth plot, and the movie drags when it's not in the dream world, but there is a nice blending of reality and nightmare dreamscapes.
Writer/director Wes Craven is very good at constructing scenes with shadowy mood and Freddy (Robert Englund) is kept mostly to the shadows. A lot of his performance comes mostly from how he's lit, but his gravelly voice really sells the concept.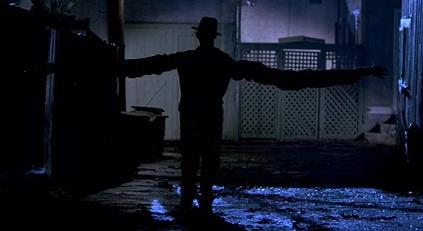 Argh! The human body is not meant to stretch like that!
The dream sequences are well done even if they do show the limitations of low-budget filmmaking. Craven is very good at setting up the "boo!" moments, like when Nancy drifts off asleep in class and sees her friend in a body bag.
When things get bloody, it's effectively done, such as the scene where the victim is tossed around the room like a rag doll. The score is a little too '80s synthesizer to be menacing, but it kind of rocks.
Johnny Depp in his first on screen role is bland. However, Langenkamp is a nice lead who is somehow inherently sympathetic - maybe because she wears pink in every scene. Anyway, she gets to MacGyver up a few improvised traps to unleash on Freddy when she draws him out of the dream world, which is nifty.
There are a couple of stock horror clichés - everybody wakes up from bad dreams BOLT UPRIGHT - but despite showing signs of age, Nightmare is so well made that you can deal with it.
Part 3 The Dream Warriors
Skipping over number two, Part 3 The Dream Warriors starts with Nancy as an assistant in a mental institution with its residents terrorized by Kruger. Its kind of One Flew Over the Cuckoo's Nest with Freddy tossed in.
This film is slicker than the original, the score isn't as eye-rolling, and the story is more interesting. Once again, the performances aren't grand, but it does have nice supporting work by then-newcomers Patricia Arquette and Laurence Fishbourne.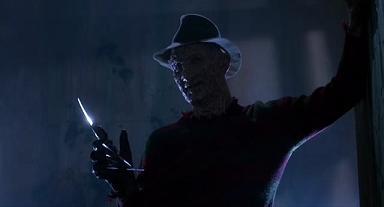 Dude, it's called 'moisturizer'.
Freddy himself is still nasty, and most of his jokes are twisted, not corny. The dream sequences are even better than the first, like the marionette scene when Freddy pulls out a guy's veins and dances him around like a puppet. And the larger number of supporting characters ensures a higher body count to keep things lively.
One of the few groaners in the movie is when the characters are in their idealized dream state and a girl is decked out in an '80s punk-rock Mohawk packing switchblades. Overall, it's a solid entry in the series that makes the characters more proactive against Kruger.
Wes Craven's New Nightmare
After skipping over three more sequels, the coda to the series comes in Wes Craven's New Nightmare, and it's weird as hell but kind of great. After watching two movies the set formula felt a little stale (God knows it'd be stale after six installments) but New Nightmare varies it up.
It's set in the "real world", wherein Heather Langenkamp plays herself as director Wes Craven begins to write a script for a new Nightmare installment, but it turns out that Wes' script is bleeding over into Heather's real life as she's haunted by Freddy.
Seeing Englund, Langenkamp, and Craven as "real people" in a horror flick is fairly surreal.
This installment has a professional flair as Craven seems more confident as a director. There's a do-over of the wall-crawling scene from the first movie and it's even freakier. The redesigned Freddy is subtly better and Englund plays it nasty, only getting a little campy in the climax.
It's more about mood than kills, but once in awhile you kind of wish they'd pick up the pace instead of implying menacing things. A lot of the movie is Heather fretting after her possessed child, so your enjoyment will depend on your tolerance for "creepy kid" movies.
Langenkamp shows more emotional range in this one, even if she spends half the movie once again waking up BOLT UPRIGHT. You end up feeling for her family's struggle, mostly because the movie takes a very wickedly unexpected turn about a half hour in.
The other movies aren't required watching before this one, but their history makes this play better.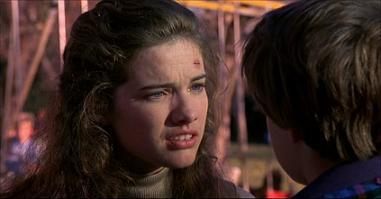 Langenkamp was the series' secret weapon because you actually cared about her.
With Langenkamp and Craven involved (he was writer/director on the original and New Nightmare, and a writer on Dream Warriors), these three films form a tidy trilogy.
What sets this series apart from standard slasher flicks are the fantastical elements and trippy dream-visuals, bending the rules of what is "real". I wouldn't call them instant classics, but its distinctive flavour is probably why Freddy became a pop culture icon.
Post a Comment
You must be logged in to comment.