Best Picture Nominees I Haven't Seen Yet Part 2 of 2: An Education And Precious
An Education inverts the romance/coming of age story, while Precious straddles the line between gritty realism and cliche.
By Albert DeSantis
Published March 15, 2010
So the last two best picture nominees I had to see were An Education and Precious: Based on the Novel "Push" by Sapphire (geez, that's a hell of a long title). An Education is a sad but fairly witty and ultimately uplifting. Kinda. Precious could easily be described as the feel-bad story of the year. Kinda.
An Education
An Education is a hard movie to pin down, but that's what makes it so intriguing. It's a May-December romantic story, but the romance is odd. It's a coming of age story yet the heroine doesn't quite come of age as much as she tries on being mature then goes back.
It shows the origins of the sixties' free thinking era yet those same down-with-the-system ideals turn out to be shallow and false. It's a dramatic movie, but there are a few solid laughs.
Set in England in the early '60s, the story follows Jenny (Carrie Mulligan) a schoolgirl who is getting ready to go to university. She begins a romance with an older man, David (Peter Sarsgaard, who, if you count Orphan, is in his second movie in a row in a strange relationship). David hangs out with his high-class friends, Danny (Dominic Cooper) and Helen (Rosamond Pike) which seems very glamorous to the younger Jenny.
With her parents (Alfred Molina and Cara Seymour) concerned about her decreasing grades, Jenny is becoming disillusioned with education and the looming responsibilities of adulthood. Instead she may chuck it away for a man who may not be revealing everything about his life.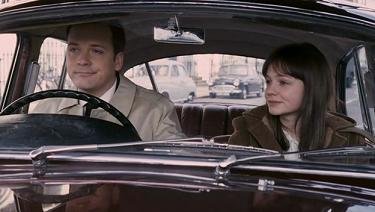 'Red car.' 'Green car.' 'Red car.' 'Green car.' (note, they don't play that game in the movie)
Mulligan shows a lot of layers: vulnerability, stubbornness, disillusionment with the educational system and growing up, and she's also witty. Sarsgaard has the more difficult role, skirting the line between charming and icky but you can almost buy this guy as sincere.
Even though his role is limited, Molina is a hoot as the angst-filled worrier of a father. In an even smaller role is Olivia Williams as Jenny's teacher, a sad figure who is concerned about her student, yet to Jenny she represents everything that's wrong about growing old.
Williams is quite good at showing an emotionally wounded character underneath a facade of stoicism. An Education is a laid-back character piece which is quite different from the spectacle of something like Avatar, but it does show the amount of variety in this year's best picture nominees.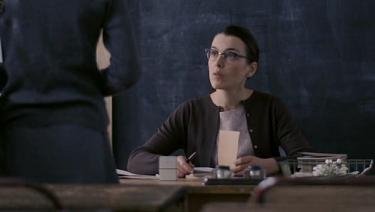 Williams, who also who had a stint in 'Dollhouse', is a very underrated actress.
Precious
Precious is about an inner city teenage girl named Clarieece Precious Jones (Gabourey Sidibe) who has been impregnated by her absentee father, twice, and is stuck under the tyrannical rule of her abusive mother (Mo'Nique).
Eventually Precious is moved to a special school and she begins to extricate herself from her mother's grasp. There is a similarity to The Blind Side, wherein an inner-city youth comes out of their shell through school, but this movie doesn't have the condescending answer of "find a rich white family and everything will be better".
Sidibe is gripping as the girl who has to shut herself out from life just so she can survive it, and in some of the movie's best scenes it shows how she escapes into fantasy in the middle of horrible things. The flights-of-fancy are luscious and glamorous, which makes her crashing back into reality all the more jarring.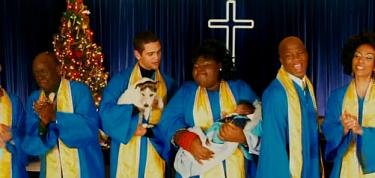 The fantasy sequences are pretty, which contrasts nicely with the grittiness of the film.
Precious is not a terrible movie by any stretch of the imagination, and it certainly is effective and sticks with you. But there's an extremely overblown performance by newly minted supporting actress winner Mo'Nique, and altogether the film straddles realism and cliche, sometimes dipping too far into each.
Mo'Nique is pretty much the same horrible human being every scene. She hits the same notes most of the time, repeating to her daughter that school is unimportant and she should "get down to the welfare." However, Mo'Nique's final scene is actually decent because while she's trying to be sympathetic she's just even more awful.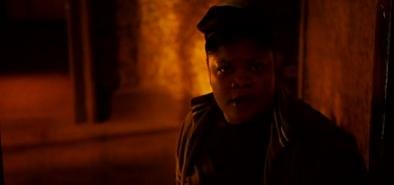 Variations upon this angry mom scene happen about a dozen times. Maybe slightly less.
There's a scene when the mother brutally mishandles Precious' new baby and puts them in mortal peril and the entire scene is distasteful. Yes, that's the point, but it seems a bit cheap and easy. There is a lot of griping about violence in movies and horror exploitation, etc. etc., but when there's a three-day old baby in mortal peril in Precious, it's suddenly supposed to be brave, and daring? I don't get it.
The ten best picture nominees was an interesting format that allowed more movies to get exposure, both blockbuster and non-mainstream. Most of them are pretty good to excellent. The winner, The Hurt Locker, wasn't my particular favourite movie of 2009 but it was one of the best.
I'd rank them as District 9, Up, The Hurt Locker, and A Serious Man as all great movies. Avatar, Inlgorious Basterds, Up in the Air, and An Education were all very worthwhile. Precious is so-so, and The Blind Side was not all that hot but sprung to life once in awhile. So there's a lot of diversity if you take a look.
Post a Comment
You must be logged in to comment.