Best Picture Nominees I Haven't Seen Yet, Part 1 Of 2: A Serious Man and The Blind Side
One of these films is very dark and very weird, but also unique. The other has Sandra Bullock in it. Take your pick which one is better.
By Albert DeSantis
Published March 15, 2010
I always try to watch all of the Academy Awards Best Picture nominees every year because...well, just because. Anyway, I've either really liked/flat-out loved the ones that I've seen so far: District 9, Up, The Hurt Locker, Avatar, Inglourious Basterds and Up in the Air (if there's any justice, District 9 would win Best Picture but that has a snowball's chance in hell).
So that leaves Precious, based on the novel Push by Sapphire, An Education, and the two I just watched: A Serious Man and The Blind Side. One is very dark and very weird, but also unique. The other has Sandra Bullock in it. Take your pick which one is better.
A Serious Man
A Serious Man opens with a flashback to a turn-of-the-century (not this last one, the one before that) elderly Jewish couple who get an unexpected visitor, a visitor who the wife thinks is an undead spirit and who she promptly stabs.
I don't think I'm smart enough to understand exactly why this scene was included in the film, and it's never mentioned again, aside from the fact that it could be the reason why the main character, Larry (Michael Stuhlbarg) is apparently cursed throughout his film - maybe these are his grandparents casting an unlucky pal over his existence.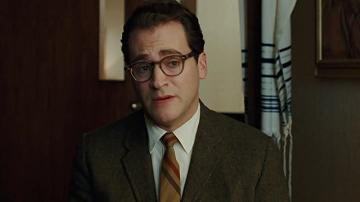 Stuhlbarg is a great tragic hero who has life kick the crap out of him. Repeatedly.
The rest of the movie is set in the 1960s. Larry, a university professor, has his marriage fall apart when his wife (Sari Lennick) reveals she is in love with another man and wants a divorce.
There isn't much of a plot; it's basically a series of scenes of Larry's life crumbling as he deals his berating wife, her creepily close and awkward hug-giving lover Sal (Fred Melamed), his kids, his students who may or may not want to bribe him, a record company that wants to shake him down for cash, lawyers, distant and unhelpful Rabbis, and his possibly dim/possibly brilliant brother (Richard Kind).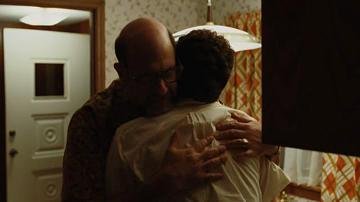 Getting hugged by the guy who's screwing around with your wife? Awk-ward!
A Serious Man may be shelved in the comedy section of your local video store but it should really be in the drama. This is a bit of a downbeat movie, a 1960s version of the Book of Job with some great performances. Both Lennick and Melamed should have gotten Oscar nominations. Yet the movie is very funny, especially in the dialogue exchanges, which are full of awkward pauses and verbal runarounds.
As always, writer/director pair the Cohen Brothers have a perfect eye for the frame, even through a few inventively strange dream sequences and just random oddities - like when Larry's son goes to his bar mitzvah baked out of his skull and it happens really sloowwwwwwly.
The ending is open-ended and not much is resolved, but it does have a sense of menace and doom to it that kind of fits.
The Blind Side
The other Best Picture nominee was The Blind Side, which turns out to be formulaic pabulum that's hard to hate completely but also really hard to like. It's the story of a rich mom, Leigh Anne (Sandra Bullock), who adopts a quiet, academically struggling, isolated inner-city youth, Michael Oher (Quinton Aaron) and gets him to play high-school football.
Bullock basically plays an overbearing helicopter mom but she has an infectiously endearing southern accent. There isn't anything in her performance that makes her stand out as a best actress nominee.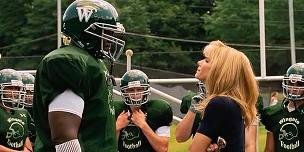 See Sandra folding her arms and looking uppity? That happens a lot in this movie.
There are a few bright spots. Aaron is actually decently understated and has some soulful, sad eyes that make this gentle giant easy to root for, and it's pleasing to see him come out of his shell.
The interplay between Oher and Leigh Anne's son is actually surprisingly funny (the kid makes all these excessive demands to the colleges that try to get Oher to sign up with him) even if it falls under the textbook cliche screenwriter's book of "cute kid says cute things".
The one scene when Leigh Anne drags around kids on the football field to demonstrate the importance of blocking to Oher is pretty amusing. And what few football scenes there are actually bring some momentum.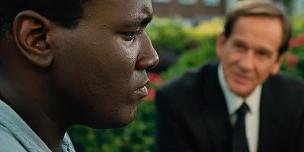 Aaron is excellent as the emotionally closed-off football-star-to-be
But the good is greatly outnumbered by the bad, the lame, and the downright regressive. There's a scene in which Leigh Anne has a chat with her friends about her new adopted son and they insinuate vaguely racist things and the well-off ladies are such broad caricatures it's like watching that "Simpsons" episode when Marge joins the country club.
All the movie's characters are fairly shallow. There's the well-meaning teacher (played by Kim Dickens, who has a recurring role on "Lost" as Sawyer's baby mamma) who finds potential in the mute giant ala every after school special ever made.
However, the gangbangers who live in Oher's former neighborhood really take the cake because they're just stereotypes.
There's nothing wrong with cliche villains, but it depends on the style of film. Deadly bangers in a Stephen Segal movie? Sure, fine, whatever. Deadly bangers in a race relations parable about how we're all the same beautiful people? Completely undercuts any sense of realism. Since it's based on a true story, that's practically deadly.
So to compare both, A Serious Man is sad but full of cinematic skill and definitely unpredictable. It's dark and strange and funny. The Blind Side is fairly simplistic - let's give an underprovided kid some well-off rich people and everything will turn out okay - but it's so simplistic it's hard to get all that bothered by it.
One of these pictures is worth a Best Picture nomination. The other one isn't.
Post a Comment
You must be logged in to comment.