Two-Way Streets, Not More Studies
Hamilton needs to follow the footsteps of those cities that already mustered the courage to do right by their downtown streets and are enjoying the fruits of the urban renaissance we also claim to desire.
By Ryan McGreal
Published February 21, 2010
A week ago, the Spectator published an article titled "Mayor not sold on converting streets for LRT" that quoted Mayor Fred Eisenberger saying it's "premature" to assume that Hamilton's east-west rapid transit plan will entail the two-way conversions of Main Street and King Street.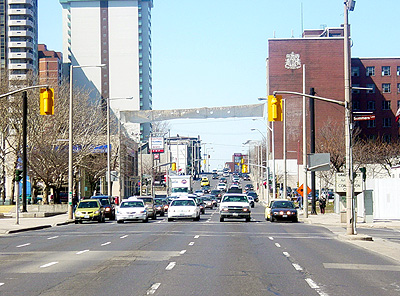 Five-Lane Juggernaut: Main Street is no place for mere pedestrians (RTH file photo)
The article quoted the Metrolinx Rapid Transit Benefits Case Analysis saying that two way "conversion is considered a positive move from a city-building perspective that will create a more pedestrian and transit-friendly environment."
The Mayor cautioned that the city needs to "look at how the transportation flows in our inner city" and that such study "has yet to be done in thoroughness."
I was disappointed to see a call for more studies from a mayor who has in the past argued that "downtown should be a destination, as opposed to a pass-through" and recommended creating a pedestrian plaza in Gore Park.
The Metrolinx BCA was prepared in close cooperation with city planning staff and reflects prudent, conservative best practices of urban planning. We don't need more studies to re-confirm its recommendation that two-way conversion accompany the city's rapid transit system.
We don't need more studies to tell us that one-way streets are more dangerous for children or that a traffic system optimized for automobile traffic contradicts the goal of being the Best Place to Raise a Child, let alone the kind of broad "urban renaissance" that Eisenberger has promoted during his term in office.
I contacted the Mayor for clarification of his position on two-way street conversion. He replied:
I believe two-way conversions provide benefits and can help make neighborhoods and business districts more friendly for pedestrians and generally improve the vitality of our city. A great example of this is the successful conversion of John Street and James Street to two-way traffic.

With regards to the possible conversion of King and Main streets, I want to clarify my view, which is that it is premature to make a judgment on this option before our city staff has completed the necessary traffic studies and modeling.

It is important to make an informed decision on this and that means we need all the necessary facts and details to be worked out by staff in advance of any proposal.

Until then, I am confident that King Street is the preferred option as the corridor for Light Rapid Transit and will mean the best safety, the most convenience for commuters to getting on and off the LRT, less impact on traffic flow and a greater opportunity for economic uplift.
I respect the Mayor's careful, prudent approach and have defended it on this site and elsewhere. Eisenberger understands that a successful policy must achieve buy-in from the various institutional and community organizations that have a stake in the policy's outcome.
However, I've also argued that there's a time to consult and a time to take a stand. This has been studied to death. (Literally.) The Mayor needs to draw the obvious conclusions from the overwhelming evidence we already have and become a public champion of two-way, livable downtown streets that serve the people who live, work and play on them.
As I wrote a couple of years ago in relation to light rail, "The hard work and risk-taking have already been undertaken by cities bolder and braver than this one."
Once again, Hamilton merely needs to follow the footsteps of those cities that mustered the courage to do right by their downtown streets and are enjoying the fruits of the urban renaissance we also claim to desire.
Post a Comment
You must be logged in to comment.