A Challenge for Hamilton City Councillors
Hamilton City Council has the choice to be global leaders and ban drive-thrus.
By Trey Shaughnessy
Published May 16, 2005
I have a challenge for the Hamilton City Councillors.
There are two kinds of cities - cities that lead and cities that lag. Cities that lead are progressive. Cities that lead are the first to do something in order to make changes.
In 1990, San Luis Obispo, California became the first city in the world to ban smoking in all public buildings including bars and restaurants. Since that time, municipalities around the world have followed suit, using San Luis Obispo as a model.
I'm sure you are aware that cities from Vancouver to Hamilton have adopted smoking bans in public workplaces, bars and restaurants or are in the process of doing so—lagging behind. Every time a city wrestled with the ban, the same concerns were raised, it would put restaurants out of business, keep tourists away, lower tax revenues, and cost jobs. And every time a city implemented the ban the reverse was true.
In 1990, Winnipeg became the first Canadian city to ban Pitbulls. Other cities are following their example.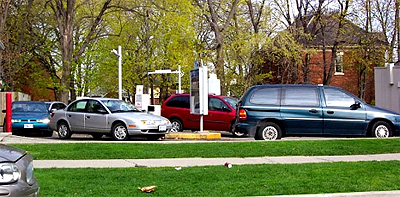 Congestion in drive-thru lanes is no idle matter.
By 2001, Toronto, Calgary, Vancouver, Waterloo, Ont. and nine other municipalities in Quebec had passed by-laws that restricted or banned the use of pesticides on lawns for cosmetic reasons, following the example of Halifax.
In 2003, London England imposed a daily £5 ($11 Cdn) toll for cars to drive downtown (the zone). London's Mayor, Ken Livingstone, said major road-building plans to ease congestion would be financially and environmentally "unacceptable", and he predicted that 'congestion charging' would cut traffic in central London by 15 per cent.
Opponents say it will put further pressure on London's overcrowded buses and creaking Underground as thousands of motorists abandon their cars for public transport. It was expected tolls would be reinvested into public transit.
Mayor Livingstone acknowledged the charge was a political gamble, "but what's the point of being in politics if you don't do something with your position?" he told British TV viewers.
A year later it is reported that, public transport has coped with ease. Around 29,000 additional bus passengers are entering the zone on 560 extra bus services in the morning peak period. Average bus speeds have increased by seven percent and cycling has increased by a third inside the zone.
Congestion charging has worked so well that San Francisco is currently studying a similar plan for its downtown. Jake McGoldrick, chair of the San Francisco Transportation Authority told the San Francisco Examiner, "The key issue here is if we can kill three birds with one stone — relieve congestion, clean up the air, and give money to MUNI (its HSR) — we would have hit a home run."
Last summer Paris drew-up plans that would ban SUVs when air pollution is high. The city's deputy mayor for transportation, Denis Baupin, wants mud-pluggers off the streets permanently. "We have no interest in having SUVs in the city. They're dangerous to others and take up too much space," he said on Europe 1 radio. [See also: Just Passing Through - Ed.]
If Paris officials are successful, similar bans could follow in other cities - including London, where mayor Ken Livingstone recently referred to urban drivers as "idiots".
"For decades, cities have been built for cars...we can't let things get out of control when we are close to asphyxia," France's transport minister Jean-Claude Gayssot told the daily Le Monde.
Does anyone notice a pattern?
Typically, when I read about governments imposing 'bans' on this and that, my reaction is to launch into a diatribe soliloquy about how government should stay out of our lives. That's my right (wing) brain talking.
Then my left (wing) brain thinks about it and comes to this conclusion. These 'bans' benefit our emotional and physical health, our urban and natural environment, our safety and well-being.
These 'bans' don't infringe on anyone's rights; rather, they protect us from what Ted Mitchell false freedoms: practices that "cause significant harm or restriction of the rights and freedoms of other individuals."
What could be wrong with that? Hospitals have adopted "scent-free" policies, airlines and hospitals ban cell phones, schools ban peanut butter. All these things are to improve everyone's quality of life.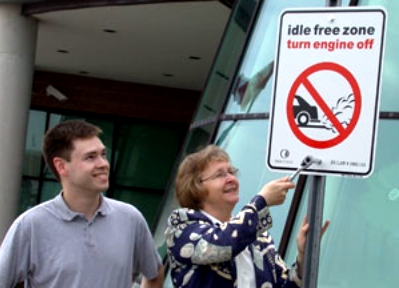 The Town of Oakville kicked off its 2004 Anti-Idling education campaign with Mayor Mulvale and Councillor Adams.
Currently, Hamilton city council is considering an anti-idling by-law, following the lead of many cities — Toronto (1996), London (1999), Burlington, Brampton, Windsor, Markham, Oakville, Pickering, Peterbough, Welland, Mississauga, and Sudbury - most limitimg idling to less than three minutes.
It seems that we are on-track to be the last city - lagging. Don't worry; I have an idea that will make up for our lagging.
Now for my challenge for Hamilton City Council: Ban drive-thrus.
Think about it. Who would have thought the aforementioned bans would ever have happened? Besides, drive-thrus are getting a bad reputation for smog, adding to obesity, facilitating social isolation, road rage, noise, and polluting neighbours.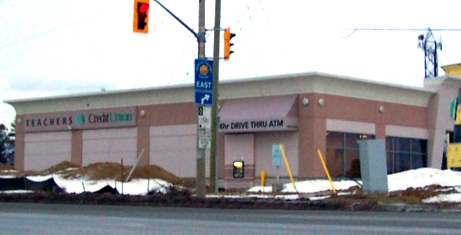 It's already difficult to walk anywhere. Wrapping buildings with drive-thru lanes further isolates would-be pedestrians and reinforces driving.
Recent news out of the U.S. criticized Starbucks for adding to the traffic congestion in the morning.
Everyone knows how much more careful you have to drive when you pass a Tim Horton's drive-thru. Just this morning, a colleague told me about an accident at a Mississauga Tim Horton's, where a school bus crashed into a car leaving a drive-thru.
If you drive past the Kenilworth Avenue Tim Horton's in the morning, traffic is often overflowing onto Kenilworth, effectively turning the curb lane into an extension of its drive-thru queue.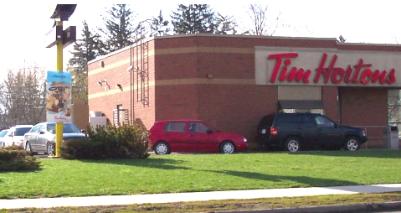 Are drive-thrus able to serve everyone in less than three minutes? If not, they will be in violation of an anti-idling by-law. Will the city enforce anti-idling at drive-thrus?
By the way, what does an anti-idling bylaw mean to drive-thrus? Does this make drive-thrus illegal? It does, unless the drive-thru serves everyone within three minutes.
If a ban is too "progressive," then how about at least a moratorium or a temporary drive-thru shut-down during "smog days"? After all, we are encouraged not to cut our grass when air quality is poor.
Hamilton was the first city in Canada to have a car drive on its roads. Let's make a new Hamilton first for Canada, one that would make Hamilton a leader, one that would give Hamilton that "branding" we are trying to achieve, one that would say to the world, "Follow our lead," just like London, Paris, Winnipeg, Halifax, San Francisco, San Luis Obispo, and other cities have done in recent years.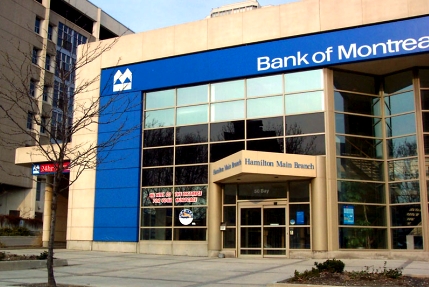 Banks and fast food and now the LCBO are the largest drive-thru users. Are they really necessary and at what cost?
Do we want to be leaders or laggards? Trust me, banning of drive-thrus will happen. If it doesn't happen in Hamilton first, it will soon happen in another progressive city and we will drag ourselves along.
So come on, Hamilton Councillors, remember the words of London's mayor: "What's the point of being in politics if you don't do something with your position?" Ban drive-thrus in Hamilton.
Post a Comment
You must be logged in to comment.